Carefusion BEK3411 - Bone Marrow Biopsy Tray 10/CS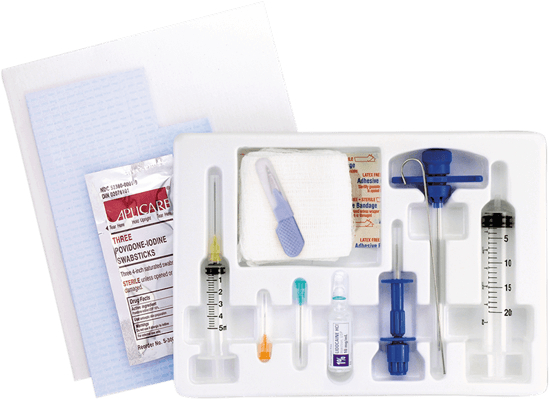 Jamshidi Bone Marrow Biopsy Aspiration Trays
Make Jamshidi Trays Your First Choice in Bone Marrow Biopsy

Our Jamshidi bone marrow biopsy trays contain the prepping, draping, local anesthetic and procedural components you need to perform bone marrow biopsies.
1. Safe-T PLUS tray option
The trays are available as Safe-T PLUS, standard or drug-free trays to help you comply with The Joint Commission, OSHA and CDC recommendations.
2. Jamshidi needles for optimal performance
The trays are offered with a wide range of Jamshidi needle styles and sizes to fit your needs.
3. Flexible configurations
Our trays are available in a variety of configurations to work intuitively with your procedural flow.
Components of Original Jamshidi Bone Marrow Biopsy Aspiration Trays (BEK3411)
Safety components
Syringe, 20 mL
Syringe with 20 G x 1.5" needle, 5 mL (4.1 cm)
Needle, 25 G x 5/8"
Needle, 21 G x 1.5"
Scalpel blade with handle
Probe
Gauze sponges, 3" x 3", 8 ply
PVP-I swabsticks (1% available iodine, qty. 3)
1 Lidocaine HCL, USP, 1%, 5 mL
Fenestrated drape
Towel
Elastic bandage
Hospital wrap