Allow C.I.A. to white-glove your request for this item
Not buying today? Need a volume discount, Net 30 terms, or a government quote? Got a backorder, and need immediate stock? That's exactly what we do best. Let us solve your problem.
Product Description
Carefusion CT2011 - NEEDLE, BIOPSY, TEMNO, COAXIAL, 20GAX11CM, 5/CS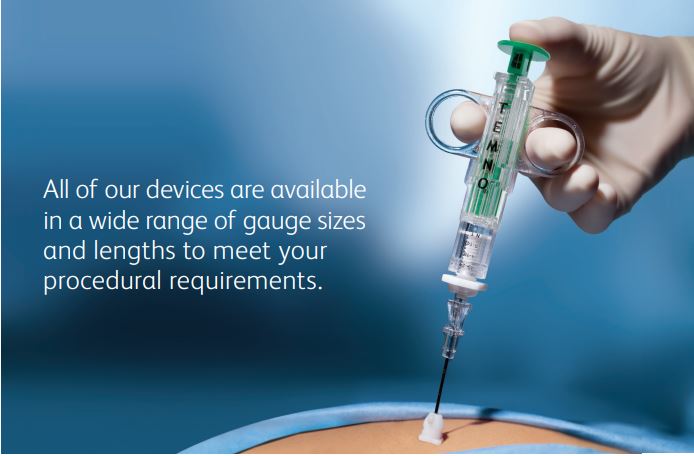 Temno Biopsy Device
The Original Temno biopsy device is easy to use, offering simplicity, reliability and precision you can count on. It features a 20 mm sample notch and a lightweight, compact design. Available with or without a coaxial introducer needle.
Quality Samples
20mm sample notch
Lightweight, compact design may help reduce tissue shear
Ultrasound/CT Imaging Compatibility
Echogenic markings on cannula help confirm placement for precise ultrasound positioning
Centimeter depth markings assist in needle placement
Allows a second scan with notch positioned in lesion before needle is fired
Wide range of gauges and sizes, including 22G to 14G
Biopsy Needle Catalog Number
Biopsy Needle size
Biopsy Needle with Introducer
Catalog Number
Gauge Size
Introducer Needle Size
Usable length
T2011
20G x 11cm
CT2011
20G
19G x 6cm
5cm
Device Characteristics
| | |
| --- | --- |
| What MRI safety information does the labeling contain? | Labeling does not contain MRI Safety Information |
| Device required to be labeled as containing natural rubber latex or dry natural rubber (21 CFR 801.437): | No |
| Device labeled as "Not made with natural rubber latex": | No |
| For Single-Use: | Yes |
| Prescription Use (Rx): | Yes |
| Over the Counter (OTC): | No |
| Kit: | No |
| Combination Product: | No |
| Human Cell, Tissue or Cellular or Tissue-Based Product (HCT/P): | No |