Cook Medical G06749 - CATHETER, ANGIO, HNB5.0-38-40-P-NS-KMP, 5/BX
Torcon NB, Advantage Catheter
GMDN Preferred Term Name:
Angiographic Catheter, Single-use
| | | | | |
| --- | --- | --- | --- | --- |
| Order Number | Reference Part Number | Fr | Accepts Wire Guide Diameter inch | Length cm |
| G06749 | HNB5.0-38-40-P-NS-KMP | 5.0 | 0.035 | 40 |
Catheter Tip Curve Configurations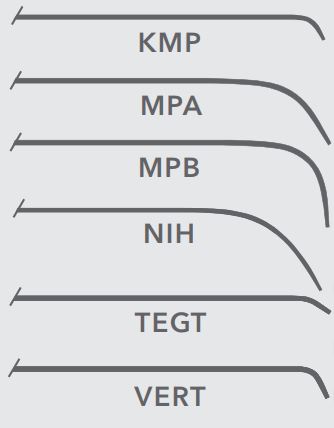 Device Description
Catheters for use in angiographic procedures are available in a variety of French sizes, endhole sizes, lengths, materials and designs (e.g., polyethylene or nylon, non-braided or braided with 1:1 torque). The choice of catheter material for different angiographic procedures should be based on the physician's experience.
Intended Use
The catheters are intended for use in angiographic procedures by physicians trained and experienced in angiographic techniques. Standard techniques for placement of vascular access sheaths, angiographic catheters and wire guides should be employed.
Device Characteristics
| | |
| --- | --- |
| What MRI safety information does the labeling contain? | Labeling does not contain MRI Safety Information |
| Device required to be labeled as containing natural rubber latex or dry natural rubber (21 CFR 801.437): | No |
| Device labeled as "Not made with natural rubber latex": | No |
| For Single-Use: | Yes |
| Prescription Use (Rx): | Yes |
| Over the Counter (OTC): | No |
| Kit: | No |
| Combination Product: | No |
| Human Cell, Tissue or Cellular or Tissue-Based Product (HCT/P): | No |
Precautions
Manipulation of catheter requires fluoroscopic control.
Due to thinwall construction, extreme care must be exercised during manipulation and withdrawal. Catheter insertion through a synthetic vascular graft should be avoided whenever possible.
Do not attempt to heat or reshape the catheter curve; the catheter tip is made from a heat-sensitive material.
The possible whiplash effect of the long, soft catheter tip must be considered during selective angiography.
Activate hydrophilic coating, if present, by wetting the distal end of the catheter with sterile water or saline. For best results, keep the catheter surface wet during placement.
If an over-the-wire catheter design is used, where the wire is left in place during injections, the proximal end of the wire should be clamped to protect against accidental injection of the wire guide.
Instructions for Use
The catheter has been designed for percutaneous introduction into the vascular system over an appropriately sized wire guide or through an appropriately sized sheath introducer.
Due to the catheter construction, the use of a wire guide is recommended during advancement.
If resistance is encountered during manipulation, stop and determine the cause before proceeding any further.
How Supplied
Supplied sterilized by ethylene oxide gas in peel-open packages. Intended for one-time use. Sterile if package is unopened or undamaged. Do not use the product if there is doubt as to whether the product is sterile. Store in a dark, dry, cool place. Avoid extended exposure to light. Upon removal from package, inspect the product to ensure no damage has occurred.