Cook Medical G09607 - RFSPC-35-145 ROADRUNNER WIRE GUIDE, EACH
Roadrunner PC Hydrophilic Wire Guide - Nimble - Flexible Shaft
Polyurethane-Coated Nitinol Mandril and Platinum Tip
The Roadrunner PC Wire Guide is coated with AQ (a biocompatible hydrophilic coating), which when wet becomes very lubricous, greatly reducing the coefficient of friction of the surface of the wire guide. The wire guide is made of a nitinol core with distal platinum inner spring coil tip and an outer polyurethane sleeve.
AQ hydrophilic coating reduces friction and provides optimal trackability and pushability
Soft, radiopaque platinum tips allow atraumatic vessel selection
Specially tapered nitinol mandril provides superb directional control and 1:1 torque response
| | | | | |
| --- | --- | --- | --- | --- |
| Order Number | Reference Part Number | Diameter (inch) | Length (cm) | Taper Length (cm) |
| G09607 | RFSPC-35-145 | 0.035 | 145 | 12 |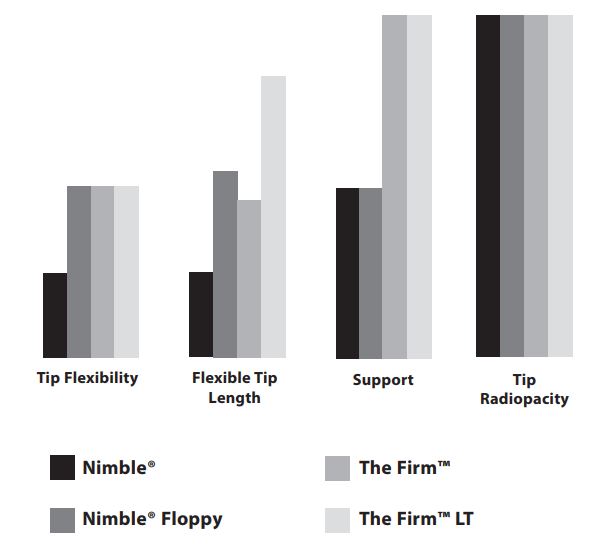 Intended Use
Roadrunner PC wire guides are intended for complex diagnostic and interventional procedures. The product is intended for use by physicians trained and experienced in diagnostic and interventional techniques. Standard techniques for placement of vascular access sheaths, angiographic catheters and wire guides should be employed.
Precautions
Always keep the surface of the wire guide wetted for optimal results.
Manipulation of the product requires fluoroscopic control.
Roadrunner PC wire guides are very slippery when wet. Always maintain control of the wire guide when manipulating it through the catheter.
When the wire guide is removed from a catheter, wipe it with a sterile gauze pad moistened with heparinized saline solution or sterile water and place it back into the holder. Fill the holder with heparinized saline solution. This will maintain the lubricous state of its surface for subsequent procedural use.
Instructions for Use
Attach the syringe with heparinized saline solution or sterile water to the Luer lock fitting of the wire guide holder.


Inject enough solution to wet the wire guide surface entirely. (Fig. 1) This will activate the AQ coating, making the wire guide surface very lubricous.
Standard wire guide use may now be initiated. An initial flush of heparinized saline through the catheter lumen will enhance initial movement of the wire guide through the catheter.
NOTE: If the surface of the wire guide becomes dry after removal from the holder, wetting with additional heparinized saline or sterile water will renew the hydrophilic effect.
Warnings
Not intended for coronary use.
Never use a Roadrunner PC wire guide through a metal needle cannula. Destruction of the outer polyurethane coating may result. A plastic outer sheath needle is recommended if the Roadrunner PC wire guide is used for initial placement.
How Supplied
Supplied sterilized by ethylene oxide gas in peel-open packages. Intended for one-time use. Sterile if package is unopened or undamaged. Do not use the product if there is doubt as to whether the product is sterile. Store in a dark, dry, cool place. Avoid extended exposure to light. Upon removal from package, inspect the product to ensure no damage has occurred.
CAUTION: U.S. federal law restricts this device to sale by or on the order of a physician (or properly licensed practitioner).