Cook Medical G11632 - SET, CECOSTOMY, CATH, CHAIT, PERCUT, TDCS-100, EACH
Chait Percutaneous Cecostomy Catheter
The Chait Trapdoor Cecostomy Catheter is a percutaneously placed device that facilitates antegrade colonic cleansing. Its low-profile trap door fitting is designed to enhance patient compliance, and its multi-curl tip configuration is designed for atraumatic retention within the cecum.
Order Number
Reference Part Number
Tract Length
(cm)
ExtendedCatheter
Length (cm)
Catheter Fr
Catheter Sideports
G11632
TDCS-100
0-6
20
10.2
3
Features and Benefits
Used to facilitate antegrade colonic cleansing for patients with fecal incontinence.
Ability to effectively manage fecal incontinence gives patients greater independence and quality of life
Low-profile trapdoor fitting is designed to lie flat against the skin for enhanced patient comfort
Multi-curl tip configuration provides secure, atraumatic retention within the cecum
Available in three sizes (short, medium, long) to fit a wide range of patients
Components
Chait Access Adapter (G11630)
Stiffening cannula
Cecostomy catheter - short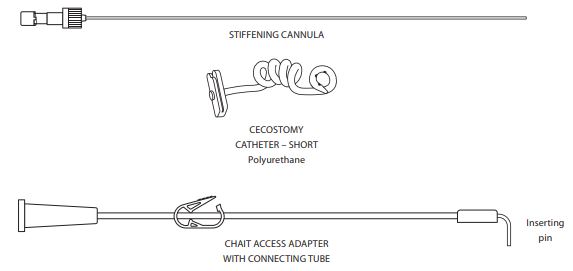 Sets also available with:

Intended Use
The Chait Trapdoor Cecostomy Catheter is intended to instill fluids through a cecostomy into the colon to promote evacuation of the contents of the lower bowel through the anus, and is intended to be an aid in the management of fecal incontinence. The catheter is placed and maintained in a percutaneously prepared opening, such as a cecostomy.
Contraindications
Previous abdominal surgical procedures
Coagulopathies
Persons with known medical problems that put them at risk during theprocedure
Precautions
The product is intended for use by physicians trained and experienced in diagnostic and interventional techniques. Standard techniques for percutaneous placement of cecostomy catheters should be employed.
Completely read and understand these instructions prior to scheduling this procedure.
Instruct patient to read and understand the Patient Guide titled Caring for Your Temporary & Chait Trapdoor Cecostomy Catheters prior to initial catheter introduction.
The catheter should be changed every 6 months to reduce the risk of catheter fracture in the patient.
For tract lengths between 6 and 14 cm, see sizing recommendations for appropriate size. If cecostomy tract is greater than 14 cm, a multipurpose drainage catheter should be used.
The potential effects of phthalates on pregnant/nursing women or children have not been fully characterized and there may be concern for reproductive and developmental effects.
Instructions for Use
Placement of Chait Trapdoor Cecostomy Catheter
Confirm position of temporary drainage catheter within the cecum with contrast. Release locking loop mechanism on temporary drainage catheter by releasing locking mechanism securing the loop. Pass stiff wire guide into loop to help straighten catheter. (Fig. 1)
Carefully pull catheter out over pre-positioned wire guide (e.g., Amplatz Ultra Stiff). Determine cecostomy tract length and place appropriately sized catheter.
NOTE: Confirm that tract is appropriate length to accommodate Chait Trapdoor Cecostomy Catheter by advancing wire guide, under fluoroscopy, until tip is within cecum and then clamping hemostat at skin level. Withdraw wire guide, and measure distance from hemostat to wire guide tip.
Insert metal stiffener into catheter to straighten coils, and push catheter through tract over pre-positioned wire guide. (Fig. 2) Once catheter is inserted, remove wire guide and metal stiffener until Trapdoor is flush against the access site. (When stiffener and wire guide are removed, the extra catheter coils will reform in the cecum.)
Perform contrast injection to confirm catheter position and patency within cecum.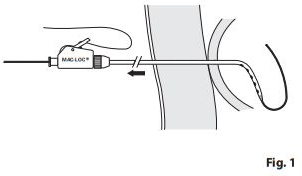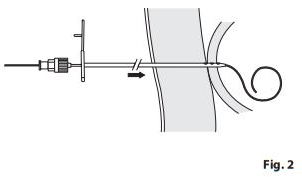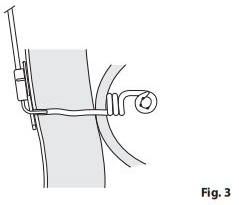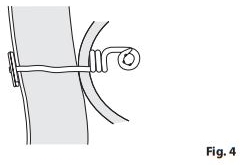 Patient Instructions for Maintenance of Chait Trapdoor Cecostomy Catheter
NOTE: Instruct patient to read and understand the Patient Guide titled Caring for Your Temporary & Chait Trapdoor Cecostomy Catheters prior to initial catheter introduction.
NOTE: Instruct patient that once Chait Trapdoor Cecostomy Catheter is placed, he/she can resume the cecostomy enema regimen previously being used with the temporary cecostomy catheter. The patient should begin antegrade cecostomy enemas on the day following discharge. These enemas should be performed while seated on a toilet.
Instruct patient to access the Chait Trapdoor Cecostomy Catheter by inserting the metal cannula tip attached to the clear connecting tube into the opening of the Trapdoor. The opposite end of the connecting tube has a large, tapered fitting that will fit most tapertip syringes. Additional security for the connection between the Trapdoor and connecting tube can be achieved by inserting the pin in the top half of the Trapdoor into the small hole in the soft plastic block on the connecting tube, in addition to inserting the metal tube into the opening in the Trapdoor. (Fig. 3)
Instruct patient to administer a phosphate enema through the connecting tube attached to the Chait Trapdoor Cecostomy Catheter.
Fifteen minutes after initiating infusion of the phosphate enema, patient should attach a saline enema via a gravity bag to complete the enema.
Patient should continue saline antegrade enema until bowel drainage becomes clear. (Usual saline volume is 200-500 ml.)
After use, patient should remove connecting tube and pin from Trapdoor
fitting, and close fitting to prevent leakage. (Fig. 4)
NOTE: Post-procedural orders for patient should include a high-fiber diet and a decrease in consumption of constipating foods.
Catheter Exchange
Using fluoroscopic guidance, introduce an appropriate wire guide (e.g., Amplatz Ultra Stiff) through the Chait Trapdoor Cecostomy Catheter and into cecum.
NOTE: If catheter does not readily permit passage of wire guide, use of a rigid stiffening cannula is recommended. Prior to insertion of stiffening cannula into catheter, advance wire guide through the cannula, allowing 2-3 cm of extension beyond tip. While maintaining distal positioning of wire guide within cannula, advance stiffening cannula and wire guide, as a unit, through Chait Trapdoor Cecostomy Catheter and into cecum.
Remove catheter, leaving wire guide in place.
NOTE: If stiffening cannula was used for wire guide placement, remove stiffening cannula prior to catheter removal.
Introduce new Chait Trapdoor Cecostomy Catheter over wire guide and advance into position.
How Supplied
Supplied sterilized by ethylene oxide gas in peel-open packages. Intended for one-time use. Sterile if package is unopened or undamaged. Do not use the product if there is doubt as to whether the product is sterile. Store in a dark, dry, cool place. Avoid extended exposure to light. Upon removal from package, inspect the product to ensure no damage has occurred.
CAUTION: U.S. federal law restricts this device to sale by or on the order of a physician (or properly licensed practitioner).