Part Number
Covidien 030414
Product Description For Covidien 030414
Covidien 030414 - Endo GIA Universal Straight 60MM - 3.5MM Loading Unit, 6/BX
Endo GIA Universal 12 mm (Single Use Instrument) stapler has applications in abdominal, gynecologic, pediatric and thoracic surgery for resection, transection and creation of anastomosis.
The new single use loading units Tyco Auto Suture Endo GIA Universal titanium staples. Staples: 6 cm linear length and 3.5 mm wide.
Providing superior staple line security. The staple wire gauge used in "open staplers" is heavier and does not require the additional row of staples. Endoscopic staplers use thinner wire gauge and the additional row of staples ensures superior staple line security and hemostasis. 2.0 Cartridge for thin vascular tissue. The Endo GIA Universal places two, triple-staggered rows of titanium staples and simultaneously divides the tissue and preloaded reinforcement material between the two, triple-staggered rows.
The tissue reinforcement material is secured to the tissue as the staples are fired. Every cartridge comes with a new sterile knife blade. Using a new knife for - Each firing ensures that it will never dull through repeated use and reduces the risk of cross contamination that exists when reusing the same knife blade.
Endo GIA Straight
New knife blade with each reload.
The staple line continues well beyond the cut line. The knife slot on the cartridge does extend beyond the staples to house the tissue gap control mechanism.
12mm shaft diameter (except for 4.8mm reloads which have a 15mm shaft diameter)
Features of Endo GIA Universal Straight Sulu
The Endo GIA Roticulator sulu sizes available include 30, 45, and 60mm linear lengths in staple sizes of 2.0, 2.5, 3.5 and 4.8.
The Endo GIA Roticulator sulu articulates at staple cartridge and locks securely in place at 22 and 45 degrees.
Wide jaw opening.
6 rows of 4.8mm staples.
New knife blade with each reload.
Universal handle for all loading units.
Tissue Gap Control.
Point of articulation.
Benefits of Endo GIA Universal Straight Sulu
Offers versatility various tissue thicknesses.
Maximum access due to articulation point at staple cartridge. In comparison to the competition, our articulation point is at the "wrist"; not at the "elbow".
Allows for easy placement on tissue.
Hemostasis and staple line security in thick stomach tissue and tissue encountered during colorectal surgery.
Clean cut when forming gastric pouch. Clean cut and reduced potential for cross-contamination.
Improved OR efficiency and reduction in inventory codes.
Precise staple formation along the entire staple line.
Improved access when forming the gastric pouch and within the chest cavity. Especially in the lower pelvis.
Frequently Asked Questions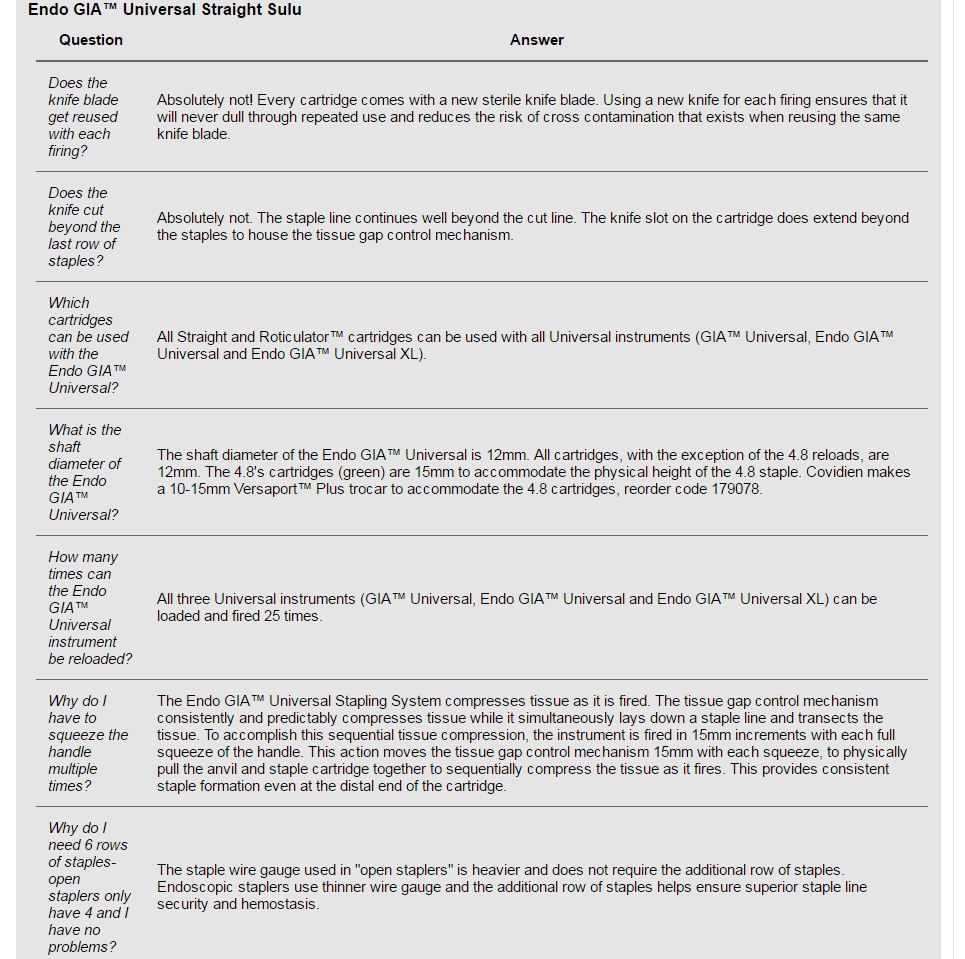 CIA Medical always has the best pricing and availability for Covidien 030414.
Covidien 030414 Related Products