Allow C.I.A. to white-glove your request for this item
Not buying today? Need a volume discount, Net 30 terms, or a government quote? Got a backorder, and need immediate stock? That's exactly what we do best. Let us solve your problem.
Product Description
Covidien 170043 - SUTURE, ENDO STITCH, SURGIDAC, GREEN, O, 48", 3/BX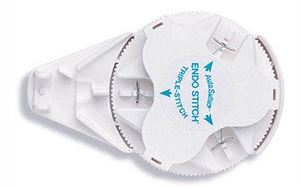 170043 - Endo Stitch Single Use Loading Unit with Surgidac, Triple-Stitch 0 Green 48"
The Endo Stitch triple-stitch reload is a single use loading unit with three sutured needles.
Surgidac polyester sutures are nonabsorbable, sterile, surgical sutures composed of Poly (Ethylene terephthalate). They are prepared from fibers of high molecular weight, long-chain, linear polyesters having recurrent aromatic rings as an integral component.
The monofilament sutures are uncoated and the braided sutures are available uncoated or coated uniformly with polybutylene adipate to increase surface lubricity, thereby enhancing handling characteristics, ease of passage through tissue, and knot run-down properties. Surgidac Polyester sutures are inert and elicit only minimal local tissue reaction.
| | | | | | | |
| --- | --- | --- | --- | --- | --- | --- |
| Order Code | Suture Type | Size USP | Size Metric | Color | Length | Qty |
| 170043 | Surgidac | 2-0 | 3 | Green | 7" 18 cm | 3/Box |
Single Use Loading Units for use with SILS Stitch and Endo Stitch 10 mm Suturing Devices
The Endo Stitch 10 mm single use suturing device has two jaws. A sutured Endo Stitch needle, loaded from a single use loading unit, is held in one jaw and can be passed to the other jaw by closing the handles and flipping the toggle levers.
The Endo Stitch device is designed for introduction and use through all appropriately sized trocar sleeves or larger sized trocar sleeves with the use of a converter. The Endo Stitch single use suturing device has application in endoscopic surgery for the placement of interrupted or running stitches in soft tissues.

Device Characteristics
| | |
| --- | --- |
| What MRI safety information does the labeling contain? | Labeling does not contain MRI Safety Information |
| Device required to be labeled as containing natural rubber latex or dry natural rubber (21 CFR 801.437): | No |
| Device labeled as "Not made with natural rubber latex": | No |
| For Single-Use: | Yes |
| Prescription Use (Rx): | Yes |
| Over the Counter (OTC): | No |
| Kit: | No |
| Combination Product: | No |
| Human Cell, Tissue or Cellular or Tissue-Based Product (HCT/P): | No |