Part Number
Covidien 176674
Ships Within
Special Order
Covidien 176674 - Visiport Plus RPF 5 mm-12 mm Standard Optical Trocar with VersaPort Plus Fixation Cannula, Black, 3/BX
Visiport PLUS Optical Trocars - A Clear Advantage
The Visiport Plus optical trocar is available in 5 mm-11 mm or 5 mm-12 mm diameter with a Versaport Plus radiolucent sleeve. The Visiport Plus optical trocar consists of an obturator with a blunt clear dome at the distal end which encloses a crescent shaped knife blade.
When the trigger is squeezed, the blade extends approximately 1mm and immediately retracts. This action permits a controlled, sharp dissection of the tissue layers. The pistol grip handle includes a trigger and, at the proximal end, an opening accommodates a 10mm laparoscope. The 10 mm 0 laparoscope permits visualization as the obturator passes through the abdominal or thoracic body wall.
The Versaport Plus radiolucent trocar sleeve contains an internal seal to prevent gas leakage when instruments are inserted or withdrawn. A Versaport Plus self-adjusting seal, accommodating instruments ranging from 5 mm to 11 mm or 5 mm to 12 mm is designed to effectively reduce the size of the trocars seal to allow insertion of smaller sized instruments without loss of pneumoperitoneum. There is a 3-way stopcock for gas insufflation and rapid gas desufflation.
Insufflation may not be required*
Direct visualization of tissue layers during primary port insertion
Allows a combination of controlled blunt and sharp dissection during entry
Visiport PLUS
The Visiport PLUS optical trocar consists of an optical obturator,with a blunt clear window at the distal end.
Quality of Visualization compared to XCEL
In a side by side comparison of the Covidien Visiport PLUS and the EthiconXCEL there is a difference in image clarity and distortion. Visiport PLUSprovides controlled entry with a high definition field of view. Images belowwere taken with a 0 laparoscope*.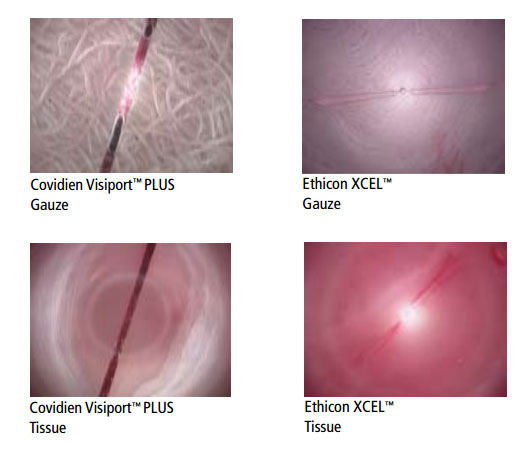 Features
Has VersaSeal Plus Universal Instrument Seal.

Benefits
No need for reducer caps. One handed instrument exchange, accepts instruments 5mm-12mm. Ease of specimen removal with detachable instrument seal.
FAQs
1.Is it available in a 5mm diameter?
No. It is only available in a 11mm and 12mm diameter.

2.Is it available in a long?
No. It is only available in a 100mm working length.
PLEASE REFER TO THE PACKAGE INSERT FOR COMPLETE INSTRUCTIONS, INDICATIONS, CONTRAINDICATIONS, WARNINGS AND PRECAUTIONS.
*Image focus and white balance set as per Instructions For Use.