Allow C.I.A. to white-glove your request for this item
Not buying today? Need a volume discount, Net 30 terms, or a government quote? Got a backorder, and need immediate stock? That's exactly what we do best. Let us solve your problem.
Product Description
Covidien 186-0200 - BIS Pediatric Sensor For children ages 4 and up, 25/BX
BIS Pediatric Sensor
Gain Insight into Brain Response with BIS Technology!
BIS technology offers clinicians added security for providing specialized care and comfort for their patients, including those who may be more sensitive to the hemodynamic effects of anesthesia. BIS monitoring technology provides valuable information about the status of patients to help clinicians address each patients unique anesthetic requirements. This technology may be particularly valuable for:
Patients with complex conditions whose status may suddenly or frequently change.
Patients with cardiovascular conditions.
Obese patients.
Trauma patients or others requiring reduced levels of anesthesia.

Features of BIS Pediatric Sensor
BIS pediatric sensor offers:
Peel-and-stick simplicity.
Zipprep technology.
The BIS pediatric sensor facilitates use on smaller heads.
BIS sensors collect electroencephalograph (EEG) data.
BIS technology enables simple EEG data collection via a noninvasive sensor applied to the patients forehead.
How BIS Technology Works
Raw EEG data are obtained through a sensor placed on the patients forehead.
The BIS system processes the EEG information, and calculates a number between 0 and 100 that provides a direct measure of the patients level of consciousness and response to sedation.
A BIS value of 100 indicates the patient is fully awake.
A BIS value of 0 indicates the absence of brain activity.
How is the Low-Voltage EEG Signal Acquired?
Traditionally, EEG data is collected through sensors placed all over the patients shaved scalp. The preparation process is arduous, and the resulting signal must be interpreted by specially trained staff. BIS technology enables simple EEG data collection via a non-invasive sensor applied to the patients forehead. Only proprietary BIS sensors offer:
Zipprep technology, which enhances conductivity and cuts down prep time by clearing away the first layer of skin.
A wide selection of sensors to meet the unique needs of individual patients in diverse clinical settings.
Insight into brain respons
BIS monitoring can help clarify the distinction between brain and spinal cord responses, enabling you to manage anesthetic goals of hypnosis, analgesia and immobility. Because BIS technology measures electrical activity in the brain, it provides a direct correlation with depth of consciousness (hypnosis). Responses to surgical stimulation are frequently indicators of the need for additional analgesia. These responses are often mediated in the spinal cord. BIS monitoring enables you to assess consciousness and sedation separately from cardiovascular reactivity.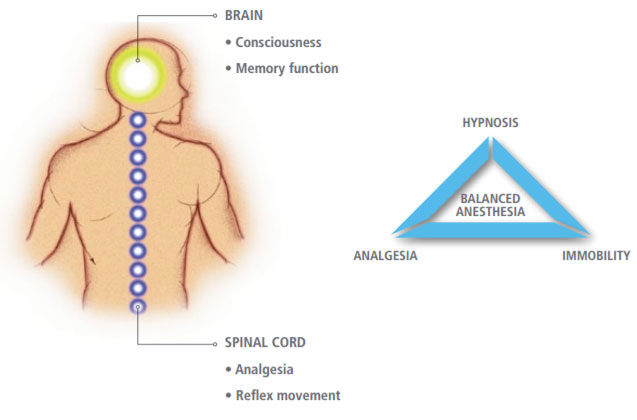 BIS technology improves safety and efficiency in the OR
Research demonstrates that awareness with recall occurs in one to two patients per 1,000 receiving general anesthesia.
BIS technology is the only consciousness monitoring system proven in rigorous prospective clinical studies to help clinicians reduce the incidence of awareness with recall in adults by approximately 80%.
BIS monitoring may play a role in helping health care organizations address the recommendations proposed in the Joint Commission Sentinel Event Alert2 on preventing and managing the impact of anesthesia awareness.
Awareness is a leading cause of patient dissatisfaction with anesthesia.
20,000 to 40,000 cases of awareness with recall occur each year in the U.S.
Advanced Monitoring for Improved Outcomes!
In the operating room, you need reliable data based on objective, quantified science. BIS monitors use innovative technology to link patient-specific EEG information to the individual clinical state:
One of several specially designed BIS sensors is applied to the side of the patients forehead.
This sensor non-invasively collects raw EEG data that indicates the multifaceted electrical activity of the brain in real time.
The scientifically validated BIS algorithm then filters, analyzes and correlates this data, quantifying only the changes in the bispectrum and other EEG features that apply to the individuals current clinical state.
The results are continually consolidated and displayed as the clinically validated BIS index, a number between 0 and 100 that indicates the patients response to anesthetic agents.
Customizing individual anesthetic dosing to keep this index within the target range during all phases of anesthesia may enable improved clinical outcomes.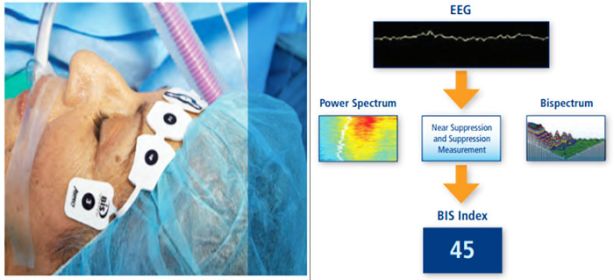 BIS monitoring technology provides valuable information about the status of your patients to help address their unique anesthetic requirements.
How does our sensor technology work to capture the low-voltage EEG signal?
First, we use a conductive ink that is printed directly on the surface of the sensor, under the adhesive foam and Zipprep technology. This creates an electrode surface that is helpful in picking up the low-voltage EEG.
Second, the Zipprep technology helps clear away the first layer of the epidermis. The mechanical action of pressing on the electrode results in the tines clearing away some of the first layer of dead skin cells, exposing the inner, more electrically conductive layer of skin. The conductive gel within the electrode permeates into this newly exposed area, creating a good electrical pathway between the EEG-carrying inner layers of skin and the conductive traces within the sensor. The EEG signal is then carried through these traces to the BIS monitor.
Third, we include a thin layer of sponge that contains a very precise amount of gel. This gel creates a "bridge" between the forehead and the conductive electrode surface.
These combined components help achieve an optimal environment to acquire and maintain the EEG signal.
Specifications
Connector (paddle) Polycarbonate plastic (incidental patient contact).
Tab stiffener Polycarbonate sheet (no patient contact).
One side coated with adhesive.
Module Copper/brass/Kapton (no patient contact).
Flexible circuit Polyester screen-printed with cured Ag/AgCl and dielectric inks (incidental patient contact).
Electrode gel Potassium chloride (KCl) aqueous gel.
Electrode tines disk Green nylon plastic.
Electrode sponge disk Polyurethane/polyester foam.
Electrode tines retaining disk 1/32 in. white polyethylene foam (no patient contact).
Both sides coated with medical-grade adhesive.
Basepad 1/16 in. white polyethylene foam.
Both sides coated with medical-grade adhesive.
Liner card Silicone-coated high-impact polystyrene (no patient contact).
Packaging Paper/aluminum foil/polyethylene (no patient contact).