Covidien 4420-23 - Suture Novafil Mono Blu C13 5-0 18" 12/BX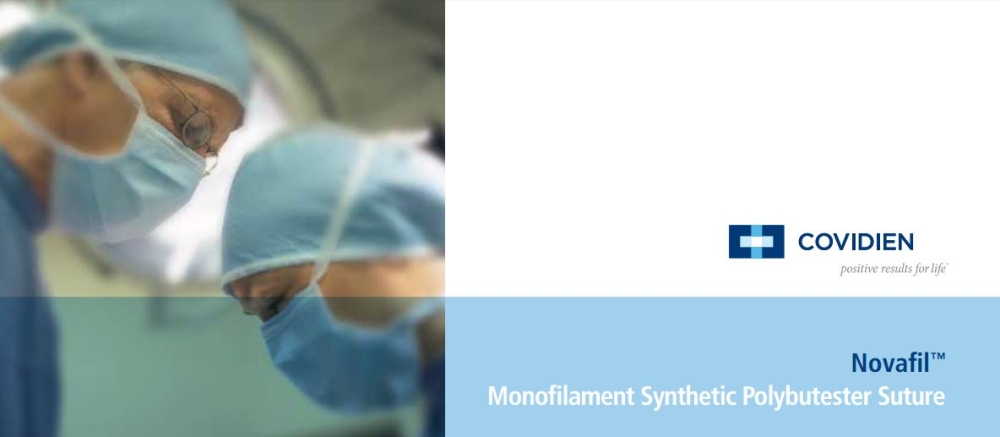 Covidien 8886442023 NOVAFIL Monofilament Polybutester Suture, Reverse Cutting, Size 5-0, Blue, 18", Needle C-13, 3/8 Circle (Pack of 12)
Novafil non-absorbable monofilament surgical sutures are composed of polybutester fiber. The suture is available dyed blue to provide visibility or clear, and are indicated for use in general soft tissue approximation and/or ligation - including use in cardiovascular and ophthalmic surgery. Novafil polybutester sutures unique composition gives the suture:
Suppleness and easy handling
Unique elasticity and flexibility
Excellent knot security
Less tissue drag and smooth knot run-down
Fray resistance
Unique resistance to creep and structural fatigue
Tension Control During Cosmetic Procedures
Acute Elongation Accommodates Edema
In skin closure, edema may result from fluid accumulation at the closure site. Novafil polybutester construction offers a controlled elasticity that will accommodate swelling that occurs during the healing process and the patient will experience less tension on a healing wound.
Unlike nylon or polypropylene material that may not recover from stretching, Novafil is "creep resistant" and can return to its original form when edema recedes. Novafil helps diminish the risk of hypertrophic scarring by keeping constant support on the sutured incision. And, unlike hydrophilic nylons that absorb moisture and may adhere to tissue, Novafil suture is moisture repellent. The removal of Novafil suture from skin, fascia or muscle provides a smooth pull-through that is less likely to damage the tissue.
Unique Benefits

Minimal memory (easy to handle, easy to work with)
Superior to polypropylene strength (secure and reliable closures)
Superior pliability (easy to handle, easy to tie - improved case flow)

Frequent Uses

Plastic Surgery
General Surgery
Cardiovascular Surgery and Ophthalmic Surgery.

Indications

Novafil polybutester sutures are indicated for use in general soft tissue approximation and/or ligation, including use in cardiovascular and ophthalmic surgery, but not in microsurgery and neural tissue.

Contraindications

The use of this suture is contraindicated in patients with known sensitivities or allergies to its components.

The Elastic Properties of Polybutester are Designed to Provide:

Great knot security
Tighter and smaller knots
See How Novafil Sutures Perform in Each Wound Healing Phase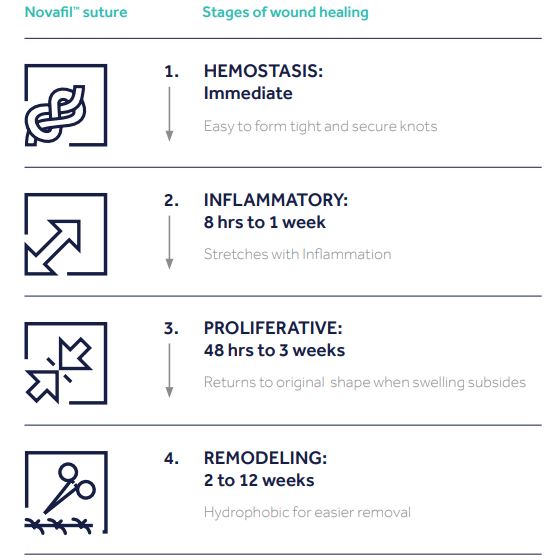 Dynamic Wounds Need Dynamic Sutures
Wounds to the dermis experience considerable edema and wound expansion in the first 24 hours after surgery. According to clinical studies, edema causes wounds to expand by an average of 1 mm.
Because current monofilament sutures are static and relatively inelastic they do not expand to accommodate edema which may negatively impact scar formation. Novafil suture is dynamic. It stretches with edema and returns to its original shape when the swelling subsides.
Better Cosmetic Results with Novafil Sutures
In a study comparing Novafil suture to nylon, Novafil suture reduced the risk of hypertrophic scarring.
In an additional comparative study, the use of Novafil sutures helps contribute to less scarring than polypropylene.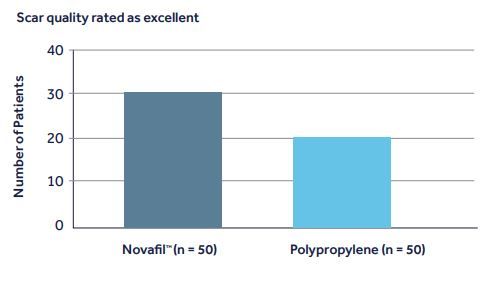 Excellent Suture Handling Characteristics

Whether you are an experienced surgeon or are suturing a patient for the very first time, the unique properties of Novafil sutures make it easier to tie, confident knots and efficiently care for your patients

More Benefits, Knot To Knot

Compared to polypropylene suture products, Novafil suture offers features that potentially help facilitate successful skin closure and wound healing.
Comparison between Nylon, Polypropylene & Polybutester Suture. (Stiffness vs. Pliability)