Allow C.I.A. to white-glove your request for this item
Not buying today? Need a volume discount, Net 30 terms, or a government quote? Got a backorder, and need immediate stock? That's exactly what we do best. Let us solve your problem.
Product Description
Covidien GIA8038L - Covidien GIA 80MM - 3.8MM, Single Use Loading Unit, Reload, Blue, 6/BX
The GIA8038LReloadable Staplers and Single Use Loading Units (SULU) are available in the following lengths 80 mm lengths.
The GIA8038L: Single-Use Loading Units for use with GIA DST Series - Single Use Reloadable Staplers with Titanium Staples - . The Auto Suture GIA Reloadable Staplers and the SGIA Knifeless Stapler have application in abdominal, gynecological, pediatric and thoracic surgical procedures for resection, transection and creation of anastomosis. Single use loading unit.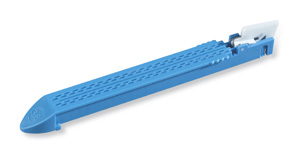 Single use
For use with the MultiFire GIA 80 - 38 stapler.
Titanium staples. Tear Drop Anvil/Strongest Beam Available reduces deflection, eliminates pin, improves staple formation. Lock Lever on Cartridge Side provides improved access. Ergonomic Inlay Grips provides better control. Rear Hinge enables one-handed positioning. Adjustable Firing Knob provides versatility - may be fired from either side. Pinless for atraumatic placement avoids trauma associated with placement pin. Directional Stapling Technology provides improved staple formation and staple line security, especially in challenging applications. Length: 80mm Width: 3.8mm Tissue Compression: 2.0mm Diameter: 15mm.