Allow C.I.A. to white-glove your request for this item
Not buying today? Need a volume discount, Net 30 terms, or a government quote? Got a backorder, and need immediate stock? That's exactly what we do best. Let us solve your problem.
Product Description
Covidien GIA8038S - STAPLER, GIA 80-3.8, RELOADABLE, SNGLE USE, 3/BX
The GIA 80 Reloadable Staplers place two double staggered rows of titanium staples and simultaneously cut and divide tissue between the two double rows. The GIA Reloadable Staplers and Single Use Loading Units (SULU).
The GIA 80 Reloadable Staplers are available in 3.8MM staple sizes to accommodate various tissue thicknesses: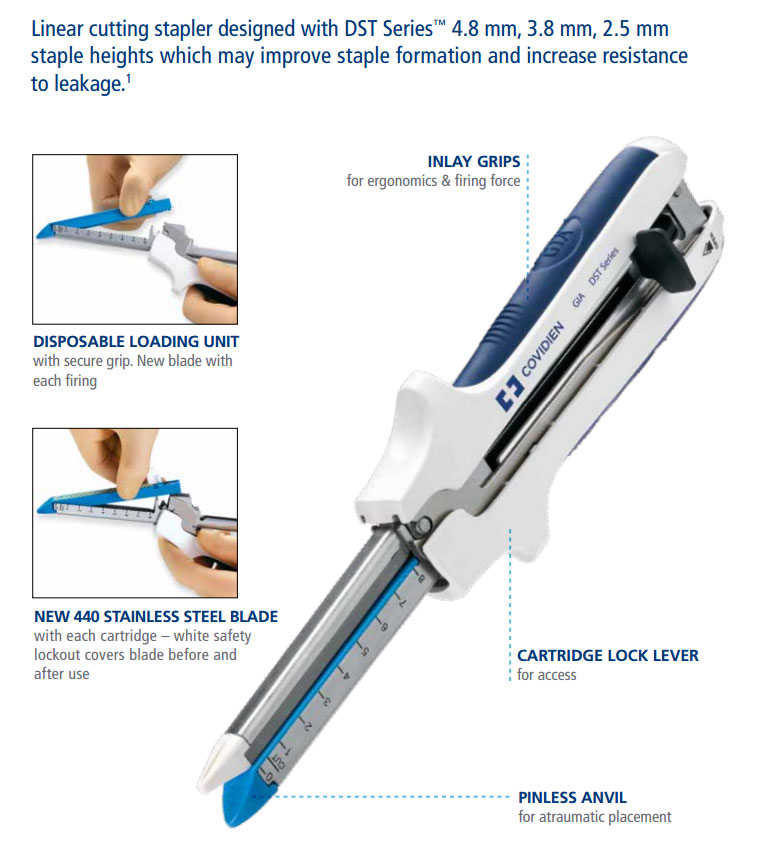 Each GIA Reloadable Stapler may be reloaded up to 7 times for a total of 8 firings per instrument.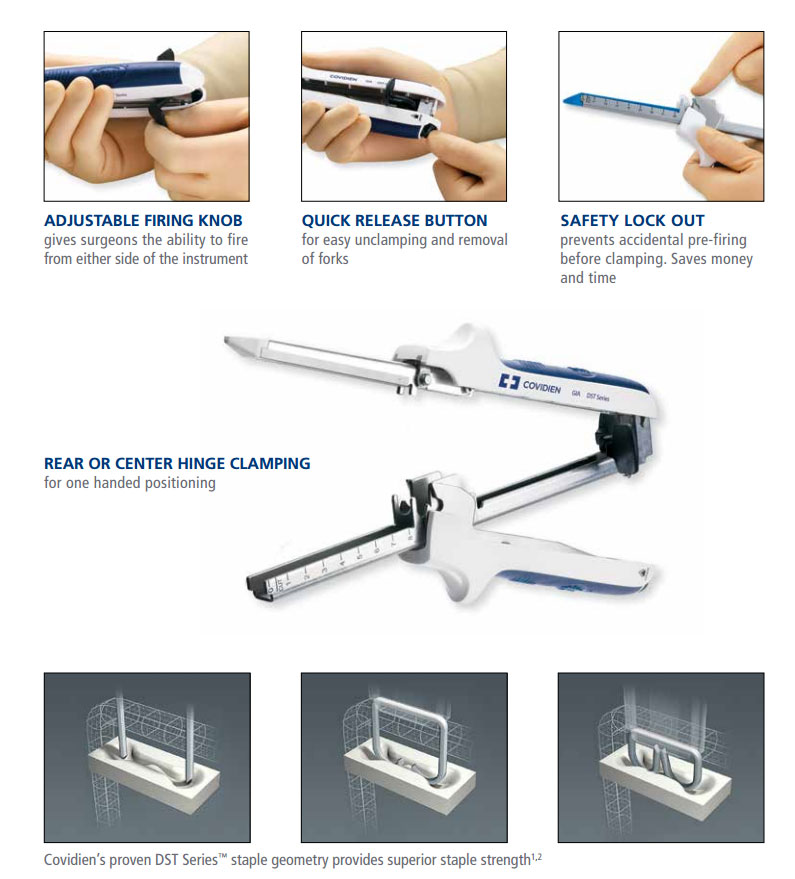 Features and Benefits
1.Tear Drop Anvil/Strongest Beam Available
Reduces deflection, eliminates pin, improves staple formation.
2.Lock Lever on Cartridge Side
3.Ergonomic Inlay Grips
4.Rear Hinge
5.Adjustable Firing Knob
Versatility - may be fired from either side.
6.Pinless for atraumatic placement
Avoids trauma associated with placement pin.

7.Directional Staple Technology
Improved staple formation and staple line security, especially in challenging applications.
FAQs
1.Will Directional Staple Technology be incorporated into all Staplers?
Directional Staple Technology has proven to improve the performance, reliability and manufactureability of TA and GIA Series Staplers. The effectiveness of Directional Staple Technology in other staples will be assessed as these products are developed.
2.Why reinvent your current line of staplers? I have no problems with the staplers I use now?
We continually strive to enhance and develop our existing product lines to provide the highest quality, cost effective, consistent, and reliable technologies, all focused on improving outcomes. Previous linear staplers and GIA Staplers are models that were designed and released in 1992imagine if cars or computers and the internet were still functioning at 1992 standards.
3.In your literature, you reference less-than-desirable staple formation?
During our research, surgeons suggested that, in certain applications, existing technologies had limitation, as demonstrated by the illustration. This may be encountered in thick tissue, where there is cartridge to anvil deflection or misalignment (demonstrate this point using the DST Series sell sheet). In the automotive industry, ABS Technology evolved to enhance performance in challenging braking situations. Similarly, DST Series staplers evolved to enhance performance in challenging tissue applications. We continually strive to enhance and develop our existing product lines to provide the highest quality, cost effective, consistent, and reliable technologies, all focused on improving outcomes.
4.Does Directional Staple Technology cause necrosis?
30 years of clinical data support a "B" shaped staple. The Directional Staple Technology still delivers a B shaped staple, just does so more consistently and reliably, particularly in thicker tissue applications.
5.How does Directional Staple Technology work?
During surgery, surgeons may encounter applications that may challenge traditional surgical staplers. Directional Staple Technology was designed to deliver improved clinical performance in these challenging situations. The technology incorporates two components: the use of NEW staple wire that bends more consistently and reliably in the plane that it is supposed to; and a redesigned anvil geometry that provides a large target area for the staple to form. The outcome that you see when you fire a NEW DST Series TA or GIA Stapler is more consistent and reliable staple formation.
6.Do the DST Series GIA staplers have Tissue Gap Control?
Tissue Gap Control is a stapling innovation belonging only to Covidien. The DST Series GIA staplers incorporate new innovations that go above and beyond tissue gap control to provide hemostasis and reduce deflection. Specifically, the increased strength of the beam used in the DST Series GIA staplers combined with Directional Staple Technology allow for proper staple formation even in challenging applications. And only Covidien has it!
7.Do you have any clinical studies to support your claims?
We have the data to support the claims we are currently making about Directional Staple Technology, and, more specific claims will be made on studies that are being conducted at prestigious institutions.