Covidien SL5679G - Suture 3-0 Polyester P-14 Polysorb Undyed 30" Braid 12/Bx

Polysorb Braided Absorbable Sutures
Polysorb sutures are composed of Lactomer glycolide/lactide copolymer, which is a synthetic polyester composed of glycolide and lactide (derived from glycolic and lactic acids). They are prepared by coating the suture with a mixture of a caprolactone/glycolide copolymer and calcium stearoyl lactylate. The sutures are colored violet to increase visibility and are also available undyed.
The advanced extrusion process of the molecule of Lactomer 9-1, the exclusive braiding process and coating system, give the suture:
Excellent strength over the critical wound healing period
Excellent knot security
Excellent handling
Predictable absorption profile
PREMIUM REVERSE CUTTING - Polysorb 3/8 Circle 24mm, P-14, 3-0, 2, 75cm, Undyed
| | | | | | | |
| --- | --- | --- | --- | --- | --- | --- |
| Item No. | Suture Type | USP | Metric | Length | Color | Qty |
| SL5679G | Absorbable | 3-0 | 2 | 30" | Undyed | 12 |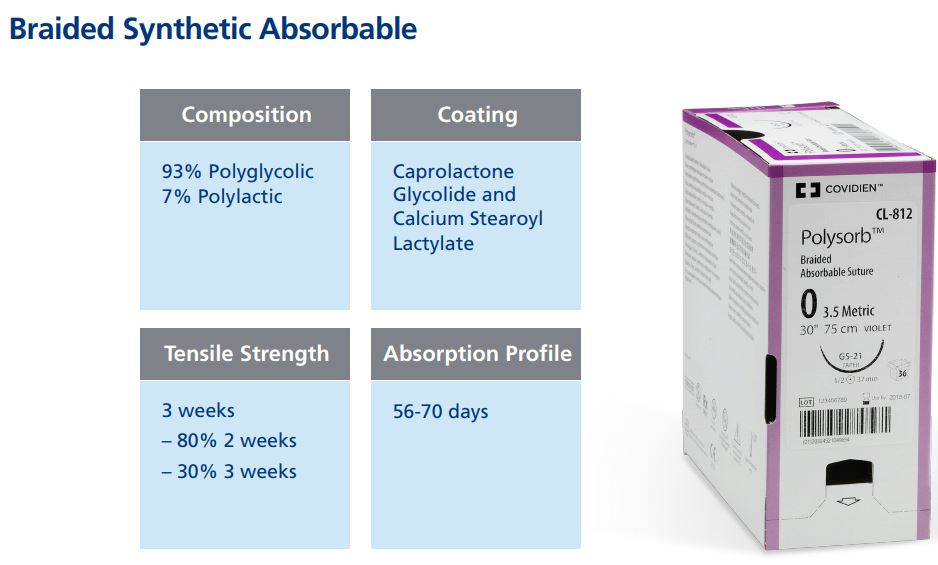 Multifilament
Name
Composition
Coating
Absorption
Color
Polysorb
Polyglycolic acid and
Polylactic acid
Caprolactone Glycolide
Copolymer and Calcium
Stearoyl Lactylate
56-70 days
Purple / Undyed
Percentage of Sheath & Core
What Is the Difference Between Polysorb Suture and Vicryl Suture?
Tensile Strength

Polysorb Suture Tensile Strength

Polysorb suture tensile strength is measured as a percentage of the United States Pharmacopeia (USP).

Vicryl Tensile Strength

Vicryl tensile strength is measured as a percentage of its original strength.

Average Knot Pull Strength

(size 1 to 3-0)

Out of package
Polysorb is 36% stronger than Vicryl
After 1 week of implantation
Polysorb is 25% stronger than Vicryl
After 2 week of implantation
Polysorb is 8% stronger than Vicryl

Because the measurements are different, a knot pull test was used to compare the strength of both sutures. The knot pull strength test measured the maximum load in kilograms of force that the sutures can hold before breaking.

When Is the Critical Wound Healing Period?

In a literature research, 4 clinical studies were found with a combined number of 15,404 patients; all papers concluded that wound dehiscence occurred during the first and second week after surgery. This first 2 weeks post operatively is the critical wound healing period and when strength is needed the most.
Polysorb Suture Is Stronger During the Critical Wound Healing Period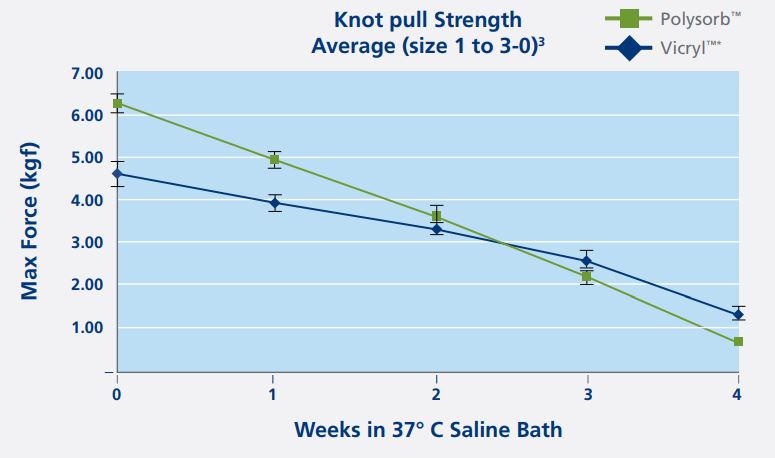 Why Use Polysorb Suture?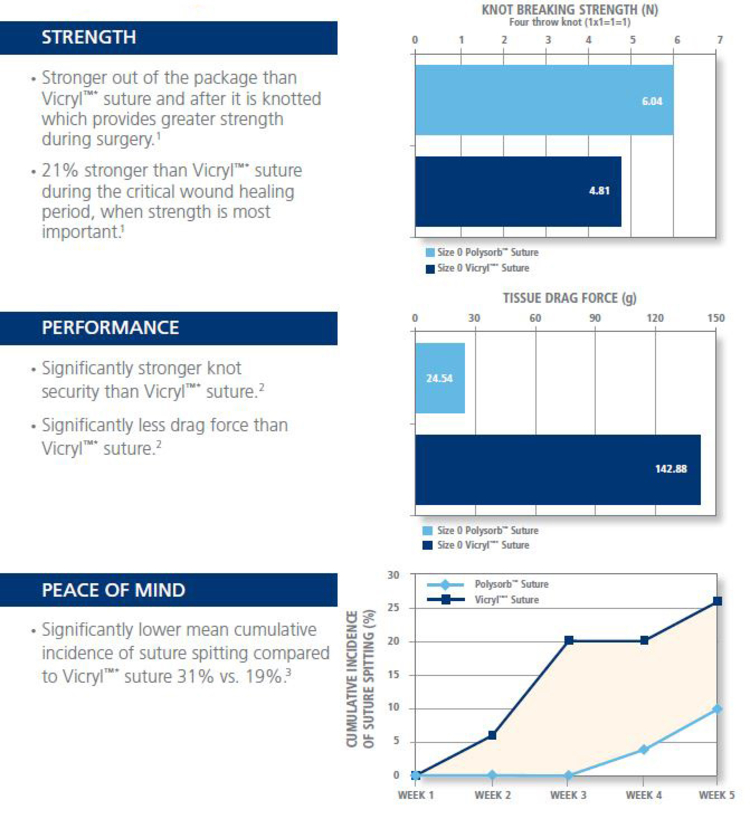 Indications
POLYSORB sutures are indicated for use in soft tissue approximation or ligation and ophthalmic surgery, but not in cardiovascular or neural tissue.
Contraindications
POLYSORB sutures, being absorbable, should not be used where extended approximation of tissue is required.
Actions
POLYSORB sutures elicit a minimal acute inflammatory reaction in tissues, followed by gradual encapsulation of the suture by fibrous connective tissue. Progressive loss of tensile strength and eventual absorption of POLYSORB sutures occurs by means of hydrolysis, where the LACTOMER glycolide/ lactide copolymer is broken down to glycolic and lactic acids which are subsequently absorbed and metabolized by the body.
Tensile Strength
Subcutaneous tissue implantation studies in rats indicate POLYSORB sutures are approximately 140% of USP and EP minimum knot strength initially, are approximately 80% at two weeks and approximately 30% at three weeks post-implant.
Absorption
Absorption begins as a loss of tensile strength without appreciable loss of mass. Absorption of POLYSORB sutures is essentially complete between the 56th and 70th day.
Packaging
POLYSORB sutures are available in USP sizes 2 (5 metric) through 8-0 (0.4 metric). They are available undyed (natural) or dyed (violet). The sutures are supplied sterile, in pre-cut lengths or ligating reels; non-needled or affixed to various needle types, using both permanent and removable needle attachment techniques; in one, two or three dozen boxes.
Device Characteristics
| | |
| --- | --- |
| What MRI safety information does the labeling contain? | Labeling does not contain MRI Safety Information |
| Device required to be labeled as containing natural rubber latex or dry natural rubber (21 CFR 801.437): | No |
| Device labeled as "Not made with natural rubber latex": | No |
| For Single-Use: | Yes |
| Prescription Use (Rx): | Yes |
| Over the Counter (OTC): | No |
| Kit: | No |
| Combination Product: | No |
| Human Cell, Tissue or Cellular or Tissue-Based Product (HCT/P): | No |
Frequently Asked Questions
Question: If the chemical composition, coating and braid construction of Polysorb suture and the competitor's braided synthetic absorbable suture are essentially the same how is it that Polysorb sutures are appreciably stronger?
Answer: The sheath and core of Polysorb suture utilize a manufacturing process that produces more finer, stronger filaments and provides Polysorb with superior tensile strength.
Question: Polysorb suture's tensile strength is listed at 80% at 2 weeks and 30% at 3 weeks. The tensile strength of our competitors' braided suture is listed at 75% at 2 weeks, 50% at 3 weeks and 25% at 4 weeks. How can you claim that Polysorb is stronger?
Answer: Syneture's tensile strength for Polysorb is based on a percentage of the USP standard for knot pull strength. It is an industry measurement standard and measures the actual strength of the suture both out-of-package and over time. The competitor's tensile strength claim for their product is not based on the actual strength of the suture over time but instead on the percentage of it's own original strength. If the competitive product lists it's strength at 75% at 2 weeks that means it has 75% of its original strength. In its registration the competition does not use any industry standard as a base point for measurement. In an "apples to apples" test of tensile strength measuring how many kilograms of force it takes to break a suture line, Polysorb is appreciably stronger out-of-package and during the critical wound healing period.
Question: I used Polysorb sutures before and the knots slipped and the suture unraveled. Why should I try it again?
Answer: There have been several improvements made to Polysorb in the past few years. The original core-to-sheath ratio was 80% core to 20% sheath. This made the suture more supple but the suture was prone to slipping and separating from the core. The current core-to-sheath ratio is 20% core to 80% sheath. This ratio is equivalent to the competitor's braided synthetic abrsorbable suture. Polysorb suture's braid construction and coating were improved to provide better flow through tissue and a more secure knot. When tied down with proper technique, Polysorb has a stronger, more secure knot.
Question: Does Polysorb have greater tissue reactivity than the competitor's braided synthetic absorbable suture?
Answer: Polysorb is made up of essentially the same chemical composition as the competitor's product. They are both absorbed by hydrolysis and their absorption profiles are both between 56-70 days. In-vivo testing has shown no measurable difference in reactivity between Polysorb and the competitor's braided synthetic absorbable suture.