Ships Within
Special Order
Ethicon D5ST - Xcel Endo Trocar Tip Dilating 5mm 6/BX
ENDOPATH XCEL Trocars are sterile, single-patient-use instruments consisting of an obturator and a radiolucent sleeve, with an optional pistol handle.
ENDOPATH XCEL Trocars are available in bladeless tip, dialting tip, blunt tip and universal sleeves and are found with 5mm, 11mm and 12mm diameter obturrators. The trocars accommodate an appropriately sized 0 endoscope.
Features ofENDOPATH XCEL Dilating Tip Trocars
Low insertion force: Controlled and predictable entry has helped ENDOPATH XCEL Trocars earn your trust.
ENDOPATH XCEL Bladeless Trocars have the lowest insertion force compared to leading Covidien, Applied Medical, and Taut Bladeless Trocars.*
Abdominal wall retention: Integrated thread design on bladeless, universal sleeve, and dilating tip cannulas help minimize trocar slip-outs.
Greater stability demonstrated in bladeless trocars:

- 5mm ENDOPATH XCEL Bladeless Trocars have twice as much retention force compared to leading Applied Medical trocars with threaded sleeves.
Low system drag force: Low system drag force: Housing and seal are designed to eliminate instrument hang-ups and provide low peak instrument insertion/extraction force.
Direct visualization: Bladeless optical tip eliminates blind entry.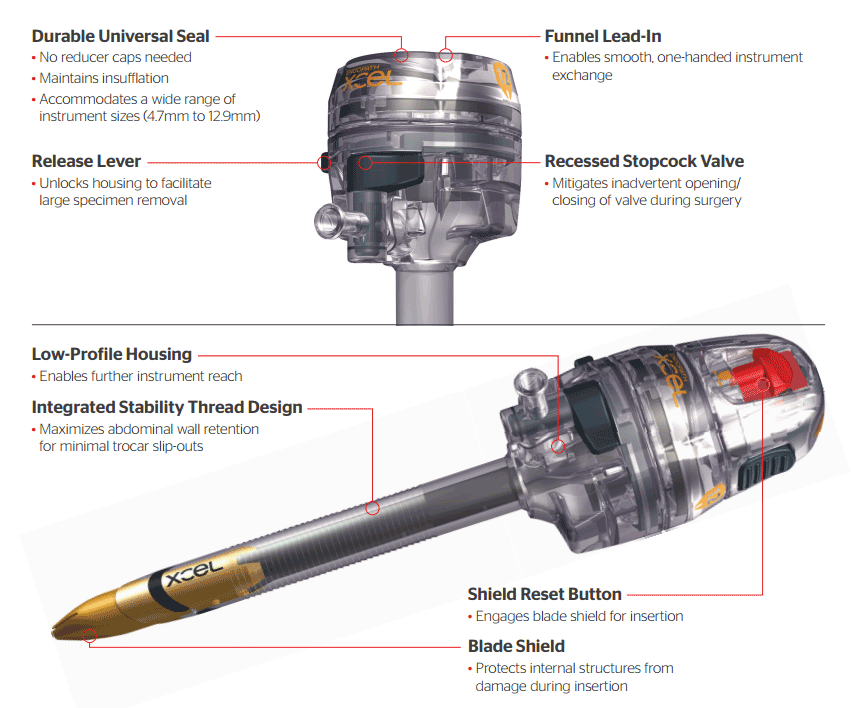 More Options More Value
At Ethicon, we recognize that not all ports require the same level of trocar functionality. We offer the Flexibility to choose the trocar for the right level of performance, when and where its needed.
ENDOPATH XCEL Trocars with OPTIVIEW Technology for camera ports.
ENDOPATH XCEL Trocars for working ports.
ENDOPATH BASX Trocars for retraction ports.
PRODUCT NAME: ENDOPATH XCEL Dilating Tip Trocars
PRODUCT CODE: D5ST
LENGTH: 75mm
DIAMETER: 5mm
EA/BX: 6
SLEEVE: Stability