Part Number
Ethicon ER320
Ethicon ER320 - Clip Applier Ligaclip Md/Lg MCA Rotating Head 20 Count 3/Bx
The LIGACLIP Endoscopic Rotating Multiple Clip Applier is a sterile single-patient-use instrument.
For surgeons who prefer a 10mm clip applier, our LIGACLIP Endoscopic Rotating Multiple Clip Applier delivers 20 titanium clips that individually advance after each firing. Our multiple clip appliers come in Medium/Large, or Large clips. All clips provide lateral and transverse clip grooves on the inside surface of the clip.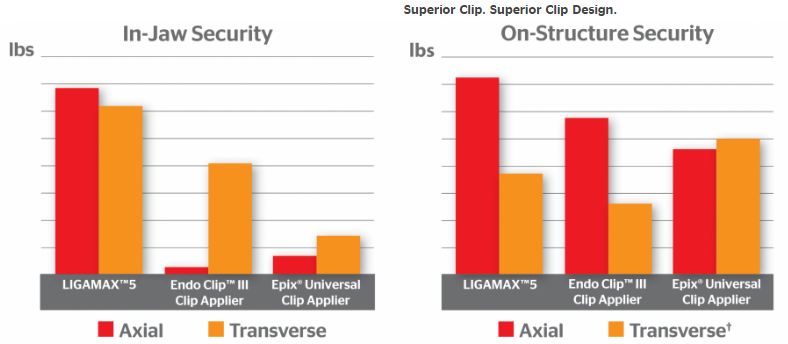 Ethicon designed the LIGAMAX5 Endoscopic Multiple Clip Applier with a unique combination of features in the clip and applier to provide in-jaw security and on-structure clip security in even the most demanding of cases.
Clips and jaws are designed to firmly maintain the clip in the jaw of the device during surgical maneuvering to help prevent clip dislodgement. This reduces the potential for malformed or dropped clips.
LIGAMAX5 provides superior, best-in-class clip security through these features:
Tissue Stop minimizes contact of the vessel to the clip to reduce chance of clip dislodgement from jaws.
Clip Advancer Tab facilitates clip feeding and provides stability during firing cycle.
Anti-backup Ratchet Mechanism prevents interruptions in the firing sequence from affecting in-jaw stability.
Direct-drive Feed Mechanism allows for smooth, controlled clip advancement and placement.
Multi-Patient Use Single-Clip Appliers
These reusable ligating clip appliers, compatible with our non-absorbable clips, are designed for the ligation of tubular structures for open or endoscopic procedures. Simple to use, just position the ligating clip around the structure and apply pressure to the trigger.
Patented lateral and transverse grooves on the inner clip surface provide excellent on-vessel clip security.
Features include:
Large clip applied through 10mm incision, 8.8mm closed clip length (ER320) and 11.0mm (ER420) and on-vessel clip security for confident ligation. Instrument has patented lateral and transverse grooves and contains 20 titanium clips.
360 rotation knob/shaft designed for easy rotation and allows for a one-handed technique.
Low glare shaft made of a material that minimizes reflective distortion.
Rigid and low glare shaft made of a material that minimizes reflection and minimizes instrument movement during firing.
Fully automatic clip loading system for a smooth, controlled one-step firing sequence.
Anti-clip drop ratchet mechanism.
Last clip lockout with indicator bar.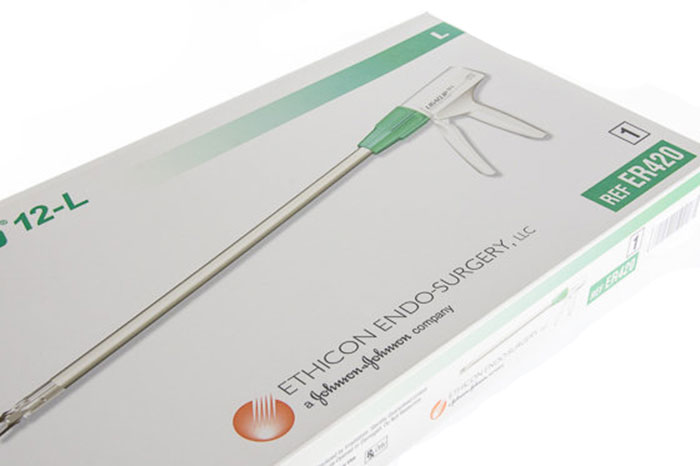 It is:
Precise Distal-tip closing enables controlled and precise placement and can also partially form a clip to secure a cholangiogram catheter.
Easy to use long, thin, angled jaws provide access and visibility, collapse for smooth insertion through a 5mm trocar, then spring back to open wide. Audible and tactile ratcheting of handle for control and feedback.
Ergonomic handle allows for smooth, controlled firing, and 360 rotation knob is designed for easy maneuverability.
Security - Anti-backup and overload mechanism provide control over clip and closure, as well as added protection for jaws.