GE Healthcare SFT-A3-2A-L - CUFF, BP, SOFT-CUF, LONG, ADULT, LG, 2T CLICK, 20/BX
GE Critikon Soft-Cuf, Large Adult Long, 2 TB, DINACLICK Connector, Rose, 31 - 40 cm, 20/box
The GE Critikon Soft-Cuf BP cuff is designed with soft, absorbent material with rounded corners for maximizing patient comfort during extended stays at the hospital. This cuff is ideal for patients with longerterm stays or for protocols where the cuff travels with the patient through their total length of time in the hospital. It can be cleaned and reused on multiple patients, but is priced economically so it can be disposed of after a single patient use, to help you prevent infections at an affordable price.
The Ultimate in Patient Comfort
The GE Critikon Soft-Cuf solutions are designed and priced to help you maintain high-quality care and patient satisfaction
Soft, absorbent material with rounded corners enhances patient comfort
Economical enough for pairing with a single patient throughout their hospital stay
Enhancing infection control efforts at an affordable price
| | | | | |
| --- | --- | --- | --- | --- |
| Product Code | Size | Color | Limb Circumference | Connector |
| SFT-A3-2A-L | Large Adult Long | Rose | 31-40 cm | 2-Tube DINACLICK Connector |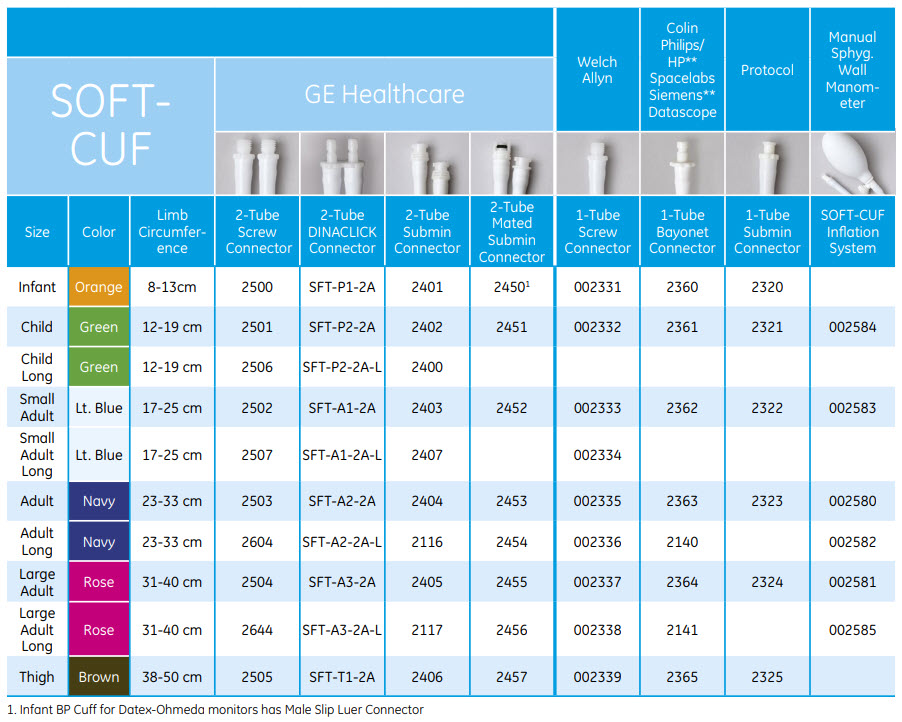 Designed for Patient Safety, Comfort and Accuracy
Limited reuse, yet economical enough for pairing with a single patient throughout their hospital stay to help with your infection control efforts
Soft, absorbent material is not made with DEHP or natural rubber latex to help enhance patient safety
Designed with rounded corners for patient comfort
Designed and clinically validated for performance accuracy to help you make well-informed decisions
New DINACLICK connector meets international standards and helps prevent misconnections to luer fittings
Full range of cuff sizes available, from neonate, pediatric, adult and thigh, ensuring that the measurement you receive is from proper fit
Designed to Improve Workflow
New, easy-to-use, fast DINACLICK connector enables nurses to link the cuff to the monitor faster than other dual-tube connectors
Cuffs compliant with AAMI and AHA NIBP cuff sizing standards for prompt, correct sizing
Full range of adapters and connectors are compatible with automated monitors from GE, Philips, Colins, Siemens, Protocol, Spacelabs, Welch Allyn and Datascope, as well as on a variety of manual devices, including wall manometers and hand-held gauges, enabling a universal connection system throughout the facility.
Standardize and Save
By standardizing connecting systems, you create a universal connection to allow the same type of cuff connection to work on a variety of NIBP devices.
Fewer purchase orders, invoices and SKUs.
Dedicated implementation team.
Lower carrying costs.
Best of all, your patients get quick attention, quality care and a comfortable hospital experience.