Hollister 18124 - POUCH, DRAINABLE, NEW IMAGE, 2PC, 2 3/4"FLNG, 10/BX

New Image 12" Drainable Pouch, No Filter, Clamp Closure - Flange 2(3/4)", Beige, (Blue)
Drainable Pouch is part of a two-piece pouching system. The pouch is designed to be opened at the bottom when emptying. These pouches are most suitable for colostomies or ileostomies. To close the pouch, use the curved, beige clamp. Soft, beige ComfortWear pouch panels help provide comfort.
Drainable Pouch
Includes 1 clamp
Without Integrated Filter
Clamp Closure
With Belt Tabs
With ComfortWear Panels

Transparent and Ultra-Clear - Body Side Only
Beige - Both Sides
| | | | | | |
| --- | --- | --- | --- | --- | --- |
| Stock Number | Color | Color Match | Opening | Length | Order Quantity |
| 18124 | Beige | Blue | 2-3/4" (70 mm) | 12" (30 cm) | Box of 10 |
Features
Curved, beige pouch clamp
Beige pouch flange
Odour-barrier pouch film
Designed to be used with any New Image two-piece skin barrier with same flange size
Belt tabs
ComfortWear pouch panels
Transparent and Ultra-Clear - body side only, Beige - both sides
Not made with natural rubber latex
Color Matching System
To help you select compatible New Image pouching system components, every box label is color-coded. First, select the proper skin barrier; then select a matching color-coded pouch ("red" skin barrier box label is compatible to any "red" pouch box label).
A two-piece system is the most versatile. It comes with a skin barrier that is separate from the pouch. The pieces snap together with a flange, a part that looks like a plastic ring. (see page 4) It is easy to leave the skin barrier attached to your skin and unsnap the pouch and discard it as often as you like.
Comfortable and flexible for active lifestyles
Skin barriers available with or without tape
New Image pouches are compatible only with New Image skin barrier
Why Choose a Two-Piece Pouching System?
With a two-piece pouching system, the skin barrier and pouch are separate and connect together with a plastic ring, or flange. Here are a few reasons why you might want to use a two-piece pouching system:
You may want to change your pouch more often than your skin barrier
You may want to alternate between different pouch styles. For example, you might want to wear a smaller pouch during exercise or in the shower, and a larger pouch at night
You may find it easier to center your skin barrier over your stoma using a two-piece system
Two-Piece Pouching System Care Tips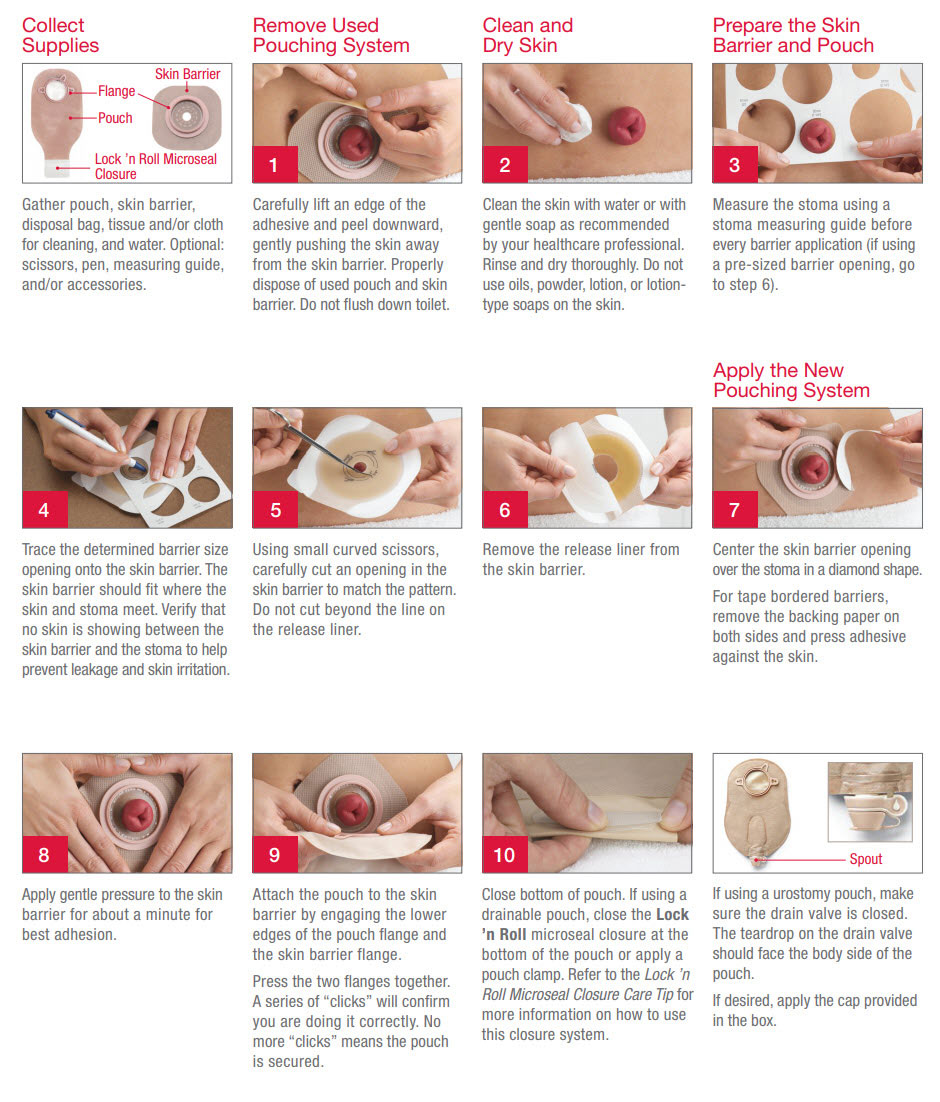 If using a barrier ring or paste, apply it to the sticky side of the skin barrier next to the stoma opening as directed
The skin around your stoma should not show any signs of rash or sores
Irritated skin should be evaluated by a healthcare professional
Your stoma will probably be swollen after surgery. It may take several weeks or months for the stoma to shrink to its permanent size
The stoma may bleed slightly when you clean it
The use of skin protective wipes are not recommended under extended wear skin barriers as they may decrease wear time
Adapt Ostomy Belt
An ostomy belt can be used to help:
Enhance pouching system adhesion
Provide a sense of security during regular wear or during activities
Establish more predictable pouching system wear times
Enhance the convexity of a convex barrier