Hollister 18402 - POUCH, NI, UROST 9", 2PC, 1.75"FLANGE, TRANSP, EACH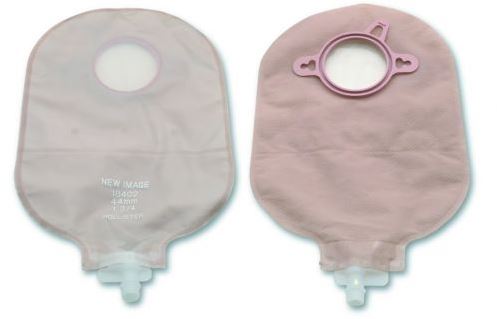 New Image 9" Transparent Urostomy Pouch - Flange 1(3/4)", (Green)
This urostomy pouch has a tap at the bottom, which allows it to be connected to a bedside collector with the use of the adapter provided. Anti-reflux feature in pouch minimizes backflow of urine. Soft, beige ComfortWear pouch panels help provide comfort. To be used with a New Image skin barrier.
Urostomy pouches have a drain valve at the bottom for easy emptying.
Urostomy pouch with tap
Tap has teardrop indicator; some available with attached cap
Anti-reflux helps prevent urine backflow
Belt tabs
ComfortWear pouch panels
Transparent and Ultra-Clear - body side only
Beige - both sides
Not made with natural rubber latex
Stock Number
Color
Color Match
Opening
Length
Order Quantity
18402
Transparent
Green
1-3/4" (44 mm)
9"
Box of 10
Includes 1 adaptor
Features
Urostomy pouch with tap
Soft touch control flow tap (189xx series only)
Tap has teardrop indicator; some available with attached cap
Transparent and beige odour-barrier pouch film options
Anti-reflux helps prevent urine backflow
Not made with natural rubber latex
Enhanced multi-chamber design (189xx series) allowing bag to sit flatter and more discreetly
Urostomy Pouches
All urostomy pouches have a drain valve at the bottom of the pouch so urine can be drained quickly when you empty the pouch. There are clear and beige options. All Hollister urostomy pouches have a soft cover called a ComfortWear Panel designed to increase your comfort.
At night, you can connect your urostomy pouch to a bedside drainage collector. Each box of Hollister pouches includes an adapter (below) which makes it possible to connect your pouch to the drainage collector. We suggest you clean your bedside drainage collector every day using m9 Cleaner/Decrystallizer. It comes with a convenient rinse bottle so it's easy to put the cleaning solution into the tubing to clean the bedside system.
Color Matching System
To help you select compatible New Image pouching system components, every box label is color-coded. First, select the proper skin barrier; then select a matching color-coded pouch ("red" skin barrier box label is compatible to any "red" pouch box label).
A two-piece system is the most versatile. It comes with a skin barrier that is separate from the pouch. The pieces snap together with a flange, a part that looks like a plastic ring. (see page 4) It is easy to leave the skin barrier attached to your skin and unsnap the pouch and discard it as often as you like.
Comfortable and flexible for active lifestyles
Skin barriers available with or without tape
New Image pouches are compatible only with New Image skin barrier
Why Choose a Two-Piece Pouching System?
With a two-piece pouching system, the skin barrier and pouch are separate and connect together with a plastic ring, or flange. Here are a few reasons why you might want to use a two-piece pouching system:
You may want to change your pouch more often than your skin barrier
You may want to alternate between different pouch styles. For example, you might want to wear a smaller pouch during exercise or in the shower, and a larger pouch at night
You may find it easier to center your skin barrier over your stoma using a two-piece system
About Your Urostomy
Your urinary system is made up of the kidneys, ureters, bladder and urethra (shown below). This system makes urine and allows you to store it in your bladder. When the bladder has to be removed or bypassed, and the urine comes out through an opening on the skin, it is called a urostomy. The place where the urostomy opens onto your skin is called the stoma. Urine will drain from the stoma. Your stoma may also drain mucous, a sticky thick fluid that looks like cloudy material in the urine. This is normal.
The stoma is normally red and moist, bleeds easily, and has no feeling. The skin next to your stoma should not have rashes or sores. The most important thing you can do to keep your skin healthy is to use ostomy products that fit well and stay in place.
Routine Care of Your Urostomy
When your doctor says it is appropriate, you can resume your normal activities. You will become comfortable with your Hollister pouching system and develop a schedule that fits your lifestyle. Here are a few guidelines for successful care of your urostomy.
Empty your pouch when it is one-third to one-half full.
Replace the skin barrier, the waxy part that sticks to your skin, every three to seven days.
If you use soap, make sure your soap doesnt contain oils or lotions that can interfere with adhesives.
Rinse your skin with water, and dry it completely before you apply the new pouch.
After you apply your skin barrier, hold it against your body for 30-60 seconds. The pressure and warmth help activate the adhesive.
If you wear a two-piece system, try putting your skin barrier on at an angle, making a diamond shape, for a smoother fit.
You can shower or bathe with your skin barrier and pouch in place, or you can remove them before bathing. Water will not harm or flow into your stoma.
If your skin becomes red and sore, or your pouch is not staying in place, be sure to see your doctor or WOC (Wound, Ostomy, Continence) Nurse.