Hospira E-SAPPHIRE - Hospira Sapphire Multi-Therapy Infusion Pump, Refurbished, 90-Day Warranty, Each
Hospira Sapphire Multi-Therapy Infusion Pump, Refurbished, 90-Day Warranty, Each
The Sapphire multi-therapy infusion system is a complete solution for varied clinical uses in hospital and ambulatory settings. Offering outstanding performance, ease of use and reliability, Sapphire combines high-end volumetric infusion pump functionality with compact size and low weight.
The Sapphire system was developed to easily adapt to changing clinical needs and allows Hospira to provide clinicians with the most up-to-date device technology.
Sapphire is based on a unique combination of patented Q Core Flow Control Technology, innovative hardware design, intuitive touch-screen and software control, and low total cost of ownership. With its robust design, easy maintenance and built-in adaptability to evolving requirements, Sapphire delivers medication infusion confidence now, and far into the future. This same technology powers a wide range of dedicated infusion pumps, creating a single-platform that answers all medical infusion needs.
Reduce complexity at bedside

Easily move from one care area to another with its small footprint

Add devices without adding cords; the multi-pump cradle and embedded power-mounting option make it possible

Accelerate set up for rapid response

Snap-on, snap-off pump from cradle attached to infusion pole

Make priming easy with straight line tubing and fast set loading

Experience intuitive and simple programming

Help prevent programming errors; intuitive user interface displays only relevant keystroke options

Easily read critical information on large font summary screen
---
Turn on the pump by pressing the ON/OFF hard key, in the lower right corner of the pump.

If auditory and/or visual signals do not perform according to settings, or if the hard keys do not perform as expected, do not use the pump and contact your infusion provider.

1. Open the safety door. Using your thumb, press the door outwards. If gray latch is present, press on the latch itself outwards.

2. While maintaining pressure, swing the safety door outwards.
Verify all clamps are closed. At an angle, place the saddle on the round metal anchor and clip the upper end of the administration cassette into the metal lock.

If the set includes a fi lter, make sure the fi lters arrow points in the direction of the fl ow.

Make sure the arrow on the cassette is pointing towards the bottom of the pump.

Close the safety door and ensure that the safety door clicks upon closure.

Sets are single use. Use Aseptic technique. Only use administration sets designated (or designed) for the Sapphire pump.
Sapphire Layout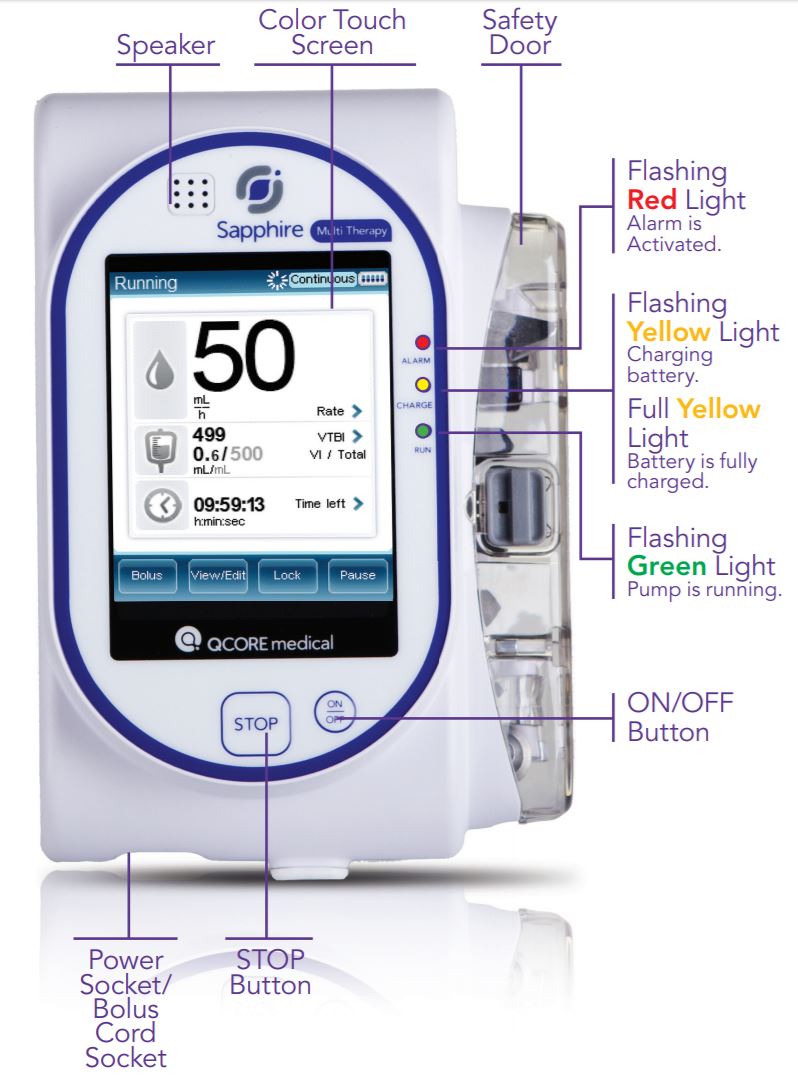 ---
Specifications