Lifesign 68364(25/BX - Mono Unistep 25/BX
Status Mono
For The Qualitative Detection Of Infectious Mononucleosis. Heterophile Antibodies In Whole Blood, Serum Or Plasma
Status Mono test qualitatively detects infectious mononucleosis antibodies in human whole blood, serum or plasma specimens. This test is intended for use as an aid in the diagnosis of infectious mononucleosis.
CLIA WAIVED for whole blood

FDA cleared with no age restrictions

Single reagent procedure provides results in 3-8 minutes

Fingerstick whole blood convenience

Superior 99.9% sensitivity for earlier IM detection, specificity of 98.8%

Multiple kit sizes available, ideal for any practice

External QC negative and positive controls included (item # 68364 & 84M30)

New plastic sample transfer pipettes
Summary and Explanation
Infectious mononucleosis (IM) is an acute, self-limited, lymphoproliferative disease caused by the Epstein-Barr virus (EBV). Infection with EBV usually occurs early in life with no recognizable disease. When primary infection is delayed until young adulthood and adolescence, however, there is about a 50% chance that it will occur with the classic clinical manifestations associated with IM.
The diagnosis of IM is usually based on the evaluation of characteristic clinical, hematological, and serological changes. In most cases of IM, clinical diagnosis can be made from the characteristic triad of fever, pharyngitis, and cervical lymphadenopathy, lasting for 1 to 4 weeks. IM may be complicated by splenomegaly, hepatitis, pericarditis, or central nervous system involvement.3 Rare fatal primary infections occur in patients with histiocytic hemophagocytic syndrome4 or with a genetic X-linked lymphoproliferative syndrome.5 Hematologic features of IM include lymphocytosis with prominent atypical lymphocytes. Because other diseases may mimic the clinical and hematological symptoms of IM, serological testing is essential for the most accurate diagnosis. Serological diagnosis of IM is demonstrated by the presence of heterophile and EBV antibodies in the sera of patients.
It has been well established that most individuals exposed to EBV develop a heterophile antibody response. Heterophile antibodies make up a broad class of antibodies which are characterized by the ability to react with surface antigens present on erythrocytes of different mammalian species. It is not known which specific antigen stimulates their production. It has been a common practice for physicians to use the detection of IM heterophile antibodies in the blood of patients as an aid in the diagnosis of IM. Status Mono assay utilizes an extract of bovine erythrocytes which gives a greater sensitivity and specificity than similar extracts prepared from sheep and horse erythrocytes. The Forssman antibody interference has been known to be minimized by using the bovine erythrocyte extract.
Principle
Status Mono one-step antibody test for IM uses direct solid-phase immunoassay technology for the qualitative detection of IM heterophile antibodies in human serum, plasma or whole blood. In the test procedure, 10 l serum or plasma are added in the Sample Well (S) located below the result window. For finger-tip or whole blood, 25 l of blood are collected in a sample transfer pipette and spotted in the Sample Well (S). If any IM-specific heterophile antibody is present in the sample, it will be captured by the antigen band (bovine erythrocyte extracts) impregnated in the test membrane. The developer solution is then added in Sample Well (S).
As the specimen, followed by the developer, moves by capillary action to the antigen room temperature. The serum should be separated as soon as possible and may be tested immediately. Remove the serum or plasma from the clot or red cells as soon as possible to avoid hemolysis. When possible, clear, nonhemolyzed specimens should be used. Mildly hemolyzed specimens do not affect the test result, but may create an undesirable reddish background in the result window. Specimens containing any particulate matter may give inconsistent test results. Such specimens should be clarified by centrifugation prior to testing. Collect the serum or plasma in the sample transfer pipette up to the black fill line (10L). Follow the test procedure.
Test Procedure of Status Mono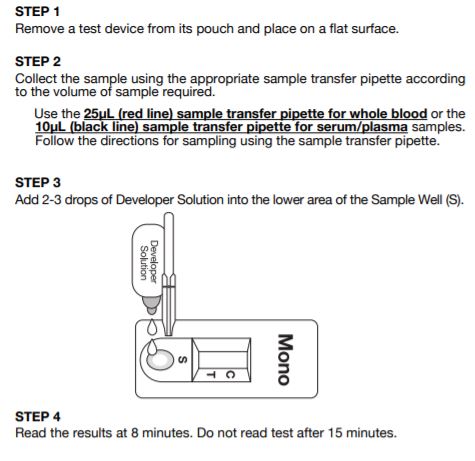 Interpretation of Results