Mac Medical IVS-5002 - IV Stands 4-Leg 2-Hook Hand Operated, Each
IV, or intravenous, poles are devices used to hold bags of fluid or medicine that is being given to a patient at a steady flow. IV poles all provide the same function, being a secure place to hang medicine for a patient.
Not to be used for support or as a walking aid. Do not attempt to support your weight or use it as a stand assist.
Avoid wet or slick surfaces, wires, cables, or tubes and any uneven surfaces that may cause the I.V. Stand to tip or fall.
Extreme caution should be taken when the IV pole is near the bed or any other furniture.
Do not exceed the maximum weight capacity of 20 lbs attached to the pole and 10 lbs on each hook. (It is recommended that all added weight be evenly distributed amongst the top hooks to maintain stability.)
Do not use the I.V. Stand while walking backward, down gradients, or climbing stairs, curbs, or going over obstacles. A serious risk of fall or injury may occur.
Do not use the pole for anything other than its intended use.
IV Stands Features
Stainless steel construction
Height adjustment range: 68"-108"
Tip resistant base
2" swivel casters
Height Adjustment Method: Hand
No. of Hooks: 2
No. of Legs: 4
Assembly Required: Yes
Assembly Instructions IVS-5002
Following are the Assembly Instructions for the IVS-5000, 6000 and 7000 Series of IV Stands. This series of stands ships completely assembled except for the wheeled bases, which must be assembled by the user.
CAUTION: If any components of the IV stand are damaged or missing, contact your MAC Medical representative immediately. Do not use substitute parts. Failure to use the proper replacement parts could lead to personal injury and damage to the IV Stand.
Tools Needed: 5/8 Socket Wrench
Remove all loose packaging from the shipping container.
Remove all IV Stand components from the shipping container.
Inspect IV Stand components to ensure all components are present (Fig. 1).
Components include:

Lower and Upper IV Pole, IV Hook Assembly and Height Adjustment Knob, already assembled
Wheeled Base (detached)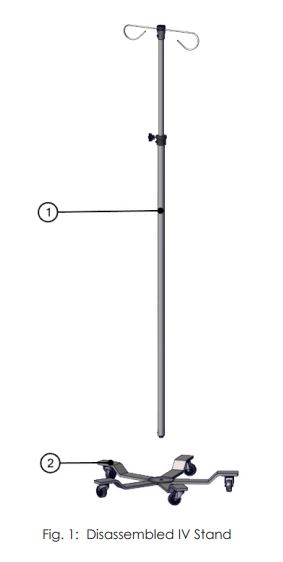 | | |
| --- | --- |
| | |
| Using a 5/8 Socket Wrench, unscrew the Bolt from the bottom of the Lower IV Pole using a leftward/ counterclockwise twist (Fig. 2). | Remove the Bolt and Washer from the bottom of the Lower IV Pole (Fig. 3). |
| | |
| | |
| Place the Washer on the Bolt. Push the Washer and Bolt assembly through the hole in the center of the Wheeled Base from the bottom so that the threads of the bolt protrude through the top of the Wheeled Base. Position the bottom of the Lower IV pole over the bolt where it protrudes from the Wheeled Base (Fig. 4). | Using the 5/8 Socket Wrench, tighten the bolt onto the Lower IV Pole using a rightward/ clockwise twist. Make sure the bolt is tightened securely (Fig. 5). |