Medline 7800TLC - CoFlex TLC Two-Layer Compression System, EACH
CoFlex TLC Two-Layer Compression System
Todays Therapeutic Choice!
Two-layer compression systems are preferred by many clinicians because they can be applied in a simple spiral at full stretch quickly and efficiently. Patients prefer the low-profile two-layer system over a three- or four-layer system because they are more likely to fit under clothes and footwear.
CoFlex TLC systems consistently deliver therapeutic compression levels - approximately 37.7 mm/Hg for CoFlex TLC and CoFlex TLC XL and approximately 27.5 mm/Hg for CoFlex TLC Lite. This level of compression can remain within the effective range up to seven days.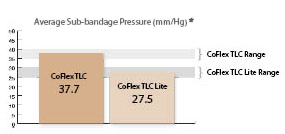 Features
Advanced two-layer compression system provides support and compression to feet and legs.
Manages venous disease and associated edema.
Layer 1 is a soft foam with an absorbent coating (blue contact layer) that wicks away moisture and helps control odor.
Layer 2 is a short stretch cohesive compression layer that provides adaptive compression levels and can be easily torn by hand.
Both layers are not made with natural rubber latex and bond together when applied which keeps the system in place.
A nylon stocking is included to apply over the completed dressing for patient comfort and ease of movement under clothes and on bed sheets.
Comfortable and lightweight for increased patient compliance.
Includes take-home patient education card.
CoFlex TLC Helps with the Little Things!
Knee-high stocking. CoFlex TLC systems includes a knee-high stocking in every pack, helping clinicians and patients maintain the integrity of the system and easing the way for shoes and clothes.
Larger size. Edematous limbs with venous insufficiency can be much larger than normal. The XL size of Coflex TLC is over 35% longer to help manage limbs with a single CoFlex TLC XL system.
Hand tear on both layers. CoFlex TLC wraps tear easily, so you dont need to find scissors or ruin a bandage in the midst of a patient interaction.
Educational Packaging. Each CoFlex TLC package offers a two-minute course on compression system application right on the box.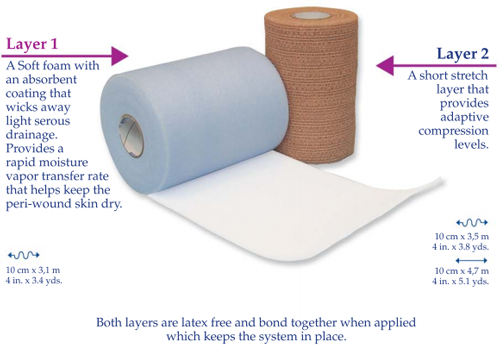 CoFlex TLC offers benefits to both patients and clinicians. Those benefits intersect when it comes to compliance, consistency and odor control.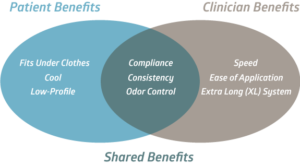 Patient Education
Compression Therapy Your doctor or nurse has chosen the CoFlex TLC Compression System with odor control from Medline. The resulting pressure will help your body pump blood up your leg toward your heart.
About CoFlex TLC CoFlex TLC is a two-layer bandage that wraps around your foot and leg. It is lightweight, comfortable, and not bulky so you can wear your regular shoes and clothes. The first layer is for padding and it also helps manage moisture and control odor. The second layer compresses your leg and holds the first layer in place.
Follow Instructions It is very important to follow your healthcare providers instructions. Studies indicate when compression therapy is applied as directed, healing may occur faster and more completely. Do not remove CoFlex TLC unless your healthcare provider tells you to remove it.
Helpful Tips
Your bandage may feel tight at first. This is normal. When the swelling goes down, it will not feel as tight.
Wear the stocking that comes with the system over the bandage to help you put on shoes and clothing.
Wear comfortable shoes and walk regularly. Walking will improve circulation, which can improve healing.
Try to keep your bandage dry. If CoFlex TLC gets damp, let it air dry.
CoFlex TLC may be left on your leg up to 7 days. After that, your doctor or nurse will apply a new CoFlex TLC Compression System or suggest another treatment.
Call your doctor or nurse if the bandage gets soaking wet, slips down, or if you have pain, tingling numbness or discoloration. Made in U.S.A.
Specification
Area of Application Leg
Brand Coflex Tlc
Compression Level High, Light
Compression Type Short Stretch
Dressing Change Frequency/Use Max: 7 Day: Check Drainage
Dressing Type Foam/ Cohesive Bandage
HPIS Code 310_20_80_0, 310_20_10_0
Latex Free Yes
Number of Bandage Layers 2
Primary or Secondary Dressing Secondary Dressing
Product Category Compression
Sterile No
UNSPSC 42311506
Width Inches 4 in
Wound Condition Type Venous Leg Ulcer