Allow C.I.A. to white-glove your request for this item
Not buying today? Need a volume discount, Net 30 terms, or a government quote? Got a backorder, and need immediate stock? That's exactly what we do best. Let us solve your problem.
Product Description
Medline CGLIDEPAD - Comfort Glide Drypads, Single-Patient Use Disposable, 36 x 57" (91.4 x 144.8 cm), 5/bg, 60/cs
Ultrasorbs Comfort Glide Drypad is the moisture management component in the Comfort Glide line of patient repositioning products.
Comfort Glide drypad is the moisture management component in the Comfort Glide line of patient repositioning products.
Air-permeable, moisture-proof backsheet provides exceptional skin dryness and comfort.
Absorbent core wicks moisture away from the skin for increased patient dignity and better skin care.
Indications for Use: Open-airing incontinence management, ICU/CCU patients who should not be disrupted/moved more than necessary, ER for absorbing significant/ongoing fluid loss, labor and delivery, OR use Low Air Loss Therapy, and any other area where skin dryness is needed.
Both standard (36" x 57") and XL size (40" x 80") available, each size designed to completely cover the Comfort Glide sheets.
Move Patients Quickly and Easily
The Critical Industry Challenges
The incidence rate for back injuries involving lost work days, due to overexertion in lifting, was shown to be higher among healthcare workers than among individuals working in construction, mining and agriculture. As many as 20% of nurses who leave direct patient care positions do so because of risks associated with the work. Each workers compensation claim costs a facility approximately $15,860.
The Comfort Glide Solution
With Comfort Glide, your caregivers have what they need for easy and efficient patient repositioning. Our clinicians and engineers spent hundreds of hours perfecting the Comfort Glide Sheet to make them as ergonomic as possible. When repositioning patients, Comfort Glide promotes optimal leverage and weight distribution, making the task of sliding patients much easier.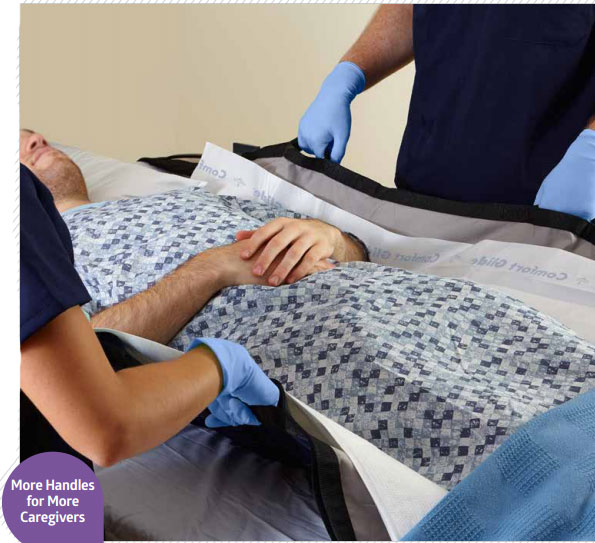 Comfort Glide Drypad
Recommended for use with the Comfort Glide Sheet.
Perfectly sized to completely cover the Comfort Glide sheet.
Wicks moisture away to help keep skin dry.
Specifications
Absorbency Super.
Absorbency Level Super.
Absorbent Material Super Absorbent Polymer.
Backsheet Color White.
Brand ComfortGlide.
Color White.
Dimension 36" X 57"
HPIS Code 500_90_10_0
Impervious Yes.
Inner Pack Inner Pack.
Latex Free Yes.
Material Air Permeable.
Product Type Patient Repositioning.
Size Dimensions 57" X 36"
Top Sheet Soft, Quilted.
UNSPSC 42132101