Ships Within
Discontinued
Medline CRR101030 - HYDROGEL, CARRASYN, 3 OZ. TUBE, 12 EA/CS
Carrasyn Hydrogel
Designed to maintain a moist wound-healing environment.
Carrasyn V Hydrogel is a thicker version of the Carrasyn Hydrogel wound dressing.
Non-oily.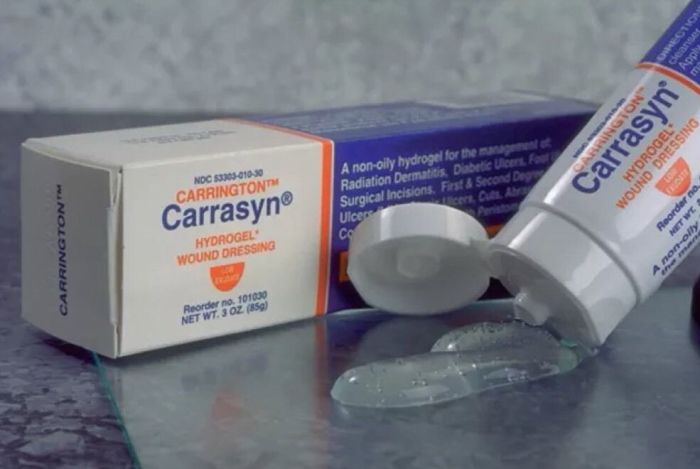 About Hydrogels
Donates moisture Rinses easily from the wound.
Skintegrity 1-oz. bellows bottle reduces waste and eases application.
Hydrogel Impregnated Gauze combines gauze with hydrogel for easy application.
Carrasyn Hydrogel available in an 8-oz. spray bottle.
Recommended Use
All wound depths.
No/minimal drainage.
As a primary dressing.
Recommended Secondary Dressing
Stratasorb Composite.
Bordered gauze.
Suresite 123+Pad.
Indications
Pressure injuries.
Partial- and full-thickness wounds.
Leg ulcers.
Surgical wounds.
Lacerations, abrasions and skin tears.
First- and second-degree burns.
Change Frequency
Skintegrity may be left in place for up to 3 days.
Dressing change frequency will depend on amount of drainage.
Contraindication
Patients with a known sensitivity to components of the gel.
Heavily draining wounds.
Cytotoxicity Test For Skintegrity Hydrogel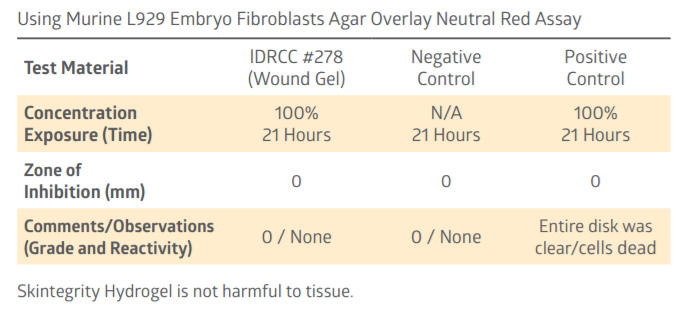 Specifications
Dressing Change Frequency/Use Max: 3 Day: As Needed.
Dressing Type Gel.
HPIS Code 740_110_10_0
Latex Free Yes.
Primary or Secondary Dressing Primary Dress.
Size Ounces 3 oz.
Sterile No.
UNSPSC 42311513
Wound Condition Type Shallow/Deep,All Drainage Type.