Medline CRR101052 - RADIADRES HYDROGEL DRESSING SHEET, 4"X4", 60 EA/CS, 6 BX/CS
RadiaDres Clear Hydrogel Sheets
Composed of 89.5% water and 10.5% polyethylene oxide, these sterile hydrogel sheets cool the affected area on contact and absorb 3 times their weight in fluid.
Transparency allows for easy wound evaluation.
The dressings are comfortable and gentle on the wound and surrounding tissue.
RadiaDress is specifically designed for use in the management of 1st and 2nd degree burns, including radiation reactions.
About Hydrogels
Donates moisture Rinses easily from the wound.
Skintegrity 1-oz. bellows bottle reduces waste and eases application.
Recommended Use
All wound depths.
No/minimal drainage.
As a primary dressing.
Recommended Secondary Dressing
Stratasorb Composite.
Bordered gauze.
Suresite 123+Pad.
Indications
Pressure injuries.
Partial- and full-thickness wounds.
Leg ulcers.
Surgical wounds.
Lacerations, abrasions and skin tears.
First- and second-degree burns.
Change Frequency
Skintegrity may be left in place for up to 3 days.
Dressing change frequency will depend on amount of drainage.
Contraindication
Patients with a known sensitivity to components of the gel.
Heavily draining wounds
Cytotoxicity Test For Skin tegrity Hydrogel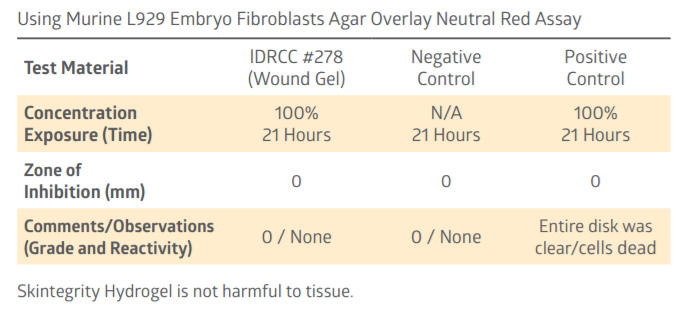 Technical Safety Data Sheet
1. Ingredients

2. First-Aid Measures
Eye Contact: Flush eyes with large amounts of water for at least 15 minutes. Remove contact lenses, if worn. If irritation persists, seek medical attention.
Skin Contact: If irritation develops wash area with water. Get medical attention if irritation persists.
Inhalation: Remove victim to fresh air and keep at rest in a position comfortable for breathing. Seek medical attention if discomfort continues or if you feel unwell.
Ingestion: Never give anything by mouth to an unconscious person. Consult a physician if necessary.
3. Accidental Release Measures
Non-hazardous Small Spill: Should be cleaned up at the time of the spill. Take all necessary precautions and wear any personal protective equipment that is applicable. Dispose of per local and state regulations.
Non-hazardous Large Spill: Should be cleaned up at the time of the spill. May require special treatment, equipment and/or emergency assistance. Dispose of per local and state regulations.
4. Exposure Controls/Personal Protection
Engineering Controls: No specific measures are required provided the product is handled in accordance with the general rules of occupational hygiene and safety. Use in a well ventilated area to prevent exposure. Maintain eyewash fountain and quick-drench facilities in work areas.
Respiratory Protection: None required under normal use conditions. Skin Protection: None required for normal use. For prolonged exposure, use appropriate goggles, protective clothing and gloves.
Eye Protection: None required for normal use. For prolonged exposure, use appropriate goggles, protective clothing and gloves. Other protective equipment: Not expected to be necessary under normal conditions of use. Where exposure cannot be adequately controlled, use appropriate protective clothing or equipment
Work/hygienic practices: Handle in accordance with good industrial hygiene and safety practice. Wash thoroughly with soap and water after handling and before eating, drinking, or using tobacco. Safety shower and eye wash should be available close to work areas.
5. Physical and Chemical Properties
Physical State Sheet of gel
Color Clear,
Colorless
Odor Odorless
Odor Threshold N.D.
Solubility 10%
Partition coefficient Water/n-octanol N.D.
VOC% N/A
Viscosity N.D.
Specific Gravity 0.014
Density lbs/Gal N/A
Pounds per Cubic Foot N/A
Flash Point N.E.
FP Method N.E.
Ph 6.5-9.5
Melting Point N.A.
Boiling Point N.A.
Boiling Range N.D.
LEL N/A
UEL N/A
Evaporation Rate N.D.
Flammability N.E.
Decomposition Temperature N.D.
Auto-ignition Temperature N.D.
Vapor Pressure N.A.
Vapor Density N.A.
Specifications
Dressing Change Frequency/Use Max: 3 Day: As Needed.

Hydrogel Sheet

.
HPIS Code 740_110_20_0
Latex Free Yes.

Length Inches 4 in

Primary Dress.
Product Shape

Square.

Sterile Yes.
UNSPSC

42311515

Width Inches

4 in

Wound Condition Type

Radiation Dermatitus

.