Part Number
Medline CRR102160
Medline CRR102160 - CLEANSER, WOUND/SKIN, CARRAKLENZ, 16 OZ, BT, 6 EA/CS
CarraKlenz Wound Cleanser
Gently cleanses most types of wounds.
No-rinse, non-irritating formula.
Within optimum PSI range.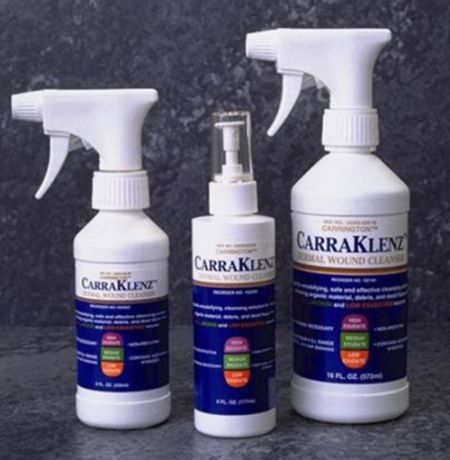 About Wound Cleanser
Easy cleansing.
Adjustable trigger, PSI of 8.6 at 3"
Within AHCPR guidelines.
Prophase contains PHMB as a preservative.
Recomended Uses
Cleansing all types of wounds
Indications
To clean a wide variety of wounds including
Pressure injuries.
Partial- and full-thickness wounds.
Infected and non-infected wounds.
Recomended Secondary Dressing
Change Frequency
With every dressing change.
Contradictions
Patients with a known sensitivity to ingredients in the wound cleanser.
Specifications
Antimicrobial Product No.
HPIS Code 740_40_0_0
Latex Free No
Product Use Open Wounds.
Size Ounces 6 oz.
UNSPSC 42312313