Medline CUR8105 - CURAD Powder-Free Textured Latex Exam Gloves, Medium, 1000 EA/CS, 10 BX/CS
Curad Powder-Free Latex Exam Gloves have excellent barrier properties combined with great fit and feel. The textured surface ensures a secure grip while the superior elasticity provides exceptional comfort and strength.
Perfect option for those who prefer latex.
Fully textured for superior grip.
Latex Gloves
Low-protein latex gloves round out a complete line
The comfort, fit, tactile sensitivity, and durability of a well-made powder-free latex glove are unsurpassed. However, concerns about latex allergies continue. All Medline latex gloves sold today are certified low-protein and are manufactured to be strong, clean, and consistent.
The Right Touch
Latex gloves are often preferred for procedures that require greater dexterity. Whether youre looking for economy or advanced technology, Medlines wide selection means youll have no problem finding the right latex glove for you.
Viral Penetration
The viral penetration test determines if a glove provides an effective barrier against one of the smallest measurable viruses in the world, phi-X174. If the glove is a barrier to the phi-X174 virus, it also provides a barrier against larger viruses. All of Medlines exam gloves have passed the viral penetration test.
Tensile Strength and Elongation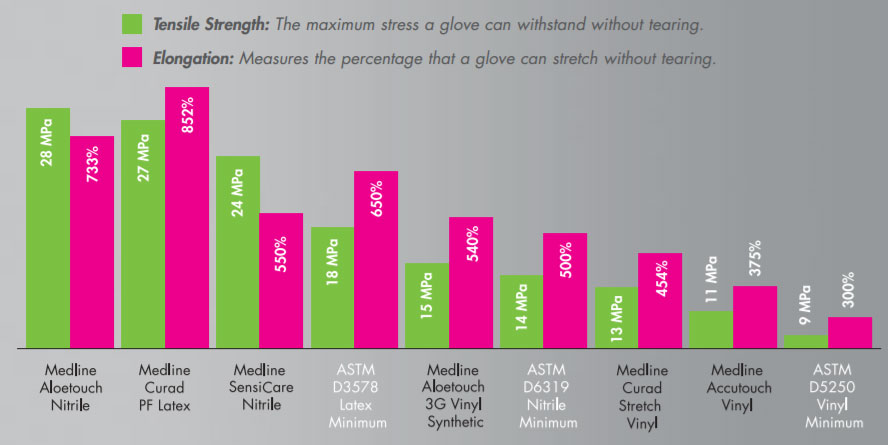 Specifications
Accelerators Carbamates.
Chemo No.
Coated No.
Color Beige..
Cuff Beaded
Finger Thickness 6.7 mil.
HPIS Code 450_60_20_10
Latex Free No.
Length Inches 9 in.
Material Latex.
Palm Thickness 5.9 mil.
Powder No.
Size Medium.
Sterile No.
Texture Full Texture.
UNSPSC 42132203