Medline DYND160714 - TRAY, FOLEY, ERASE CAUTI, 100%SILI, 14FR10ML, 10/CS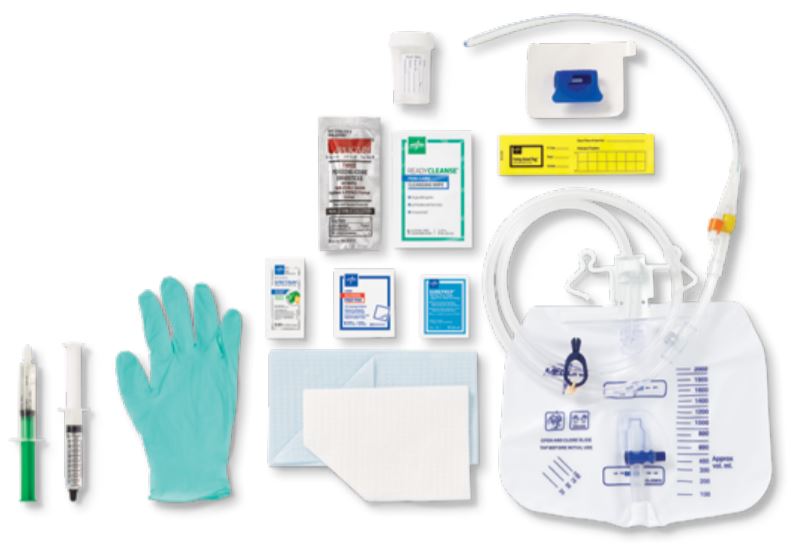 Trays: One-Layer Tray with Drain Bag and 100% Silicone Foley Catheter, 14 Fr, 10 mL, with 2,000 mL Drain Bag
Medline's patented One Layer Foley catheter tray design intuitively leads healthcare workers through established best practices. This unique design also includes labeling and instructions, making it easier to do the right thing. Maximize safety and comfort with our 100% silicone Foley catheters.
Features Medlines One Layer Foley Catheter Tray to help ensure best practices are followed
Completely inert for less tissue irritation and encrustation during extended periods of indwelling use
Foley catheter has bullet-shaped tip for easier insertion and less buckling
Large, smooth eyes for maximum comfort
Not made with natural rubber latex
Why Switch to 100% Silicone?
Health care professionals have been using silicone-based medical devices to set patients on the road to recovery. Here are five reasons why silicone is the better way to go when compared to other indwelling urinary catheter material types:
Eliminates risk of latex sensitization or reaction
Helps reduce swelling and other inflammatory responses
Slows bacterial migration
Improves urine flow and drainage
Helps decrease encrustations and blockages
---
Safeguard Against Latex Sensitization

Diminish Patient Inflammatory Responses

Lower the Risk of Bacterial Migration

Products made with Natural Rubber Latex (NRL)
contain variable amounts of proteins that can be inhaled
or absorbed by the skin, and may cause reactions
ranging from contact dermatitis to life-threatening
allergic reactions. Moreover, no method or test exists
to show a latex-based product is, in fact, safe.

Data shows the chance of a latex-sensitive patient
coming to a hospitals door escalates daily. An even
greater risk is at hand for the healthcare professional,
as continued exposure to NRL can lead to the development
of latex-related sensitivities that can become so severe
they can affect the clinicians ability to work.

Silicone is one of the most thoroughly tested and
widely-used groups of biomaterials known for its
intrinsic biocompatibility.4 Therefore, Medline 100%
silicone Foley catheters are a smarter alternative
for your patients to reduce instances of:

Urethritis
Urethral stricture6
Swelling
Discomfort
Other inflammatory reactions

Catheter-associated urinary tract infections (CAUTI)
account for 30% of hospital-acquired infections.7
Many cases of CAUTI are caused by organisms that migrate from
the urethral meatus-catheter interface along the external
surface of the catheter into the bladder.

One study found that 100% silicone Foley catheters,
like the ones available from Medline, had less potential
for bacterial migration when compared to latex catheters,
effectively shielding your patients against these types
of complications.
Increase Drainage
Proper flow through a Foley catheter is necessary to maintaining an empty bladder. Medlines 100% silicone Foley catheter was designed to have a larger drainage lumen than a latex Foley catheter in order to maximize urine flow. Medlines design also allows the clinician to deliver vigorous irrigation without the risk of collapsing the lumen.
A flow rate test was conducted comparing Medlines 16 Fr 100% silicone Foley catheter to the industry-leading 16 Fr latex catheter and 100% silicone catheter. The results speak for themselves.
---
Designed By Nurses for Nurses, the Patented One Layer Tray Helps Clinicians Consistently Follow Aseptic Insertion Technique
The IUC Standardization Bundle is designed to reinforce the limitation of IUC use to only when necessary, and facilitates best practice insertion technique. The cornerstone of the bundle is a patented one layer tray that helps staff intuitively follow aseptic technique and minimize variance. Designed by nurses for nurses, the tray guides clinicians, left to right, through the insertion process. Components are organized in order of use, minimizing the risk of contamination.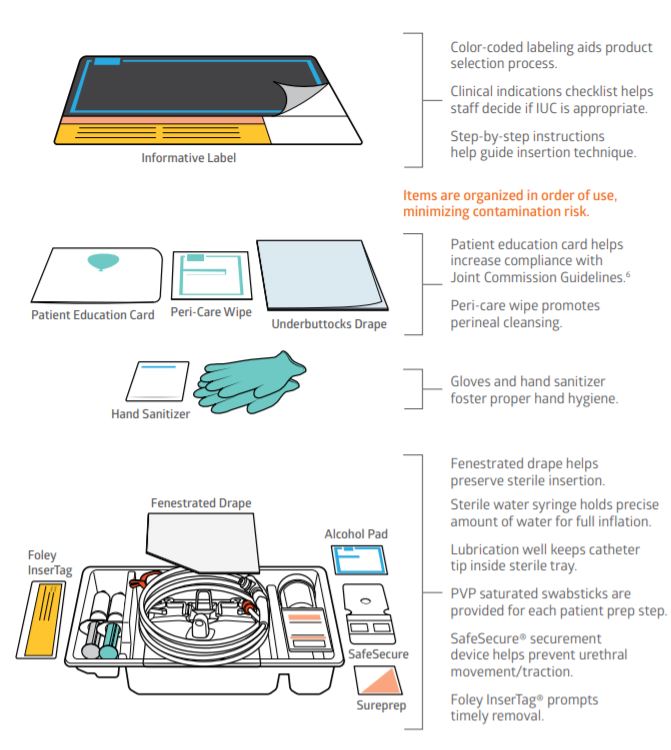 The High Price of CAUTIs
Catheter-associated urinary tract infections (CAUTIs) are one of the most common healthcare-associated infections (HAIs) and account for more than 15% of all HAIs reported by hospitals. They are expensive in both human and financial terms. CAUTIs cause patient discomfort, discharge delays, increased mortality, higher costs and lower hospital reimbursement.
The Human Cost of CAUTIs
The Financial Cost of CAUTIs
1,000,000 estimated number of CAUTIs that occur
annually in hospitals and nursing homes
$7,670 the attributable cost of CAUTI
for Medicare patients
9,000 approximate number of deaths
associated with CAUTI annually
$10,197 the attributable cost of CAUTI
for Medicare patients in the ICU
2.5 million estimated number of catheters placed
without an appropriate indication
$500 million annual cost of CAUTI to
healthcare system
Why CAUTI still happens.
Putting evidence into practice isnt easy. Thats why evidence-based practices arent necessarily implemented right away-even when they substantially reduce infection risk.
Competing priorities.
Initiatives to prevent CAUTI often have to compete with
other priorities that take time and put demands on staff.
"This is how weve always done it."
Caregiver and cultural biases for longstanding care
routines are often resistant to change.
Nursing workload.
Some nurses prefer indwelling urinary catheters (IUCs),
saying its easier to collect a specimen, and the patient
can rest more. Others think catheters save time because
they dont have to assist patients with toileting.
Patient or family request.
A family member may request an IUC because their loved one
cant get up or walk. Incontinent patients will sometimes talk
their doctor or nurse into keeping the catheter in.