Part Number
Medline EXTRASRB3036A
Medline EXTRASRB3036A - White Absorbent Polymer Extrasorbs Air-Permeable Disposable DryPads, Extrasorbs AP, 30" x 36" (76 x 91 cm), 5 EA/BG
Extrasorbs Air-Permeable Disposable Drypads ismoisture-proof backsheet provides superior skin dryness and comfort. Absorbent core wicks moisture away from the skin for increased patient dignity and better skin care.
As a caregiver, you encounter many different skin conditions. Among the most common are those caused by prolonged exposure to moisture: incontinence-associated dermatitis, intertriginous dermatitis or periwound moisture-associated dermatitis. Moisture-associated skin damage (MASD) negatively impacts the physical health of your patients and the financial health of your facility.
Causes of Moisture-Associated Skin Damage
MASD encompasses distinct skin conditions caused by excessive and continued exposure to moisture: wound exudate, urinary and/or fecal incontinence, or perspiration.4 Identifying the cause of skin damage helps ensure appropriate management and prevention interventions.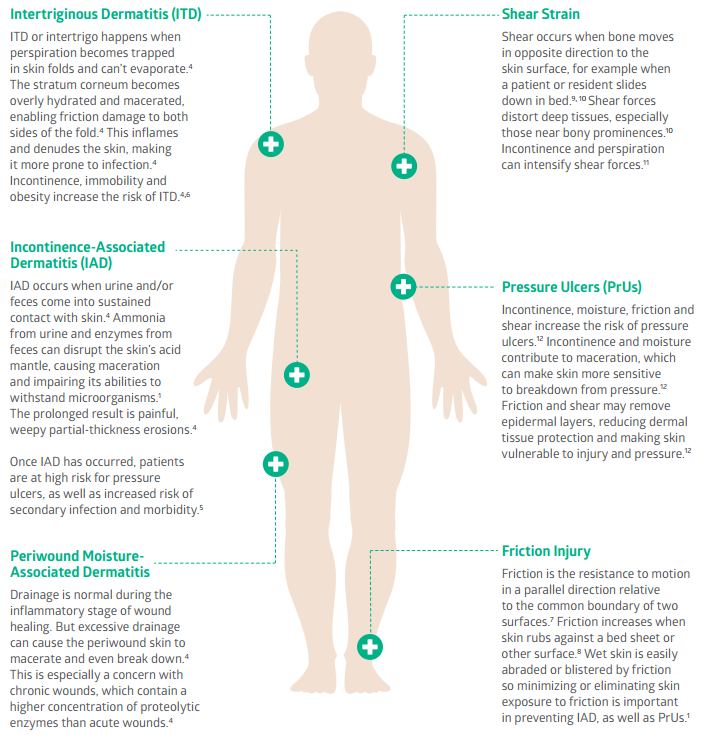 Don't Be Reactive, Be Proactive.
To help prevent and manage MASD, its important for caregivers to use products that absorb and hold moisture away from the skin.4 Unlike conventional underpads, our Ultrasorbs and Extrasorbs drypads feature advanced polymers that help ensure ongoing dryness of skin,13 help reduce friction and shear, allow air circulation and support low air-loss mattresses.
Extrasorbs Disposable Drypads Features
Draw in moisture, lock it away from skin and feel dry to the touch within minutes.
Can manage multiple voids without leaking,13 minimizing laundry costs.
Don't separate, bunch up or adhere to skin when wet, helping reduce friction and shear.
Offer a soft and lowprofile, helping reduce pressure buildup beneath patients body.
Are air permeable for enhanced skin dryness and comfort Are effective for use with low air-loss mattresses.
Help improve staff efficiency and reduce laundry costs.
Help enhance patient comfort and preserve patient dignity.
Extrasorbs Disposable Drypads Benefits
Patient and Resident Benefits
Super absorbent core draws in moisture and locks it away from skin.
Feels dry to the touch within minutes.
Maintains core integrity, reducing friction and shear.
Ultra-soft, non-woven topsheet for greater patient comfort.
Air-permeable backsheet for exceptional skin dryness with zero strike through.
Caregiver Benefits
Micro-pore film protects against leakage for fewer linen changes without double-padding
Exclusive fold-over edges* help prevent fluid overflow
Compatible with low air-loss mattresses
Extra-strong option available for repositioning of individuals weighing up to 375-lbs.14 for Ultrasorbs and up to 350-lbs.15 for Extrasorbs.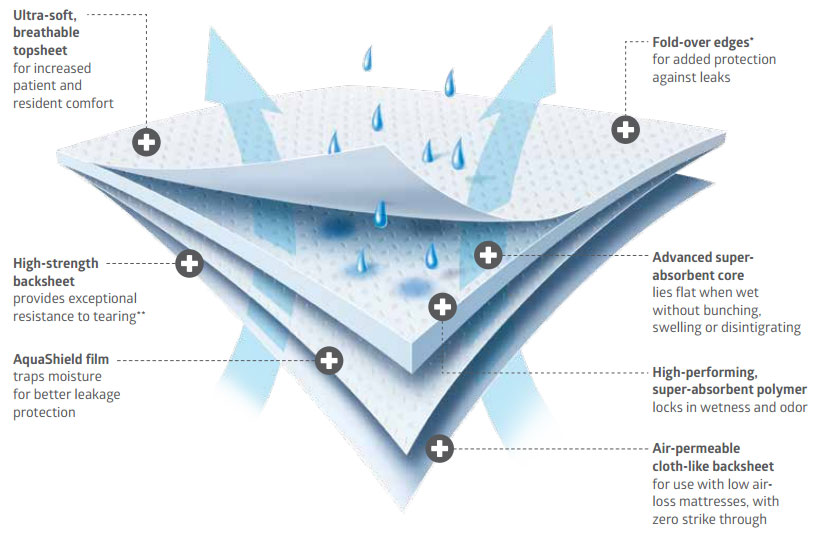 Specifications
Absorbency Level Extra.
Absorbent Material Super Absorbent Polymer.
Backsheet Color White.
Brand Extrasorbs.
HPIS Code 500_90_10_0
Inner Pack Inner Pack.
Latex Free Yes.
Material Air Permeable.
Size Dimensions 36" X 30"
UNSPSC 42132101
Indications for Use: Open-airing incontinence management, ICU/CCU patients who should not be disrupted/moved more than necessary, ER for absorbing significant/ongoing fluid loss, labor and delivery, OR useLow Air Loss Therapy, and any other area where skin dryness is needed.