Part Number
Medline FITPLUSLG
Medline FITPLUSLG - FitRight Plus Briefs, Large, 48" - 58" (122 cm - 147 cm), 80 EA/CS
Made in the USA
In 2011, Medline opened a brand new, state-of-the-art US manufacturing facility in Douglasville, Georgia, putting more than 200 people to work. The plant is dedicated to production of the innovative FitRight technology, inspired by thousands of care providers and individuals who dedicate their lives to improve quality of care. The eco-friendly, high-speed machines construct and package products while the adjacent 90-dock distribution center sends them on their way to every corner of the country and around the world.
FitRight Basic Brief (FITPLUSLG)
FitRight Plus Briefs promote a better fit as well as comfort and dignity.
4D-Core with odor protection helps wick fluid away to promote dryness and help maintain skin integrity.
Soft anti-leak guards help to reduce leakage and improve containment.
Skin-safe closures provide secure, safe and repeated refastenability.
Ultra-soft cloth-like backsheet provides a discreet, garment-like, natural feel.
Plus absorbency core.
Breathable side panels increase airflow and maximize patient comfort.
Moisture alert wetness indicator changes color when the garment has been soiled.
Available in size Medium (32 - 42", 81 - 107 cm), Regular (40 - 50", 102 - 127 cm), Large (48 - 58", 122 - 147 cm), X-Large (57 - 66", 145 - 168 cm) and XX-Large (60 - 69", 152 - 175 cm).
Features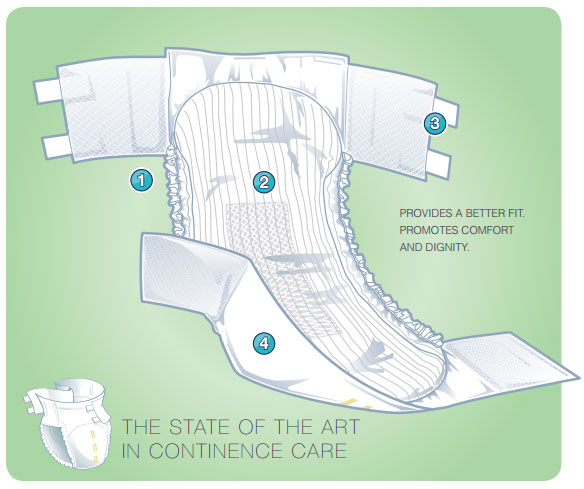 FitRight Design: Promotes a discreet, comfortable, garment-like fit. Enhance resident dignity, mobility and independence.
Silver Series 4D-Core with Odor Protection: Wicks fluid away quickly to promote dryness and help maintain skin integrity. Improve resident dignity and comfort.
Soft Anti-Leak Guards: Reduce leakage and improve containment. Restore resident confidence, impact facility utilization.
Skin-Safe Closures: Provide secure, safe, and adjustable fit. Improve staff efficiency and ease of care.
Ultra-Soft Cloth-Like Backsheet: Provides a discreet, garment-like, natural feel. Restore resident dignity and confidence.
The state of the art in continenece care
Linear Embossing Technology: Distributes fluid throughout the core for exceptional dryness and containment.
AquaDry Plus Acquisition Dryness Layer: Wicks moisture away from the skin and into the core for ideal dryness and leakage protection.
Moisture Alert Wetness Indicator: Changes color when the garment has been soiled.
Brief Absorbency
FitRight briefs are available in seven styles and five levels of absorbency, so its easy to find one that fits your needs.
Specifications
Absorbency 7 - Heavy.
Brand Fit Right Plus.
HPIS Code 500_20_10_0
Latex Free Yes.
Material Cloth-like.
Odor Control Product Yes.
Outer Material Inco Clothlike.
Packaging Retail Bags.
Reusable or Disposable Disposable.
Size Large.
Tape Tab Hook and loop.
UNSPSC 53102306
Waist Size Range 48"-58"
Wetness Indicator Color change.