Part Number
Medline MDS057002
List Price
Call for Pricing
Medline MDS057002 - BANDAGE, ELASTIC, SURE-WRAP, 2"X5YD, WHITE, 10 EA/BX, 50 EA/CS
Non-Sterile Sure-Wrap Elastic Bandages
Elastic bandages (also known as compression bandages) are often used for the compression part of rest, ice, compression and elevation - the gold standard of first aid treatment for bruises and sprains. Elastic bandages do a good job of compressing a new injury or inflammation and help keep swelling down. However, there's a limit to how long you should compress an injury.
At some point, blood flow to the injured area needs to increase to encourage healing.
MDS057002 | 2" x 5 yds, Stretched, White (5.08 cm x 4.57 m)
Sure-Wrap is our most cost-effective elastic bandage. This 10% cotton/90% polyester bandage delivers consistent pressure. Appropriate for applications requiring higher compressions. Clips included. Latex-Free.
Sure-Wrap bandage delivers consistent pressure; ideal for higher compression situations
Bandage measurements are for stretched length
Not made with natural rubber latex
Clips included
Non-sterile
Why do I need an Elastic Bandage?
An elastic bandage puts gentle, even pressure on the tissue around an injury to decrease pain and swelling. It also gives support to an injured area. You may need an elastic bandage for any of the following reasons:
To improve blood flow to a limb
To wrap around a limb splint during healing
To hold bandages in place
To hold cold or hot packs in place
How To Use An Elastic Bandage?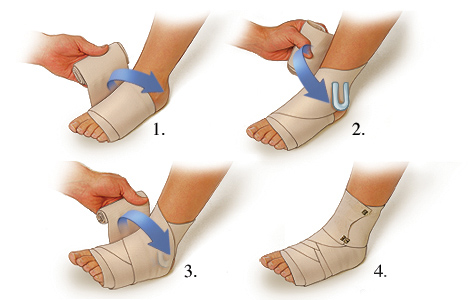 Elastic Bandage Dos and Don'ts
Do use elastic bandages only in the first 24 to 48 hours after an injury. Essentially, you wouldn't use an elastic bandage any more than you would use ice on an injury.
Do combine rest and elevation with compression whenever possible.
Don't wrap ice under the elastic bandage. Always apply ice and compression separately to avoid frostbite. The best bet is to alternate ice and compression. Remember: either ice or Ace, but not both.
Don't wrap elastic bandages too tightly. The idea is just to discourage swelling, not to block blood flow altogether.
Don't try to wrap an ankle or a knee with an elastic bandage to keep it from twisting or getting re-injured. Elastic bandages do not provide support; they are simply for compression.
Specifications
Closure Type Clips
Color White
Compression High
HPIS Code 310_20_30_0
Latex Free Yes
Length Yards 5 yd
UNSPSC 42311506
Width Inches 2 in