Medline MDS090670 - PAD, PREP, ALCOHOL, LARGE, 2-PLY, STERILE, 100 EA/BX, 1000 EA/CS
Medline Sterile Alcohol Prep soft, absorbent, non-woven pads a saturated with 70% isopropyl alcohol. Alcohol prep pads are used as a topical antiseptic. Ideal for use prior to injections.
The soft, absorbent, non-woven pads.
Saturated with 70% isopropyl alcohol.
Sterile in unopened, undamaged package.
Discard after single use.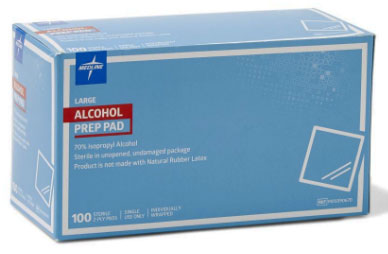 Physical and Chemical Properties
Physical State N/A.
Color Clear, colorless with characteristic of IPA.
Odor N/A.
Odor Threshold N/A.
Solubility Azeotrope.
Partition coefficient Water/n-octanol N/A.
VOC% N/A.
Viscosity N/A.
Specific Gravity 0.878.
Density lbs/Gal N/A.
Pounds per Cubic Foot N/A.
Flash Point 70 F.
FP Method N/A.
Ph N/A.
Melting Point N.A..
Boiling Point > 180 F.
Boiling Range N/A.
LEL 2.
UEL 12.
Evaporation Rate 7.0
Flammability N/A.
Decomposition Temperature N/A.
Auto-ignition Temperature N/A.
Vapor Pressure 733.
Vapor Density > 2.0.
Stability and Reactivity
Stability: Stable.
Incompatibility (Materials to Avoid).
Hazardous Decomposition or Byproducts None.
Hazardous Polymerization N.D.
Conditions to avoid None.
Toxicological Information
Acute Toxicity: Eye Contact Contact may cause temporary moderate irritation.
Acute Toxicity: Skin Contact May cause mild irritation on patients with sensitive skin.
Acute Toxicity: Inhalation N.A.
Acute Toxicity: Ingestion May be harmful if swallowed.
Carcinogenicity: None known.
Chronic Toxicity: None known.
Specifications
HPIS Code 694_10_20_0
Latex Free Yes.
Product Type 2 Ply.
Size Large.
Sterile Yes.
UNSPSC 42141503