Allow C.I.A. to white-glove your request for this item
Not buying today? Need a volume discount, Net 30 terms, or a government quote? Got a backorder, and need immediate stock? That's exactly what we do best. Let us solve your problem.
Product Description
Medline Part #MDT217620 - Microfiber Wet Mops 18" (45.7 cm), Blue, 100 EA/CS, 4 BX/CS
Microfiber Wet Mops
Transform the way you clean. Microfiber is well-known to remove more soil than traditional materials. And microfiber protocols help prevent back injuries, limit cross-contamination and save time.
For daily wet or damp cleaning of floors and walls. Double layer of 100% split microfiber with a foamfill (except for MDT217618) for increased absorption and longevity.

Microfiber Mops Features & Benefits
Major Cleaning
Microfiber mops have been shown to pick up more dust and dirt than conventional mops. The environmental staff at the University of California Davis Medical Center performed a demonstration of this: First, they cleaned an area with a conventional mop and then re-cleaned with a microfiber mop. This was done several times, and in each case the microfiber mop captured additional dust and dirt. Then the same test was done in reverse order. However, the conventional mop was not able to capture additional dust and dirt beyond the capabilities of the microfiber mop.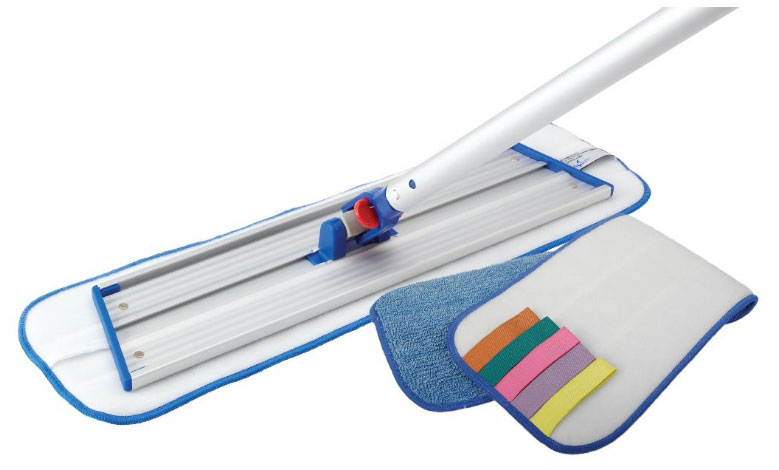 Major Productivity
Microfiber protocol: mop the floor, change the mop head and move to the next room. The same solution can be used for up to 22 rooms, as long as a dirty mop head is never put back in the solution.
Save time. Your staff can clean more when they dont have to wring out the mop or change the solution, typically every three rooms.
Simplify cleaning. The ergonomic pads and handles make it easy to clean hard-to-reach areas, such as behind toilets, against baseboards and around corners.
Major Savings
Cut costs. Theres much less chemical and water usage when the same solution is used throughout a shift.
Major Safety Enhancements
Reduce risks of staff injuries. Not wringing out the mop or lifting the heavy bucket to change the solution between rooms means there are fewer opportunities for back injuries.
Limit the spread of germs. The dirty mop head is removed between each room, and the contaminants go with it.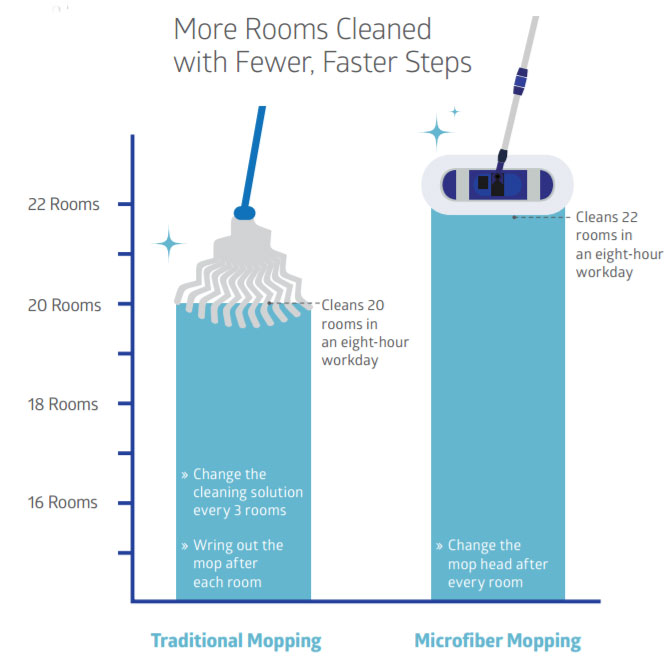 Specifications
Color Blue.
Fiber Content 80% Polyester/20% Polyamide.
HPIS Code 480_60_0_0
Latex Free Yes.
Length Inches 18 in.
Material Microfiber.
Medline Program GREENSMART.
Product Type Mop.
UNSPSC 47131600
Width Inches 5 in.