Part Number
Medline MDTPG4ITSDEM
List Price
Call for Pricing
Medline MDTPG4ITSDEM - Blue Collection IV Gowns, Telem Pocket, Demure print 12 EA/DZ, 6 DZ/CS
Demure Print I.V. Gown
Extra roomy, comfortable and priced right!
The easy-snap sleeves on our I.V. gowns allow the staff to treat patients effortlessly, while keeping the patient more comfortable!
Our comfortable and colorful treatment gowns are durably constructed. Offered in fuller cuts and a variety of closure options.
These hardworking gowns accommodate telemetry monitoring with ease.
An off-center breast telemetry pocket allows wires to pass through a buttonhole inside the pocket, staying out of sight.
The oversized pocket conceals monitor from view.
IV sleeves fasten with three to four stainless steel floating ring snaps, depending on sleeve length.
We also offer plastic snaps that are ideal for use during MRI procedures or surgery.
Gowns are generously cut and a tieside closure provides complete patient modesty.
All ties are 100% polyester twill tape and reinforced to the body of the gown for added durability.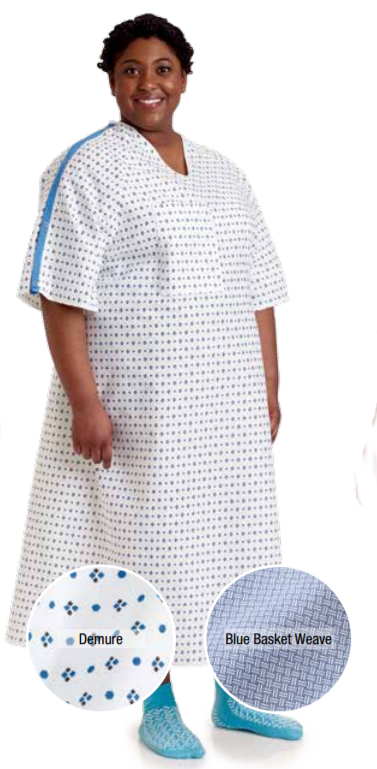 66" Sweep.
51" Length.
5" In-Sleeve.
Telem Pocket.
Demure print.
Specifications
Color Demure Print.
Gown Closure Style Tieside.
Gown Fabric Name Demure Cloth.
HPIS Code 760_10_70_25
In Sleeve - inches 5 in.
Latex Free Yes.
Length 51 in.
Size One Size Fits Most.
Snap Detail Stainless Steel.
Sweep of gown or robe, inches 66 in.
UNSPSC 42131504