Medline MSC092108 - CLEANSER, FOAM, NR, REMEDY, PHYTOPLEX, 8 OZ, 12 EA/CS
The Medline Remedy Phytoplex line combines the most advanced skincare science with some of the gentlest, most beneficial botanicals nature provides. The result is a complete regimen of skincare specifically formulated for use on sensitive skin. The Phytoplex line continues to grow to meet the ongoing demand for more effective solutions to a variety of sensitive skin issues. Within the line, youll find products to cleanse, moisturize, protect and treat while nourishing with a gentle formulation that combines the best of science and nature.
Phytoplex Hydrating Cleansing Foam
GENTLE, NO-RINSE CLEANSER FOR HAIR, FACE & BODY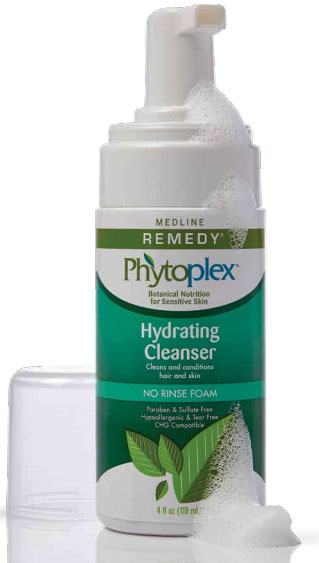 Phytoplex Hydrating Cleansing Foam Features
Remedy Phytoplex Hydrating Cleansing Foam is pH balanced to protect skin's acid mantle.
No-rinse foaming cleanser allows for gentle cleaning and ease of application.
Use on intact, irritated or denuded skin.
Clings where applied minimizing clean up and mess.
Product is easily removed with a wipe or washcloth.
Strong enough for removing barrier pastes and creams, blood and fecal material.
Enhanced with Phytoplex and other botanicals.
Ideal for everyone from neonates to geriatrics.
THE SCIENCE & NATURE OF PHYTOPLEX
The primary mission of the Phytoplex line focuses on managing at-risk skin so redness, dry skin and stress do not disrupt the normal barrier function of the skin surface. Phytoplex is formulated to help mitigate these negative effects and help maintain conditions needed for normal, healthy skin function.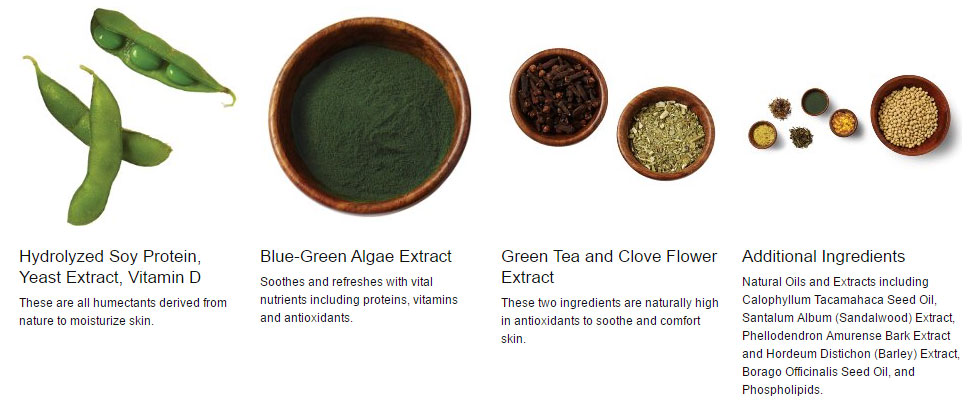 THE CHALLENGE OF SKINCARE
Sometimes we forget that skin is our largest organ. Its a remarkably durable and self-sustaining system. But like every part of the human body, the skin faces considerable health challenges in different stages of life.
Some Are External Factors Like: incontinence, radiation, contact with irritants like detergents and sun, physical stress, everyday drying conditions.
Some Are Internal Factors Like: slowed cell replication due to aging, decrease in protein synthesis, increase in proteolysis, hormonal changes, fatigue, obesity, nutritional imbalance, disease, medication. As skin ages through time or photoexposure, it produces less collagen and elastin, key building blocks for healthy skin. The most obvious changes are dryness, loss of elasticity, sagging skin and loss of tone. These factors, in turn, cause elevated proteolytic activity leading to redness and provoking other undesirable changes in the skin.
WHAT IS IN PHYTOPLEX?
Hydrolyzed Soy Protein4, Yeast Extract 3, Vitamin D These are all humectants derived from nature to moisturize skin.
Blue-Green Algae Extract Soothes and refreshes with vital nutrients including proteins, vitamins and antioxidants.
Green Tea and Clove Flower Extract These two ingredients are naturally high in antioxidants to soothe and comfort skin.
Natural Oils and Extracts: Calophyllum Tacamahaca Seed Oil, Santalum Album (Sandalwood) Extract, Phellodendron Amurense Bark Extract and Hordeum Distichon (Barley) Extract Rich in antioxidants to help condition skin
Borago Officinalis Seed Oil A single source of eight beneficial fatty acids including gamma-linolenic acid (GLA).
Phospholipids Cleanse and condition the skin without stripping the skin of its natural oils.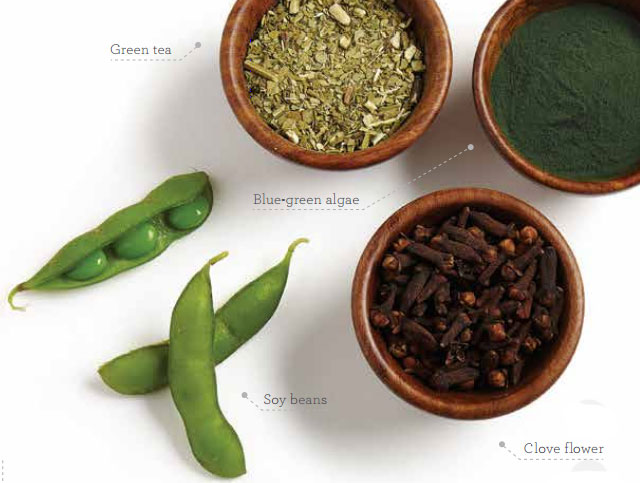 WHATS NOT IN PHYTOPLEX?
Parabens Studies have shown evidence of parabens as endocrine inhibitors, however, there is considerable debate over its safe use. Some clinicians prefer other preservative methods.
Sulfates This commonly used cleansing agent has the potential to dry out and irritate skin. Typically present in high sudsing products.
Aloe Although it is widely used as an emollient, aloe may cause allergic reactions in some patients.
Phthalates Several studies link phthalates with negative health side effects.
Specifications