Medline MSC094502 - Remedy Olivamine Clear-Aid Skin Protectant, 2.5 OZ, 12 EA/CS
Olivamine Clear-Aid Skin Protectant
Clear protective moisture barrier that adheres to skin and allows for easy monitoring. Recommended for use in perineal area and lower extremities to protect against minor skin irritation and dryness. For use in perineal area and lower extremities to protect against minor skin irritation and dryness. With Remedy Olivamine Clear-Aid Skin Protectant, you may not need additional skin protectants to address dry and wet skin.
Ideal for daily use.
Non-allergenic; non-sensitizing.
Helps treat and prevent diaper rash, wet and cracked skin.
Can be used on any type of skin, from reddened to denuded or macerated skin.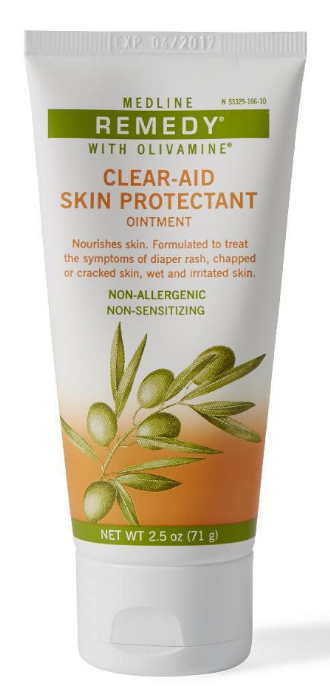 An invisible ointment that shields the skin against excessive moisture from incontinence or wound drainage.
Clear-Aid Skin Protectant is a protective moisture barrier, with the ability to help wick excessive moisture away from the skin. Although its primary ingredient is white petrolatum, this ointment also delivers natural oils to maintain conditioned skin.
Replaces several moisture barrier products
With Clear-Aid, you may not need additional skin protectants to address dry and wet skin. This product can be used on any type of skin.
Easy to apply and remove
Clear-Aid contains safflower seed oil, which helps ease spreading and removal. Skin dragging is minimized. It is ideal for daily use.
Uses
Temporarily protects minor cuts, scrapes and burns. Temporarily protects and helps relieve chapped or cracked skin.
Active ingredient
White Petrolatum 50% Skin Protectant.
Inactive Ingredients
Aloe Barbadensis Leaf Juice, Ascorbic Acid, Ascorbyl Palmitate, Butylparaben, Carthamus Tinctorius Seed Oil, Cellulose Gum, Cholecalciferol, Citric Acid, Citrus Aurantium Dulcis Peel Oil, Citrus Grandis Peel Oil, Citrus Tangerina Peel Oil, Glycine, Hydroxytyrosol, Isobutylparaben, Isopropylparaben, L-proline, L-taurine, Methylsulfonylmethane, Microcrystalline Wax, N-acetylL-cysteine, Niacinamide, Olea Europaea Fruit Oil, PEG-8, Pyridoxine HCl, Retinyl Palmitate, Tocopherol, Vanillin, Zea Mays Oil.
At last there's a REMEDY!
To understand Our Remedy Advanced Skin Care System is to understand the skin itself. First and foremost, the skin is an organ, and like any other organ of the human body it requires its fair share of care. While most equate this attention with cleansing, moisturizing, protecting and treating, by doing so they do not see the greater picture. These are merely physical actions and do not take product selection into consideration. Complete topical skin care does not end until the product meets the skin.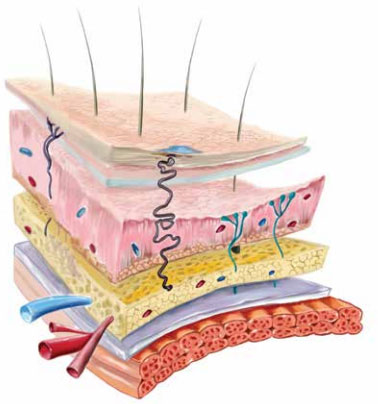 How Is Remedy with Olivamine Different?
Remedy is the gentle solution for most skin needs. By avoiding the use of harsh soaps and detergents, and only using naturally-derived phospholipids to lift the dirt and oils from the skin, Remedy ensures that the structure and integrity of the already compromised skin is not damaged any further. Moreover, the Remedy line is proven to be pH balanced, non-cytotoxic, non-sensitizing, non-irritating and non-allergenic.
Remedy skin protectants contain silicones to help prevent excessive transepidermal water loss (e-TEWL), yet will not occlude the skins natural breathability. In addition to these silicones, Remedy also uses ingredients such as zinc oxide to help protect the skin from moisture, incontinence, perspiration or wound exudate.
Remedy nourishes the skin with a unique blend of Olivamine, natural oils and emollients. This step does not require additional effort because every Remedy product provides nourishment along with its primary application.
Olivamine Components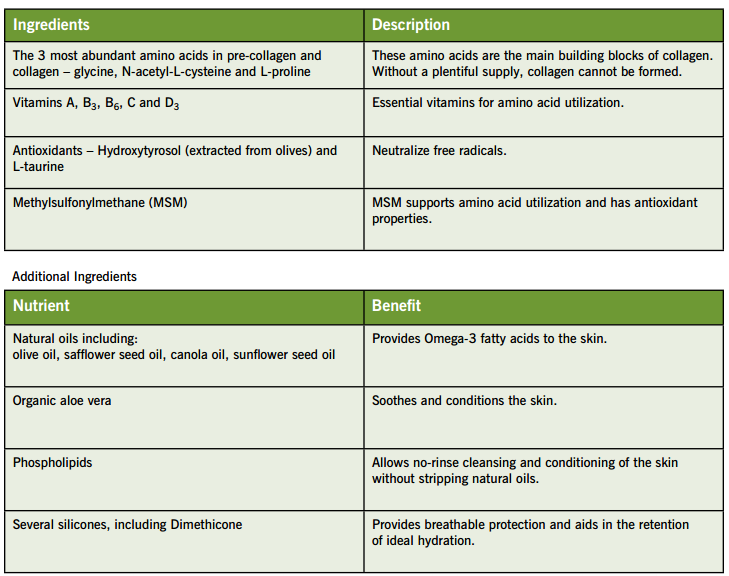 Proven Results
Reducing Hospital-Acquired Pressure Ulcers By Implementing a Skin Care Regimen Evaluating Cost and Outcomes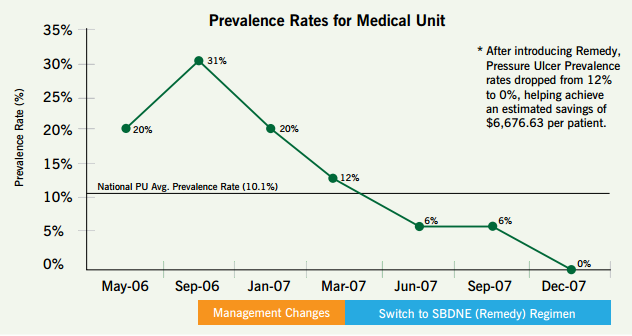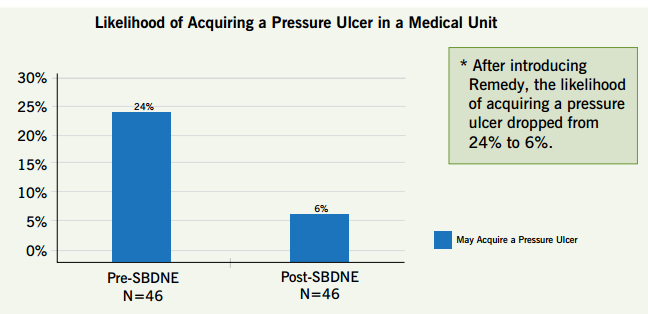 Specifications
Active Ingredient Petrolatum.
Brand Remedy.
Container Type Tube.
Enhanced Ingredients Olivamine.
Fragrance Citrus/Vanilla.
HPIS Code 694_10_50_40
Latex Compatible No.
Latex Free Yes.
OTC Type Ointment.
Petrolatum Yes.
Product Function Protectant.
Size Ounces 2.5 oz.
Size_ML 71 ml.
UNSPSC 42312105