Part Number
Medline MSC095100
Medline MSC095100 - ReadyBath LUXE Total Body Cleansing Heavyweight Washcloths, Scented, 8/PK, 24 EA/CS, 24 PK/CS
READYBATH LUXE
Culture changing facilities are embracing resident-centered care in many ways; upgrading the bathing experience is one of them. Bath/shower areas are changing from utilitarian to spa-like in terms of equipment, decoration and products. It makes sense to adopt the same approach with bedside bathing.
Velvety smooth and noticeably thick & heavy in your hand, ReadyBath Luxe holds more of the pH balanced cleansing and conditioning formula than any other ReadyBath cloth. Choose unscented or with a light, fresh scent; with antibacterial Benzalkonium Chloride (0.12%) or without.
ReadyBath LUXE Total Body Cleansing Heavyweight Washcloths
ReadyBath is a convenient and cost-effective pouch system that can be used at room temperature or warmed for patient comfort. Soft, heavyweight disposable washcloths are premoistened with a gentle, no-rinse, pH balanced cleanser that eliminates the need for basins, soaps, linens and lotions.
Bathing takes less time so nursing staff is free to provide other patient care.
Patients' skin is soothed, moisturized and conditioned by Allantoin.
Available with a fresh gender-neutral scent or fragrance free; also comes in an antibacterial formula to help kill germs and eliminate odors.
Each tamper-evident, resealable pouch contains eight premoistened single-use washcloths so that each body zone can be cleaned with a separate cloth.
Single-use pouch helps to reduce chance of cross-contamination.
Z-folded cloths are easy to pull from the pouch.
Not made with natural rubber latex.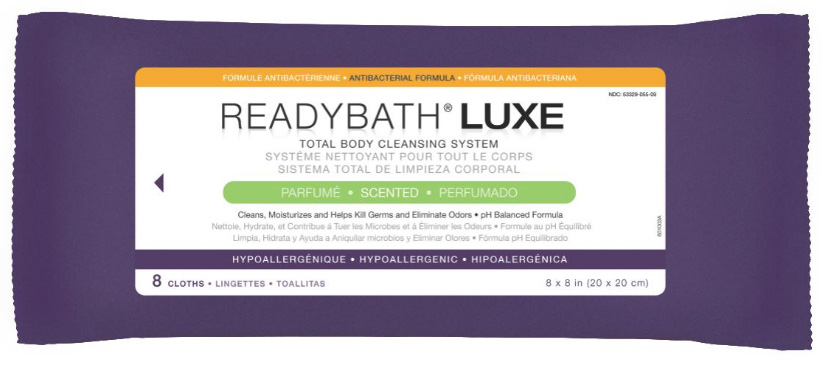 ReadyBath is a Complete bathing System
With compelling evidence for adoption. It eliminates the disadvantages of basins, tap water, inconsistent product use, and reused linens.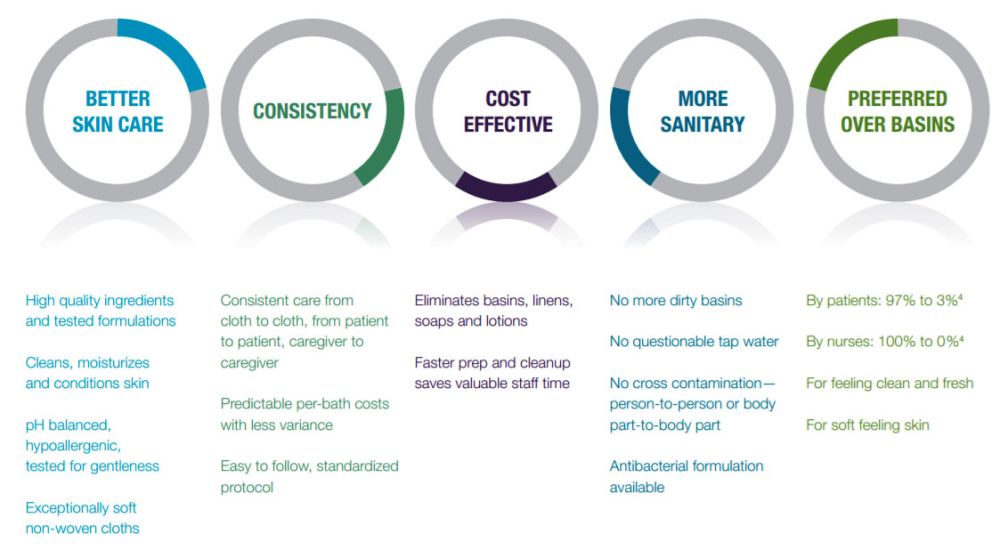 Specifications
Absorbent Material Needlepunch Cloth.
Active Ingredient Benzalkonium Chloride.
Alcohol Free Yes.
Antibacterial Type Antibacterial.
Area of Application All Over Body.
Container Type Soft Pack.
Contains Dimethicone No.
Dimension 8" X 8"
Flushable No.
Fragrance Yes.
HPIS Code 694_10_70_0
Latex Free Yes.
OTC Type Antibacterial.
Product Type ReadyBath Wipe.
Thickness Type Heavy Weight.
UNSPSC 42312105
Wipe Type Bathing Cloth.