Medline MSC095304 - ReadyBath Total Body Cleansing Standard Weight Washcloths, Scented, 8/PK, 30 PK/CS, 1 EA/CS
READYBATH
ReadyBath provides a comforting, consistent and clinically effective bedside bath. It helps keep skin feeling healthy because its no-rinse formulation cleans and moisturizes without stripping the skin. Scent and pack-count options let you choose the right match for your staff, budgets and the needs of those you care for.
Even as the entry point in the ReadyBath line, youll quickly recognize that this is no ordinary bath cloth. Its strong, soft and ready to clean from head to toe. And the gentle cleaning solution leaves skin feeling soft and smooth, too.
ReadyBath cloths are pre-moistened with a rinse-free formula that cleans, moisturizes, conditions and soothes the skin.
Soft, pH balanced formula, hypoallergenic and alcohol-free standard weight cloths are gentle on the skin.
Available with a light, gender-neutral scent or fragrance free.
Single-use cloths help reduce chance of cross-contamination.
Eliminates the need for basins, soaps, linens and lotions.
Product can be used at room temperature or warmed for patient comfort.
Not made with natural rubber latex.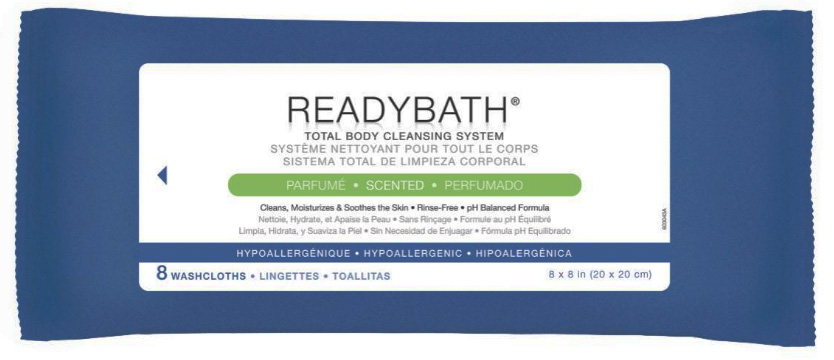 BREAK THE CHAIN OF SKIN BREAKDOWN
Incontinence incidents
Incontinence of urine and/or stool puts an individual at greater risk for pressure ulcer development. The normal protective acid mantle on the skin is lost when exposed to the alkalinity of feces or urine. Ammonia in urine is caustic, making the skin susceptible to breakdown, and fecal contact with broken skin can cause infection and deeper skin damage.
Incontinence-associated dermatitis (IAD)
Moisture from incontinence may be a precursor to pressure ulcer development by macerating the skin and increasing friction. Fecal incontinence is a greater risk factor for pressure ulcer development, because the stool contains bacteria and enzymes that are caustic to the skin.6policies from the US Center for Medicare and Medicaid Services regarding pressure ulcer prevention has focused attention on the differential diagnosis of IAD versus pressure ulcer, and its influence on pressure ulcer risk.
IAD prevention
Beeckman and colleagues recommended using a pH-balanced skin cleanser, skin moisturizer, and moisture-repellent skin barrier for all residents at risk of IAD, noting that perineal skin cleansers or no-rinse foams are preferable to cleansing with traditional washcloths, soap, and water. Gray echoed these recommendations, adding that the cleansing product should not compromise the skins moisture barrier. Voegeli found that soap and water are most commonly recommended for general skin cleansing, but warned that they can be damaging to a patient with or at risk for IAD.
Specifications
Absorbent Material Needlepunch Cloth.
Alcohol Free Yes.
Antibacterial Type Non-Antibacterial.
Area of Application All Over Body.
Container Type Soft Pack.
Contains Dimethicone No.
Dimension 8" X 8"
Flushable No.
Fragrance Yes.
HPIS Code 694_10_70_0
Latex Free Yes.
Product Type ReadyBath Wipe.
Thickness Type Standard Weight.
UNSPSC 42312105
Wipe Type Bathing Cloth.