Part Number
Medline MSC1500
Medline MSC1500 - Sureprep Skin Protectant Wipe, 50 EA/BX, 20 BX/CS
Sureprep
Protects from adhesive stripping
Safe for delicate skin
Outperformed 3M Cavilon in controlled study
Fast drying
Vapor permeable
Creates a waterproof barrier on periwound skin
Protection from friction and body fluids
Transparent
Traditional skin protectant, fast-drying and economical.
Sureprep is a fast drying skin protectant.
Vapor permeable and delivers protection from friction and incontinence.
The transparent barrier may be used on periwound, peristomal or areas that come in contact with bodily fluids.
Frequency of application should be at each dressing change or 24-72 hours depending on frequency of incontinence.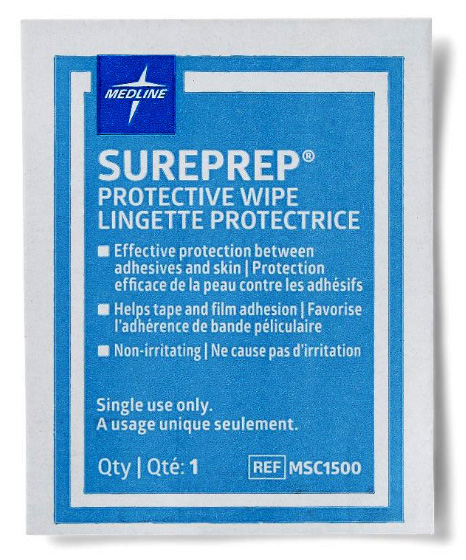 RECOMMENDED USES
Protection from corrosive fluids.
Protection from adhesive trauma.
INDICATIONS
To be applied to intact or damaged skin in order to provide a primary barrier against:
Bodily fluids.
Adhesive stripping.
CHANGE FREQUENCY
Up to 72 hours or with every dressing change.
CONTRAINDICATIONS
On infected areas of skin.
Near the eyes.
As the only covering in situations that require additional dressing protection from bacterial contamination/penetration, e.g., intravenous therapy cathether sites and full- or partial-thickness wounds.
Transepidermal Water Loss (TEWL)