Part Number
Medline MSC1523EP
List Price
Call for Pricing
Medline MSC1523EP - DRESSING, OPTIFOAM, THIN, 2"X3", 100 EA/CS, 10 BX/CS
Optifoam Thin Adhesive Dressing
An All-In-One Dressing For Fluid Handling!
Dressing changes can be painful for the patient and traumatic to the skin. But not with Optifoam Gentle. It features specially formulated silicone adhesive that keeps the dressings in place, while allowing you to reposition and remove the dressings while minimizing harm to the periwound skin.
Driven to heal: Effectively managing chronic wounds requires you to look at things differently and challenge the status quo. Our mission is to help you rise to the challenge by offering the broadest range of advanced wound care products in the industry and delivering a comprehensive package of educational resources. This approach ensures your facility has the tools and expertise to tackle difficult-to-heal chronic wounds.
Optifoam Thin is a highly conformable polyurethane foam adhesive dressing
It is ideal in the management of lightly draining wounds and skin tears
Self adhesive
Light and flexible for increased patient comfort
Waterproof/bacterial barrier
Indications: skin tears, abrasions, superficial pressure injuries
Can remain in place for up to 7 days depending on the amount of drainage
About Optifoam
Moisture vapor transmission rate (MVTR) adjusts to fluid level
Absorbent
Helps create an ideal healing environment
Waterproof outer layer protects wound and keeps bacteria out (except Optifoam Basic)
Optifoam Heel is specifically
Recommended Use
All wound depths.
Light to moderate drainage.
Primary or secondary dressing.
Recommended Secondary Dressings
Medfix Tape
Gentac Tape
Medigrip Tubular Bandage
Indications
Pressure injuries.
Partial- and full-thickness wounds.
Surgical wounds.
Wounds with colonization.
deal for managing bioburden in post-operative wounds.
Leg ulcers.
Diabetic foot ulcers.
Donor sites.
Lacerations and abrasions.
Skin tears.
First- and second-degree burns.
Under compression bandages.
Change Frequency
Optifoam Ag+ may be left in place for up to 7 days.
Dressing change frequency will depend on amount of drainage.
Contraindications
Third-degree burns.
Lesions with active vasculitis.
Individuals with a known sensitivity to silver.
Coefficient Of Friction of Film Backing
Absorption Capacity under Compression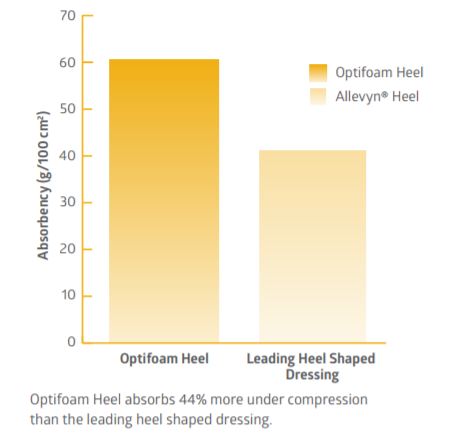 Specifications
Adhesive Adhesive
Applications and Size 2" X 3"
Area of Application Multiple
Brand Optifoam Thin
Dressing Change Frequency/Use Max: 7 Day: Check Drainage
Dressing Type Foam
HPIS Code 740_90_0_0
Latex Free Yes
Length Inches 3 in
Material Foam
Primary or Secondary Dressing Primary or Secondary Use
Product Category Foam
Product Type Adhesive
Sterile Yes
UNSPSC 42311510
Waterproof Outer Layer Yes
Width Inches 2 in
Wound Condition Type Shallow/Deep,Mod-Hvy Drainage