Medline MSC263810 - ReadyFlush Biodegradable Flushable Wipes, Scented, 9" X 13", 24/PK, 24 PK/CS, 24 EA/CS
ReadyFlush 98% biodegradeable, fully dispersible, flushable wipes
Anything that fits down a toilet might be called flushable, but what makes ReadyFlush differentand the best flushable wipe on the marketis that its totally dispersible. That means it breaks down when flushed just like toilet paper for no-clog performance. It is 98% biodegradable and is safe for sewers and septic systems.
ReadyFlush is a flushable and dispersible, single patient use wet wipe made from hydraspun dispersible cloth fibers.
The fibers break down quickly when flushed, yet are still strong in use.
Wipes are pre-moistened with rinse-free formula that cleans, moisturizes and soothes the skin.
Formula is pH balanced, hypoallergenic and does not contain alcohol.
Available with a light, gender-neutral scent or fragrance free.
Also available is ReadyFlush PROTECT that contains 3.2% dimethicone skin protectant.
ReadyFlush is at home by the bedside or right in the bathroom. Flush without worries because it disperses when flushed just like toilet paper. Its strong enough for vigorous cleaning, while its mild formula is soothing on the skin. Available in regular scented, unscented ReadyFlush Protect (with 3.2% dimethicone protectant) or in a smaller size, ReadyFlush Jr., for smaller jobs.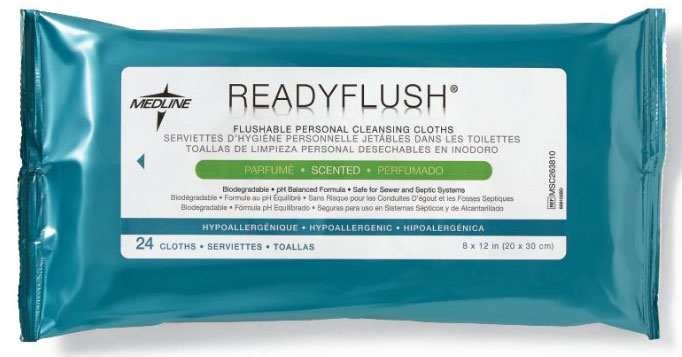 To earn the greensmart label, a product goes through a rigorous verification process. Its environmental impact is assessed from the time the product is made through its final disposal. Only then are the best-of-the-best named a greensmart product. The Sustainability Facts box tells you exactly why the product is more eco-friendly.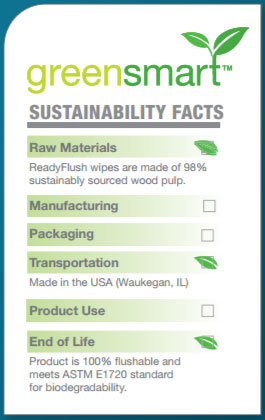 greensmart is not a third-party certification. The use of the greensmart trademark is determined by Medline Industries, Inc., through an internal review process environmental claims.
BREAK THE CHAIN OF SKIN BREAKDOWN
Incontinence incidents
Incontinence of urine and/or stool puts an individual at greater risk for pressure ulcer development. The normal protective acid mantle on the skin is lost when exposed to the alkalinity of feces or urine. Ammonia in urine is caustic, making the skin susceptible to breakdown, and fecal contact with broken skin can cause infection and deeper skin damage.
Incontinence-associated dermatitis (IAD)
Moisture from incontinence may be a precursor to pressure ulcer development by macerating the skin and increasing friction. Fecal incontinence is a greater risk factor for pressure ulcer development, because the stool contains bacteria and enzymes that are caustic to the skin.6policies from the US Center for Medicare and Medicaid Services regarding pressure ulcer prevention has focused attention on the differential diagnosis of IAD versus pressure ulcer, and its influence on pressure ulcer risk.
IAD prevention
Beeckman and colleagues recommended using a pH-balanced skin cleanser, skin moisturizer, and moisture-repellent skin barrier for all residents at risk of IAD, noting that perineal skin cleansers or no-rinse foams are preferable to cleansing with traditional washcloths, soap, and water. Gray echoed these recommendations, adding that the cleansing product should not compromise the skins moisture barrier. Voegeli found that soap and water are most commonly recommended for general skin cleansing, but warned that they can be damaging to a patient with or at risk for IAD.
Specifications
Absorbent Material Hydraspun Dispersible.
Alcohol Free Yes.
Antibacterial Type Non-Antibacterial.
Area of Application All Over Body-Perineal.
Brand ReadyFlush.
Container Type Tub.
Contains Dimethicone No.
Flushable Yes.
Fragrance Yes.
HPIS Code 694_20_60_0
Latex Free Yes.
Length Inches 12 in.
Medline Program GREENSMART.
Product Type Wipe.
UNSPSC 53131624
Width Inches 8 in.
Wipe Type Personal Use.