Medline MSC263854 - Aloetouch Personal Cleansing Wipes, Adult, Scented, 8" X 12", 100/COUNT, 6 PK/CS
Aloetouch Large packs, light weight, great value!
People use aloe for minor burns, minor sunburns and for softening, cooling and moisturizing skin.Theres a lot of value in an Aloetouch wipe: full-sized, standard-weight wipes, aloe-enriched cleansing, 48 or 68-count packs. Its the easiest way to get rid of soap-and-water cleanups for good.
Aloetouch full-sized, standard weight, durable wet wipes with a touch of soothing aloe are ideal for everyday clean-ups and incontinence care.
The ph-balanced, hypoallergenic and alcohol-free wipes provide exceptional skin care.
Single patient use wipes help to reduce the risk of cross contamination.
Do not flush wipes in the toilet.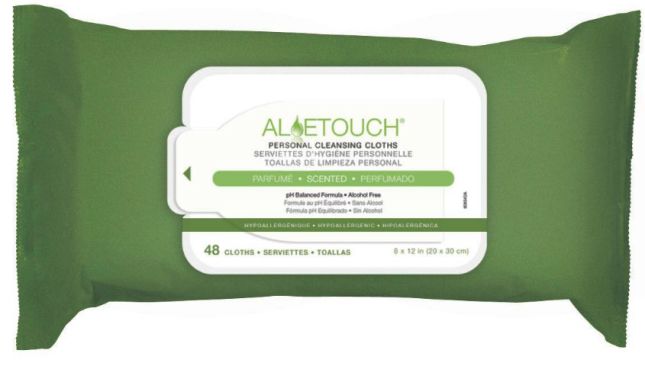 BREAK THE CHAIN OF SKIN BREAKDOWN
Incontinence incidents
Incontinence of urine and/or stool puts an individual at greater risk for pressure ulcer development. The normal protective acid mantle on the skin is lost when exposed to the alkalinity of feces or urine. Ammonia in urine is caustic, making the skin susceptible to breakdown, and fecal contact with broken skin can cause infection and deeper skin damage.
Incontinence-associated dermatitis (IAD)
Moisture from incontinence may be a precursor to pressure ulcer development by macerating the skin and increasing friction. Fecal incontinence is a greater risk factor for pressure ulcer development, because the stool contains bacteria and enzymes that are caustic to the skin.6policies from the US Center for Medicare and Medicaid Services regarding pressure ulcer prevention has focused attention on the differential diagnosis of IAD versus pressure ulcer, and its influence on pressure ulcer risk.
IAD prevention
Beeckman and colleagues recommended using a pH-balanced skin cleanser, skin moisturizer, and moisture-repellent skin barrier for all residents at risk of IAD, noting that perineal skin cleansers or no-rinse foams are preferable to cleansing with traditional washcloths, soap, and water. Gray echoed these recommendations, adding that the cleansing product should not compromise the skins moisture barrier. Voegeli found that soap and water are most commonly recommended for general skin cleansing, but warned that they can be damaging to a patient with or at risk for IAD.
Specifications
Absorbent Material Spunlace.
Alcohol Free Yes.
Antibacterial Type Non-Antibacterial.
Area of Application All Over Body-Perineal.
Brand Aloetouch.
Container Type Soft Pack w/Flip Top Lid.
Contains Dimethicone No.
Flushable No.
Fragrance Yes.
HPIS Code 694_20_60_0
Latex Free No.
Length Inches 12 in.
Product Type Wipe.
UNSPSC 53131624
Width Inches 8 in.
Wipe Type Personal Use.