Part Number
Medline MSC64812EP
Medline MSC64812EP - DRESSING, OPTILOCK, NON-ADHESIVE, 8"X12", 10 EA/BX, 8 BX/CS
OptiLock Non-Adhesive Dressings
Non-adherent and superabsorbent dressing!
The Standard of Gentle Wound Care
OptiLock is a super absorbent polymer core dressing. It takes in a remarkable amount of wound fluid - even under compression - and locks it away to help prevent maceration. Even more, this wound dressing is non-adhesive, meaning minimal disruption to the wound and gentle, pain-free removal.
OptiLock can be used as a primary dressing on partial-thickness and full-thickness wounds, such as: pressure, venous or neuropathic ulcers; post-operative wounds; superficial or partial-thickness burns (first- or second-degree); lacerations; abrasions. OptiLock can also be used as a secondary dressing on full-thickness wounds.
Optilock Features
Absorbs
Super absorbent polymer core absorbs high volumes of exudate.
Locks
Exudate is converted into a gel thats kept firmly away from the wound.
Adjusts
Continually adapts the level of absorption to the amount of wound drainage.
Protects
Does not stick to the wound or periwound skin.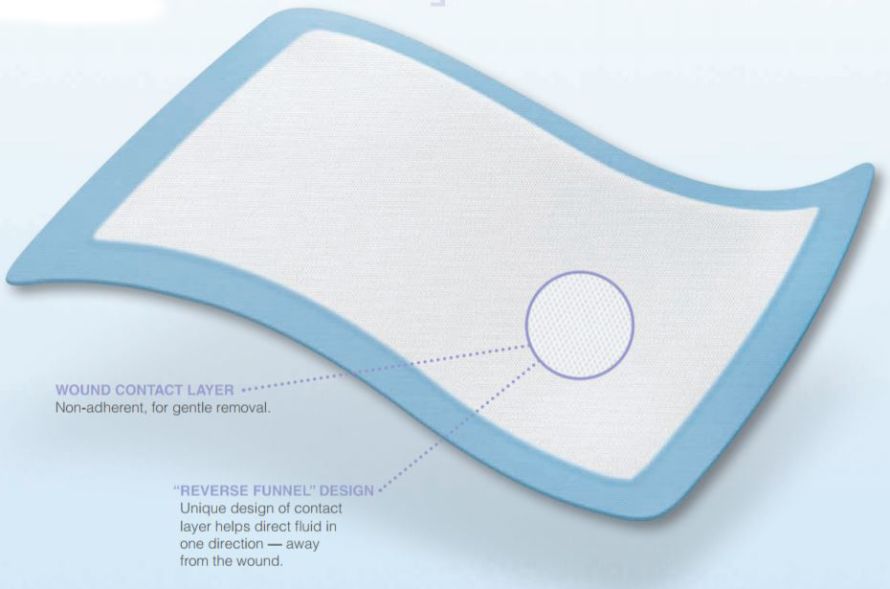 Dispersion Layer
Evenly distributes and quickly transfers exudate into the super-absorbent core.
Blue Protective Backing
Helps protect clothing and sheets.
Super-Absorbent Core
Absorbs large amounts of exudate, which is converted to a gel and locked away from the wound.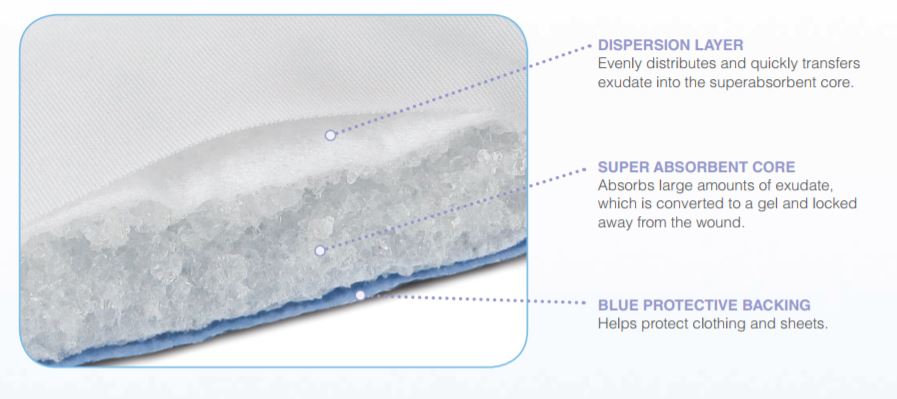 About Optilock
Superabsorbent polymer core
Locks in drainage under compression
Adjusts absorption to the amount of drainage
Protects skin from maceration
Non-adherent wound contact layer
Recommended Use
All wound depths*
Moderate to heavy drainage
As a primary dressing
*As a secondary dressing for deep wounds
Recommended Secondary Dressing
Medfix Tape
Elastic net
Gentac Tape
CoFlex TLC Two Layer Compression System
Indications
Pressure injuries
Partial- and full-thickness wounds
Leg ulcers
Lacerations and abrasions
Wounds under compression
Change Frequency
OptiLock may be left in place for up to 7 days
Dressing change frequency will depend on amount of drainage
Contraindication
Third-degree burns
Individuals with a known sensitivity to the product itself or its components
Testing Shows: Optilock Absorbs and Retains More Fluid
Absorbs More Fluid
Absorption Capacity Under Compression (1)
OptiLock absorbs approximately three times more fluid than a leading silicone-faced foam dressing.
Retains More Fluid
Fluid Loss Under Compression (1)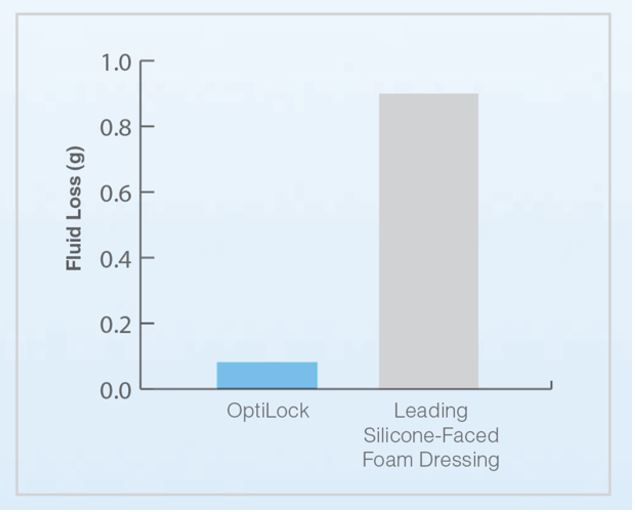 OptiLock dressings retain substantially more fluid under compression than a leading silicone-faced foam dressing.
Specifications