Medline MSC8722EP - DRESSING, COLLAGEN, PURACOL PLUS AG, 2X2", 10/BX
Puracol Plus AG+ Collagen Dressings with Silver
100% native bovine collagen with antimicrobial silver
Our Puracol wound dressings (Puracol Plus, Puracol Plus Ag+ and Puracol Ultra Powder) promote natural healing with type I 100% native collagen. Our exclusive, gentle manufacturing technology preserves the collagens natural structure, resulting in dressings that provide more collagen to a wound for a longer period of time.
For stalled wounds when antimicrobial properties of silver are desired.
100% collagen with a high degree of nativity
High gel integrity
Helps promote natural healing
Jump-starts stalled wounds
Ionic silver provides antimicrobial barrier
Contraindicated for active vasculitis or patients with known sensitivity to collagen or silver.
May be left in place for up to 7 days.
Dressing change frequency will depend on amount of drainage.
What Can You Do When Wound Healing Stalls?
You know it when you see it. A wound youve been treating for over 30 days wont close. Healing has stalled. And now its considered a chronic wound. According to the National Institutes of Health, more than six million cases of chronic wounds cost $20 billion each year in the United States. Venous ulcers, pressure injuries, diabetic ulcers, and surgical incisions are wounds that may be likely to stall.
How can you optimize the healing process?
How 100% native collagen works
One key factor of chronic wounds is an elevated level of matrix metalloproteinases (MMPs). At elevated levels, MMPs not only break down necrotic tissue, but also viable collagen produced during the wound healing process. This can lead to stalled wounds. Native collagen wound dressings can be used to manage chronic wounds. The addition of collagen to the wound bed may reduce excess MMP activity to promote the wound healing cycle.
Puracol Plus Ag+ inhibits bacterial growth
Normal wound healing progresses through three distinct phases in an orderly way. Bacteria that enters the wound, however, can cause disruption, delay healing and potentially result in serious health consequences.
Puracol Plus Ag+ contains silver chloride, a known antibacterial agent. The silver ions disrupt metabolic processes in bacteria and inhibit their growth within the dressing. (See table.) A review of scientific literature shows that it is difficult for bacteria to develop resistance to silver.
Table: Reduction in Bacteria Levels with Puracol Plus Ag+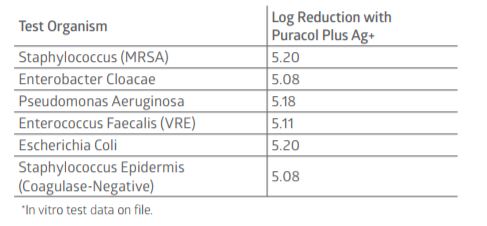 Log reduction in bacteria levels (in vitro) was observed in testing of large populations of selected microorganisms, including MRSA, that came into contact with the Puracol Plus Ag+. (Method: AATCC-100).
Measure of Collagen Nativity Puracol Plus Ag+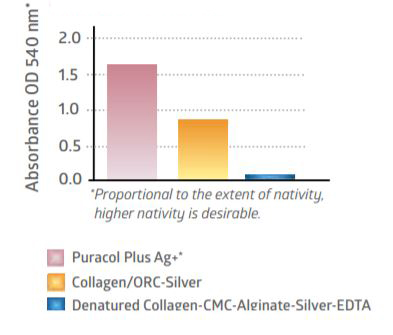 Evaluation of a Bovine 100% Native Collagen for the Treatment of Chronic Wounds
The usual measures of debridement, infection control and moisture balance may not be sufficient for wound closure in all patients. In these cases, wound dressings such as collagen may help promote wound healing. This case series describes the authors experience with a bovine-derived, 100% native, type I collagen in patients with chronic and persistent wounds.
This case series included 20 patients with 21 chronic wounds ranging from 0.6 to 101.4 cm2 that had been recalcitrant to prior treatment. The total duration of treatment with the bovine-derived 100% native collagen was up to 12 weeks. Complete wound healing was achieved for 15 of the patients in this series; wound healing times varied from 13 to 68 days.
Two patients achieved wound healing, using a combination of the bovine-derived 100% native collagen and other therapies, at 114 days and 107 days, respectively, after starting the wound healing process with solely the bovine-derived 100% native collagen treatment.
After managing the wounds with a bovine-derived, 100% native, type I collagen,83% achieved wound closure within 90 days. (15 out of 18 patients)
Wound Closure within 90 Days Using Bovine-Derived Native Collagen Dressing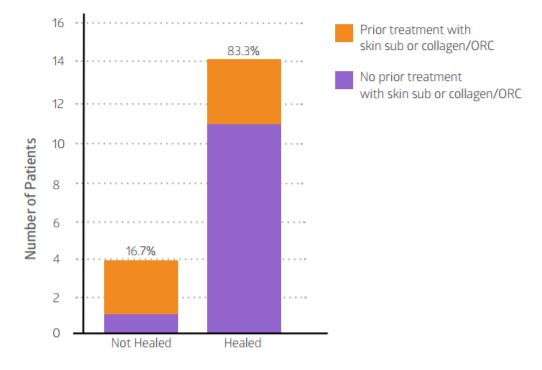 About Puracol Plus
100% collagen with a high degree of nativity
High gel integrity
Helps promote a natural wound environment conducive to wound healing
Biodegradable
Can be used in combination with negative pressure wound therapy (NPWT)
Ionic silver provides antimicrobial barrier.
Non-staining
Recommended Wound Conditions
All wound depths
All drainage levels
As a primary dressing
Recommended Secondary Dressing
Optifoam Gentle
Stratasorb Composite
Bordered gauze
Optifoam Adhesive
Indications
Pressure, venous, diabetic ulcers
Partial- and full-thickness wounds
Ulcers caused by mixed vascular etiologies
Donor sites and other surface wounds
Abrasions
Traumatic wounds healing by secondary intention
Dehisced surgical wounds
Change Frequency
Puracol Plus and Puracol Plus Ag+ may be left in place for up to 7 days
Dressing change frequency will depend on amount of drainage
Contraindications
Active vasculitis or patients with known sensitivity to collagen
Puracol Plus Ag+ only: patients with known sensitivity to silver;
Third-degree burns
Specifications