Part Number
Medline MSC9500
List Price
Call for Pricing
Medline MSC9500 - BANDAGE, TUBULAR, ELST, MEDIGRIP, SIZE A, 1 EA/BX, 1 BX/RL
Medigrip Elasticated Tubular Support Bandage, 1.75" (4.5 cm), Infant feet and arms (11 yards (10 meters) in length)
Elasticated Tubular Bandages
Medigrip provides tissue support in the treatment of strains and sprains, soft tissue injuries, general edema, post-burn scarring and ribcage injuries.. Medigrip Elasticated Tubular support bandage provides excellent support for joints. Can provide mild compression when doubled. Good for securing dressings. Wide range of applications.
Benefits of Medigrip
Provides comfortable, effective tissue support
Easy to apply and reapply
Full range of sizes to suit most applications
No pins or tapes needed
Washable and reusable
About Medigrip
Provides excellent support for joints
Easy to apply and reapply
Wide range of applications
Good for securing dressings
Can be used as mild compression when doubled
Recommended Uses
Dressing Retention
Light compression
Recommended Primary Dressing
Qwick
Opticell Ag+
OptiLock
Indications
Edema
Treatment of chronic venous insufficiency
Dislocations
Sprains
As a retention dressing
Change Frequency
Medigrip may be left in place for up to 7 days
Dressing change frequency will depend on amount of drainage
Compression Testing of Bandages
Based on principles contained in BS 6612
Summary:
Medigrip delivers consistent therapeutic compression levels similar to Tubigrip.
Medigrip Sizing Chart
For compression, use a double layer of Medigrip

*For full arm coverage, measure the largest part of the forearm. For full leg or below the knee coverage, measure the widest point of the calf.
And, for the hand, measure around metacarpophalangeal joint.
**Low = 510 mm Hg (for general edema) Medium = 1020 mm Hg (for varicose conditions/post-burn scarring) High = 2030 mm Hg (for soft tissue injuries/joint effusions)
How to apply?
Refer to product packaging or inserts for detailed product information and applicable warnings.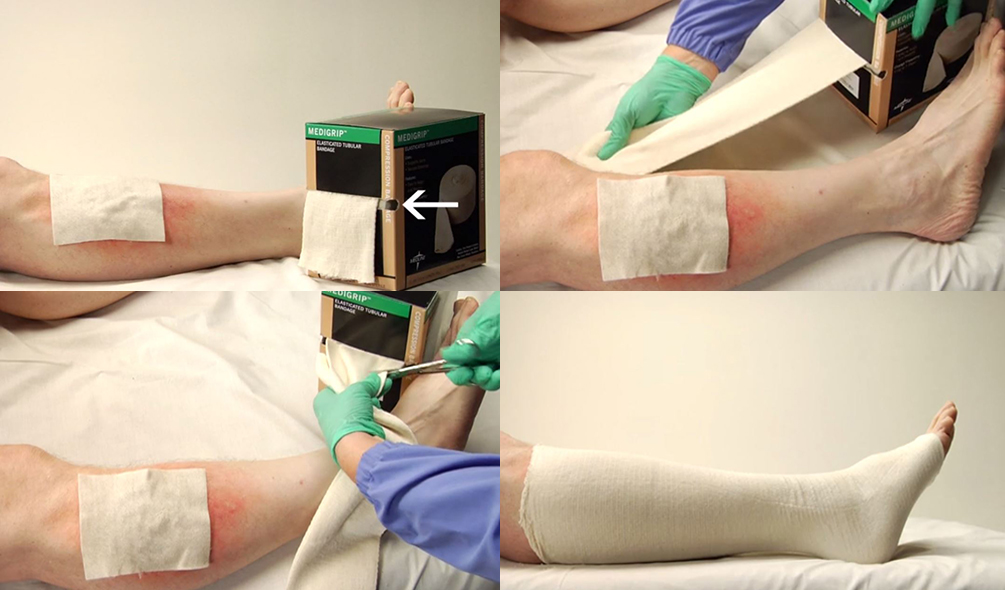 Specifications