Medline MSC9845EP - Opticell Ag+ Gelling Fiber with Silver, 4 x 5 (10.2 x 12.7 cm), Sheet Dressing, 10/BX
OPTICELL AG+
Opticell with Chytoform Technology is the next generation of chronic wound care dressings. Chytoform is a proprietary chitosan-based gelling fiber technology. Opticell is the first chronic wound care dressing that uses this advanced biological material.
For decades, chitosan has been used in health care applicationsin topical hemostats, treatments for surgical wounds and traumatic injuries, and even dietary supplements - because of its distinctive properties.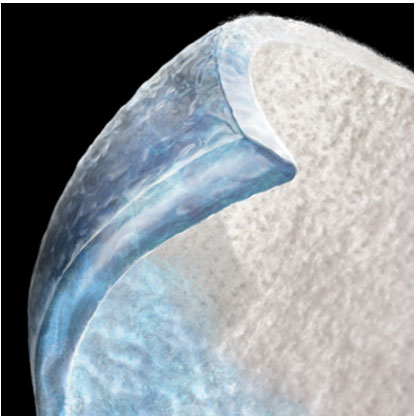 What is Chitosan?
A biological material derived from crustacean shells, chitosan possesses a very unique chemistry, including a positive charge at physiological pH. This unique chemistry can be beneficial in a wound environment where there are negative particles, like those found in necrotic tissue and wound exudate. Consequently, chitosan continues to be the center of much academic and clinical research.
How does Opticell work?
When moistened, the absorbent fibers of Opticell transform into a conformable gel. This gelling action, combined with its unique chemistry, strength and absorbency, allows Opticell to deliver outstanding benefits.
Opticell Ag+ Gelling Fiber with Silver
Opticell Ag+ wound dressing uses a unique gelling Chytoform technology that allows the absorbent fibers of the dressing to transform into a clear and conformable gel.
The unique gelling action helps manage drainage and remove dead, damaged and infected tissue from the wound, trapping it for later removal at the dressing change.
ChytoformTM technology wicks fluid only vertically, not laterally, helping to prevent maceration.
Opticell Ag+ has a conformable and thin profile that provides optimal contact with the wound.
Although Opticell is designed specifically for moderate to heavily draining wounds, it can also be pre-moistened for effective use on dry or lightly draining wounds.
Opticell Ag+ delivers broad spectrum antimicrobial efficacy. The dressings contain 0.75% ionic silver by weight. When the dressing encounters a wound environment, silver ions are activated to manage bioburden. The silver inhibits the growth of bacteria and fungi, yet is completely harmless to skin cells.
AN OPTIMAL HEALING ENVIRONMENT
When moistened, Opticells absorbent fibers transform into a conformable gel. This enables Opticell to effectively manage drainage and remove dead, damaged tissue. Opticells conformable and low profile design provides intimate contact with the wound surface. Dressings with stitching, on the other hand, exhibit a ridging effect that can limit wound contact.
Opticell Ag+ Features
Creating An Optimal Healing Environment.
Managing moisture to help promote autolytic debridement.
Optimizing wound contact with a highly conformable low profile.
Maintaining wound coverage with Surface Area Memory (SAM).
Gentle Patient Care.
Preventing maceration by wicking fluid only vertically, not laterally.
Reducing dressing change frequency with exceptional absorbency.
Separating gently from the wound in one piece using advanced Cytoform technology.
Gentle Patient Care
Helps to prevent maceration by wicking vertically
Opticells Chytoform technology wicks fluid vertically, not laterally.7 This can help reduce the risk of periwound maceration because wound fluid will not migrate across the dressing to reach this vulnerable skin.
Reduces dressing change frequency
Opticells proprietary Chytoform technology delivers exceptional absorbency, which can help reduce dressing change frequency. Consequently, patients are subjected to fewer dressing changes, wound bed disruption is minimized and treatment costs may be reduced.
Separates gently from the wound
Application and removal is gentle on wounds because of Opticells strength and unique gelling properties.
Indications
Partial- and full-thickness wounds.
First- and second-degree burns.
Diabetic foot ulcers.
Venous stasis ulcers.
Arterial ulcers and leg ulcers of mixed etiology.
Pressure ulcers.
Surgical wounds.
Donor sites.
Contraindications
Third-degree burns.
Individuals with a known sensitivity to Chitosan, which is a derivative of shellfish, or silver.
Specifications
Brand Opticell AG+
Dressing Change Frequency/Use Max: 7 Day: Check Drainage.
Dressing Type Gelling Fiber.
HPIS Code 740_150_0_0
Latex Free Yes.
Length Inches 5 in.
Primary or Secondary Dressing Primary Dress.
Product Category Silver Dressings.
Sterile Yes.
UNSPSC 42311504
Width Inches 5 in.
Wound Condition Type Moderate To Heavy Drainage.