Part Number
Metrix-Secure 66100
Ships Within
Special Order
Metrix-Secure 66100 - 1000ml EVA Gravity Bag 2 Leg Detachable, 50/CS
1000 ml Ethyl Vinyl Acetate (EVA) Gravity Bag - 2 Leg Detachable
Ethyl Vinyl Acetate (EVA) bags are constructed from a copolymer, monolayer film.
Our EVA single-use bags are designed for parenteral applications. They are made from high quality, Class VI film that
This product is not made with natural rubber latex or DEHP
EVA container.
PVC ports and tubing.
2 leg versions.
Fill legs have vented spike.
Cap for closing fill leg.
These bags are specifically designed to provide strong seals, extraordinary robustness, superior flex, crack and pin-hole resistance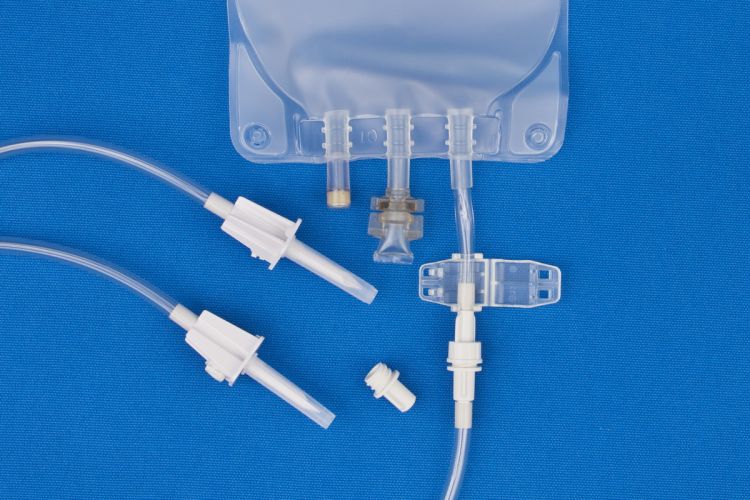 All EVA Gravity Bags have an attached non-reopening clamp.
Vented spikes improve delivery from intravenous bags with no air headspace
Flexible plastic bags are the container of choice for most intravenous (i.v.) infusions. Under certain circumstances, however, the air-liquid interface present in these i.v. bags can lead to physical instability of protein biopharmaceuticals, resulting in product aggregation. In principle, the air headspace present in the bags can be removed to increase drug stability, but experiments described here show that this can result in incomplete draining of solution from the bag using gravity delivery, or generation of negative pressure in the bag when an infusion pump is used.
It is expected that these issues could lead to incomplete delivery of medication to patients or pump-related problems, respectively. However, here it is shown that contrary to the standard pharmacy practice of using nonvented spikes with i.v. bags, the use of vented spikes with i.v. bags that lack air headspace allows complete delivery of the dose solution without impacting the physical stability of a protein-based drug.
Storing
EVA must be stored at temperature under 40 degree celsius. The sun radiation,excessive heat, or humidity is prohibited.
DEHP
Infusion Therapy Standards of Practice advise to use administration sets not made with di-ethylhexyl-phthalate (DEHP) to administer lipid-based infusates, such as IVFE or TNA. DEHP is lipophilic and is extracted into the lipid solution with commonly used polyvinyl chloride administration sets and containers. DEHP is considered a toxin, and studies have demonstrated increased DEHP levels in lipid solutions, which is especially a risk with neonatal, pediatric, and long-term home care patients (42).