Molnlycke 289100 - Dressing Mepitel One Non-Adhesive Silicone 2x3" 10/Bx, 7 BX/CA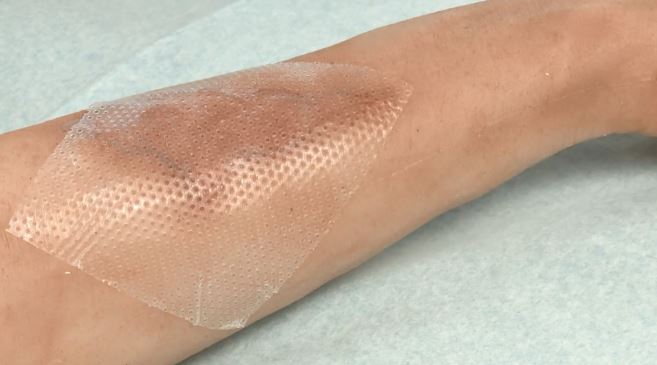 Mepitel One, 2" x 3" (5 x 7.5 cm)
14 Days Undisturbed Healing 1-6 and Less Pain at Dressing Changes
Mepitel One is a gentle one-sided wound contact layer with Safetac - the original less-pain contact layer with silicone adhesion. We designed it to mould softly to skin without sticking to the moist wound 1 - so you can remove it easily without damaging the skin. That means less pain for your patients.
Safetac also protects new tissue and intact skin - so wounds remain undisturbed, to support faster natural healing. And it seals the wound margins to protect skin from damaging leaks and maceration.
One sided Safetac technology offers easy application
Full transparency allows for critical wound assessments without the need to disturb the dressing
Stronger Safetac technology adhesion for extra security
Highly conformable for excellent ft in difficult to dress locations
May remain in place for up to 14 days for undisturbed healing
Mepitel One has a perforated design that lets exudate pass through to a secondary absorbent dressing. It enables easy delivery of topical treatments. And it allows secondary dressing changes without disturbing healing. Mepitel One is adhesive on one side, so its easier for you to handle. Plus its transparent, so you can instantly assess healing progress without removing the contact layer.
Transparent so you can instantly assess healing progress without removing the contact layer
True undisturbed healing - it can remain in place for up to 14 days
Safetac technology - minimising the risk of skin damage and pain to the patient
Is cost-effective
Suitable for a wide variety of indications
A recent multi-centre randomised controlled trial (RCT) shows that with Mepitel One, significantly fewer patients experienced painful dressing changes* compared to UrgoTul. It was also observed that with Mepitel One, more patients had healed by day 21 than those treated with UrgoTul.
Mepitel One - The Easy Way to Minimize Interruptions to Healing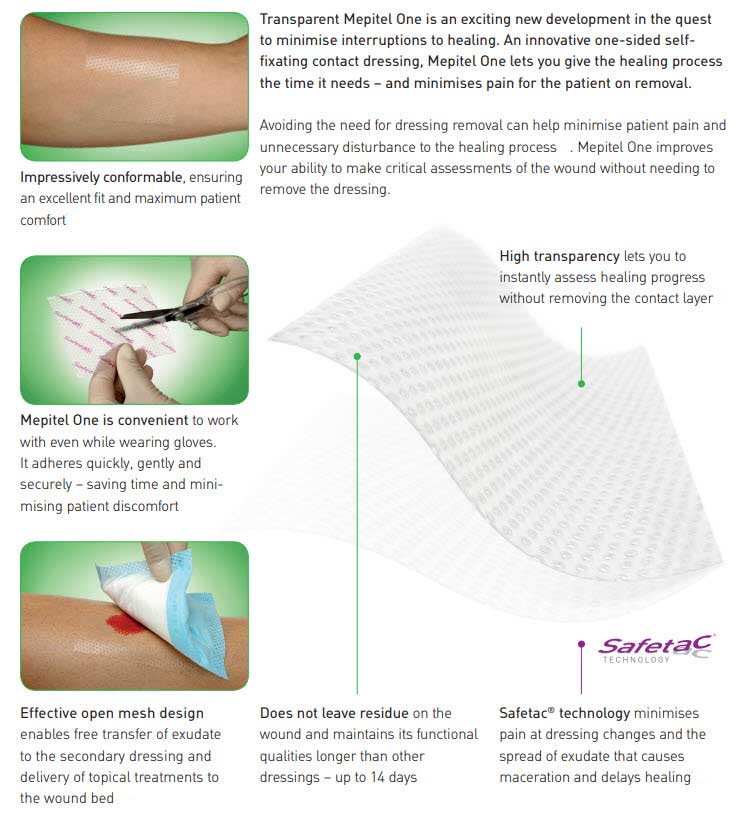 Quality Care at Its Most Cost Effective
Mepitel dressings have a substantial amount of published data demonstrating its clinical and cost-effectiveness for a wide range of wounds.
Mepitel dressings are the selfadhering contact dressings proven to cut costs. The results of three randomised controlled trials demonstrate that, compared to traditional dressings, Mepitel dressings are significantly more cost-effective in terms of:
Reducing the overall cost of care
Reducing the number of dressing changes
Reducing the time needed to change dressings
Safetac Technology Is Less Painful
Safetac is a patented adhesive technology that is less painful for the patient at dressing removal and less traumatic to the wound. Safetac technology hurts less because it:
tacks gently to dry surfaces, like skin, but not to moist surfaces, such as open wounds
moulds to the skins pores, covering more skin surface and spreading peel forces on removal to prevent skin stripping
seals the wound margins, ensuring exudate does not spread to the surrounding skin and minimising maceration

Clinically Tested and Proven Over Time
Mepitel is the original advanced wound contact layer. Since creating the dressing category in 1990, Mlnlycke Health Care has produced more than 80 million pieces of Mepitel and developed an innovative new version in Mepitel One. Health care practitioners worldwide continue to choose Mepitel over competing dressings because they are the only ones that create an ideal wound healing environment while preventing wound adhesion and minimising pain at dressing changes.
Mepitels comprehensive library of clinical evidence supports their choice. A recent publication reported that there are in excess of 20 articles demonstrating the clinical efficacy and safety of Mepitel, including data from five randomised controlled trials.
When to use Mepitel One
Mepitel One is a wound contact layer designed for the management of a wide range of exuding wounds such as painful wounds, skin tears, skin abrasions, surgical incisions, partial thickness burns, traumatic wounds, blistering, lacerations, partial and full thickness grafts, leg and foot ulcers. It can also be used as a protective layer on non-exuding wounds and on areas with fragile skin.
The open structure of Mepitel One allows, where clinically indicated, topical ointments to pass through onto the wound.
It can be applied together with Mesorb; or for high-exuding wounds with Mextra Superabsorbent; with Tubifast fixation; and also under compression bandages. Mepitel One can also be used in conjunction with Negative Pressure Wound Therapy (NPWT).
Product Application Guide