Allow C.I.A. to white-glove your request for this item
Not buying today? Need a volume discount, Net 30 terms, or a government quote? Got a backorder, and need immediate stock? That's exactly what we do best. Let us solve your problem.
Product Description
Smiths Medical Part #21-7302-24 - Medication Cassette Reservoirs with Flow Stop, Clamp, and Female Luer, Latex Free - 100 mL, (12/BX)
All medication cassette reservoirs with flow stop free-flow protection meet the JCAHO National Patient Safety Goals for prevention of free-flow of medication. Flow stop free-flow protection is an integral set-based free-flow protection device that has been added to medication cassette reservoirs.
Transitioning to CADD Ambulatory Tubing Sets with Flow Stop Free-flow Protection.
CADD Extension Sets for CADD -Solis, CADD-Legacy and CADD-Prizm pumps continued Designed to be used with a CADD medication cassette reservoir.
100 mL CADD medication cassette reservoir with flow stop, clamp and female luer 8 in. (20 cm).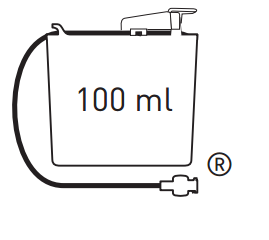 Specifications:
Manufacturer Sku: 21-7002-24
Manufacturer: Smiths Medical.
Brand: CADD.
Application: Medication Cassette Reservoir.
Specifications: 100 mL, Rate:125 ml/hr, 0.2 mL Priming Volume, 8 Inch Output Tubing, Clamp, Female Luer, DEHP.
For Use With: Ambulatory Pump.