Part Number
Smiths Medical 6101
Smiths Medical 6101 - CADD-Prizm VIP Ambulatory Infusion Pump, 1-Year Warranty, Each
Smiths Medical 6101 CADD-Prizm VIP Ambulatory Infusion Pump
The CADD-Prizmpump can be carried with you and is designed todeliver medication into your body. PCA stands for patient controlledanalgesia. Your physician will prescribe your medication specificallyfor you. Your prescription is programmed into your pump by yourclinician according to your physician's specific orders. This pump canbe reprogrammed as your medication needs change.
The pump can be programmed to deliver medication at a constantrate and/or to allow delivery of a bolus dose at a specified timeinterval. The pump stores programmed information and historicalinformation that your clinician needs for your specific therapy.
Your clinician will instruct you on the proper use of this pump. Thisguide is intended to supplement those instructions. Perform onlythose procedures for which you have received training.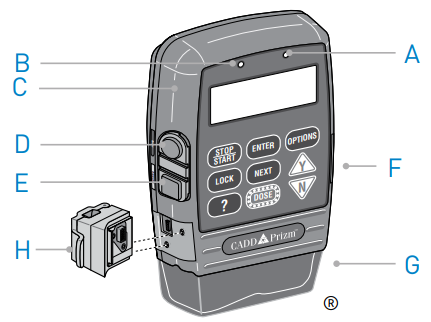 A. Green indicator light: blinks when pump is running
B. Amber indicator light: blinks when pump is stopped or alarming
C. Polemount bracket recess (back of pump)
D. Power jack (for power pack or AC adapter)
E. Data in/out jack (for printer or modem cable)
F. Battery compartment (side of pump)
G. Cassette (part of reservoir or administration set that attaches to pump)
H. Air Detector